Isha Arogya's body-care products are manufactured from the finest vegetable oils, natural extracts and essential oils. Free from animal-fat and Paraben, these all-natural products leave the body feeling revitalized and energized.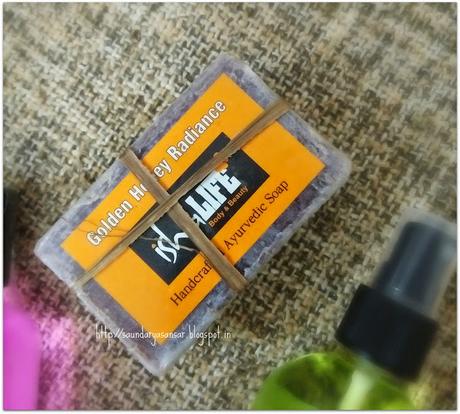 Today i am reviewing one of their Soaps- Its their herbal Honey Radiance Soap.
High quality honey naturally cleanses, nourishes and smoothens your skin.
Contains honey, essential oils and pure vegetable glycerin. No animal fats. Paraben-free
Price- 85INR for 100 gms. I got this from joybynature.com. it was not something i ordered but got this by mistake.
Key Ingredients- You might have noticed (from the pic above)that it is does not have chemical or parabens.
The soap comes in a simple transparent plastic wrap with details on its back.
Soap is opaque with 2 layers -dark honey colored layer on one side with beige colored on the other. It smells of caramel, people who likes chocolaty or caramel flavour would love it. The smell is not strong but floats for awhile in the bathroom although it wont linger on your body for long.
I am personally not a fan of this smell but i liked the way it cleans yet hydrates my skin. it creates good creamy lather soon. its gentle on your skin and even can be used for your kid. I did not feel using a body lotion for further hydration & nourishment. Its a great option for winters too.
Also the soap does not melt easily like usual hand crafted ones. It dries up easily after use hence lasts long.
Overall its an affordable soap which really nourishes and smoothens apart from cleaning.