According to Forbes Magazine, Tiger Woods remains the World's Most Powerful Athlete for the eleventh straight year. According to his stats, Tiger is in the top-ten in the Official World Rankings but, as he mentioned after the Players, he's getting "smoked." Smoked Tiger, or smokin'?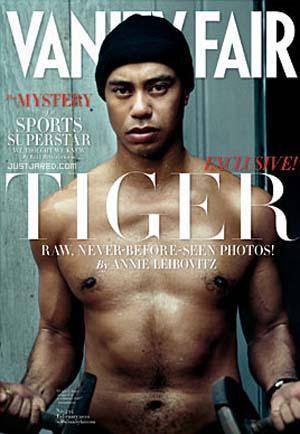 No, this isn't the cover of Forbes Magazine but Tiger certainly looks more menacing on this cover of Vanity Fair
Woods topped a list of well-known athletes despite a slide from sixth to twelfth position but still, no other athlete could catch him, not even Tim Tebow who didn't even make the list. Quite frankly, in 2006 I could understand his Forbes placement but being in the number one spot in 2012 leaves me stumped.
A second place finish at the Honda Classic and a win at Bay Hill seemed like the start of a Woods comeback but, a cut at the Wells Fargo Championship as well as two 4th place ties (Masters, The Players), has the internet buzzing about how Tiger ever kept his Forbes placement, the state of his mental game and physical condition.
Here are what a few writers had to say:
TheBigLead.com stated, "He did this despite being nowhere near dominant at golf, losing some sponsorship deals and pulling in a measly $58 million last year."
The HuffingtonPost.com added, "Well, at least according to Forbes" ... with SBNation having the most cutting remark about Tiger Woods, "he may be past his prime on the golf course..."  Ouch.
On the flip side, and probably the main reason Woods remains the top athlete on the Forbes list is that, as Emily Kay said, "whether golf fans love him or hate him, they want to watch him." In my opinion, as long as the fans keep tuning in and the ratings surge whenever Tiger is playing golf, he will remain as the world's most powerful athlete.
As for the reasoning behind the stats? Forbes states that "no other athlete is mentioned on TV and radio more than Woods," ranking fourth overall in print mentions. As for golfers like McIlroy and Mickelson, well...when sports execs were asked who they wanted to see most on TV, Rory grabbed 15% of the vote but execs weren't really interested in Phil at all (only a seven percent share.)
I guess Woods won't have to worry about placement next year either; his Forbes spot is safe...or is it?
Voice your opinion on Twitter @Golf4Beginners and on Facebook.
photo credit