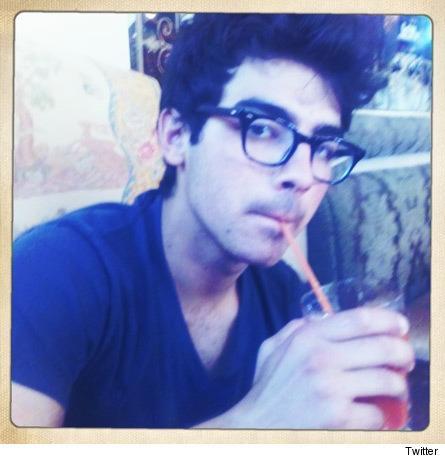 Twitter.com
-An unauthorized Joe Jonas sex tape is supposed to hit the internet on April 3.  (I can't really tell you much more about it because I slammed my laptop shut and ran away screaming as soon as I read the words "slapper paddle"…)
-In other lewd news, Shiri Appleby (who recently played Adam's girlfriend on Girls but who'll always be Liz from Roswell to me) is the latest celebrity to have a nude photo leak on the interwebs. (NSFW, obvs.)
-Well, this is adorable: Vincent Kartheiser practiced proposing to Alexis Bledel with his Mad Men costars Elisabeth Moss and Jessica Paré.
-Speaking of the Mad Men cast, this is a twist: Elisabeth Moss showed up on a red carpet showing far more cleavage than Christina Hendricks.
-Malcolm-Jamal Warner has split with Regina King. Wait, wait, wait…Malcolm-Jamal Warner was dating Regina King?! I'm glad I didn't know; I would have 'shipped them so hard…
-Dax Shepard wrote an incredibly touching account of his father's passing. Man, this guy has really won me over in the past few years.
-Emma Watson poses (tastefully) topless in a new book celebrating Earth Day.
-Robert Pattinson and Kristen Stewart reunited for a "touchy-feely" date night — which included posing for a really terrible photo with a fan. I don't think KStew was trying to make the gesture she looks like she's making. Right?
-Meanwhile, The Sun got a preview of RPattz's sexy new Dior ad, and their description of it reads like fanfic.
-Ryan Gosling says he's taking a break from acting. First Idris Elba, now him? Jebus, my fake boyfriend list is seriously taking a hit this week!
-Amanda Bynes claims she invented the phrase LOLOLOL (which, coincidentally, gives me the LOLs).
-There's a surprising amount of debate over Jimmy Fallon taking over The Tonight Show from Jay Leno. Some think it's great, while others think it's just the latest proof that NBC doesn't know what it's doing.
-Wanna watch Miley Cyrus twerking in a onsie? (Or do you wanna find out what twerking means first?)
-Oh, and Vanessa Hudgens did a little twerking of her own on Leno this week.
-Meanwhile, Miley thinks she looks like Gollum.
-Oh, and here's more details about Liam Hemsworth and January Jones' alleged flirtfest.
-Allow me to introduce you to Christian Bale's combover.
-Rebel Wilson says she might be up for a role in the next Hunger Games. Ah, hells ya!
-Here's a look at all the now-famous actors who once starred on Veronica Mars. I forgot about Jessica Chastain!
-Meanwhile, here are seven spoilers about the movie.
-Border control officers found marijuana on Rihanna's tour bus when she was trying to leave Canada. (She was staying at the hotel next to my office this week. I should have tried to sneak onto that bus!)
-Here's our first look at Beyonce's collaboration with H&M. (Too bad H&M was just revealed as the biggest buyer of clothing from Bangladesh, the country with the lowest wages for garment workers.)
-Goddammit, Gwyneth Paltrow! I try to defend you and then you release the most ridiculous GOOP yet. $92 for a plain gray tank-top?
-Seth Rogen and James Franco's bromance continues; they're in talks to do yet another movie together.
-AMC just released the first trailer for its new drama, Low Winter Sun.
-Melissa McCarthy talks about casting Susan Sarandon in her directorial debut.
-Here's our first look at Tina Fey playing a "feisty" prison guard in the next Muppets movie.
-Ashton Kutcher knows that you think he's dumb, but apparently it's all part of his master plan. Or something.
-Meanwhile, Ashton says he's trying to keep his relationship with Mila Kunis private after being burned in the past.
-The Postal Service just released another new song.
-ABC says you can save Happy Endings — by watching it.
-I love this article outlining the 37 reasons why New Girl's Nick Miller is the perfect crush.
-The international trailer for the new Star Trek movie heavies up on Benedict Cumberbatch, which is always a good thing.
-As I've mentioned a few (trillion) times, I've become a bit obsessed with The Lizzie Bennet Diaries, which is wrapping up next week. But today was the big episode that fans waited a year for: the Darcy/Lizzie reconcilation.  I am now made of SQUEEs…