There's something rather romantic about visiting Europe. No matter whether it is enjoying the panoramic views of imperial Budapest, sampling exclusive wines in the picturesque vineyards of Austria's Wachau Valley, or climbing into one of Holland's iconic windmills to watch its gears as they turn. All the better if you can take one of those Grand European Tours and experience them together.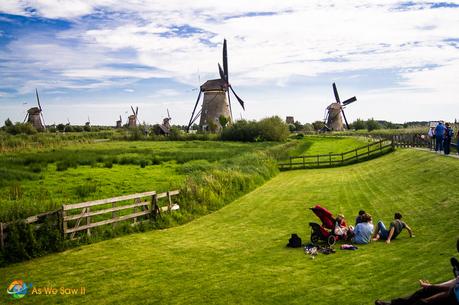 Enjoying a panoramic view of windmills in Kinderdijk
Recently Viking River Cruises invited us to take the Grand European Tour. This 15-day cruise is their most popular itinerary and visits five countries, Hungary, Slovakia, Austria, Germany and Netherlands. They offered us this remarkable opportunity because they noticed that we had already enjoyed their week-long Rhine Getaway cruise and written a lot of stories about it.
In exchange they asked us to share our cruising experience with our readers here on AWSI as well as on social media. Of course we agreed; we knew that our readers would like to hear about it. (All of you are travel lovers, right? We thought so.)
Besides, Viking's brand-spanking-new Longships are state-of-the-art in the river cruise industry and we've been longing to experience them firsthand. With all their muted colors and sleek, modern lines these ships sure do look elegant.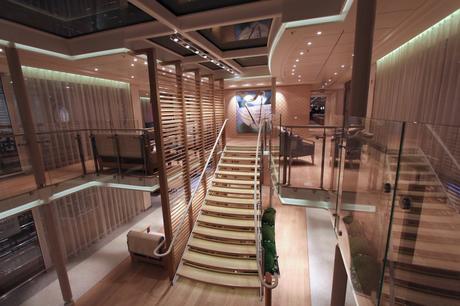 This is the foyer of our cruise ship the Viking Bragi. Credit: Ralph Grizzle, avidcruiser.com
Let's be honest about cruising here.
The thing is though, that most people have never experienced a river cruise. Because it has only become popular in the last couple of decades, relatively few folks know how it compares to the better-known ocean cruises. (We will cover that in an upcoming article, never fear.)
I'll grant you that Europe can be pricey if you're not couchsurfing and backpacking your way through the continent. If you prefer more luxury and comfort than that, the difference between taking a river cruise and doing it yourself may be minimal. Not only does the fare cover all food, lodging and transportation, but most shore excursions are included in the price as well.
Also, consider the convenience factor of only unpacking once and not losing precious daylight hours (read: sightseeing time) to travel from one place to the next.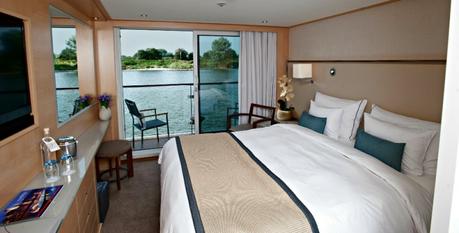 How do these views look? Credit: Viking River Cruises
But still, it can be hard to justify forking over hard-earned money if you are unsure you will enjoy the experience..
That, friends, is why Viking invited us aboard: they want us to experience a real cruise—as cruisers—on one of their new Longships, and then share it with our readers. They are hoping we will be your "boots on the ground," so to speak.
So for 15 days you can take a virtual trip with us. Experience a river cruise as we see it, and never spend a dime. How does that sound?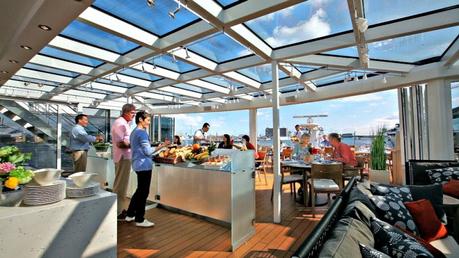 This terrace can be closed off during inclement weather. Credit: Viking Cruises
How to follow our cruise day by day
If you would like to know what a river cruise really entails, that's what we're here for. From May 30-June 15, 2015, we will be sharing our cruise and activities as we go.
Choose your method: We will be posting photos and updates on Twitter, Instagram and Facebook. (Facebook users: Make sure you have Liked our page and turned on Notifications. Otherwise you will miss out.)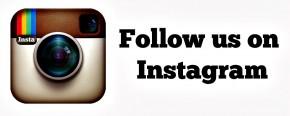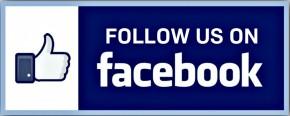 To make following our trip super easy we're even using our own special hashtag: #AWSIonViking.
Covering this will be fun, we think, though the more in-depth stories will have to wait until we get home. (After all, if we spend all our time slaving over our computers we won't be experiencing the cruise, now, will we?)
May we ask a favor of you?
We crave interaction. Please comment on our quips, tweets and photos so we know we aren't posting in vain. We really do want to hear from you!
If you have any destination tips and experiences to share, please do. Food, sites, souvenir shopping, it doesn't matter.
We have decided to spend two extra nights in town before and after the cruise too, so let us know if you'd like to meet up in Budapest or Amsterdam!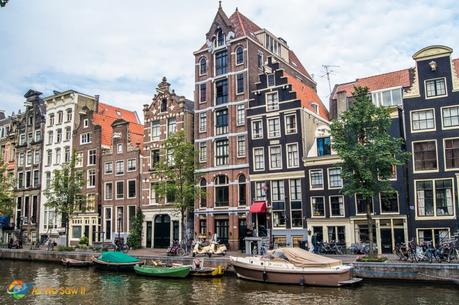 Amsterdam is our ship's final destination.
Viking River Cruises' Grand European Tour
In Part 2 of this story (to appear on Monday next week) you will get a brief overview of the Viking Grand European Tour itinerary, the one that goes from Budapest to Amsterdam. (I've not found any other stories about this route; let me know if you know of any.)
Just as we did with the Rhine cruise each port of call will have links to related stories and photo galleries, as well as links to the UNESCO sites we will see. We intend to update the page as we create related posts and as time permits. It will be a useful resource for everyone, we hope.
Fellow travel lover, if you have ever wondered what it would be like to take a Viking river cruise, we are dedicating our trip to you. Viking has promised us the opportunity to hear the legend of the Lorelei, watch the ancient art of glassblowing, listen to the music of Mozart, and more. From Budapest to Amsterdam, as we travel along the Danube, Main and Rhine Rivers we will share what we experience, whether it's savoring the ambiance in a Viennese café or watching the passing scenery.
Maybe our stories will answer your unspoken question: Is this trip for me?
– Dan and Linda
P.S. – We Blog with Integrity. Seriously. You can expect only honesty in this series, including what we really think about their new Viking longships, Viking Cruises and our overall cruise experience. Based on our previous cruise experience with Viking however, we don't think they will have anything to worry about.
(Visited 5 times, 6 visits today)