With Tiger Woods and Phil Mickelson debuting their PGA Tour golf games at the Farmers Insurance Open this week at Torrey Pines, fans are anxiously awaiting the Battle of the Tried-and-True Superheroes ...or are they?
Online conversations are conflicting about where the most TV action will come from this week- Golf Channel's Facebook page has a proud Tiger Woods accepting his 2013 Player of the Year Award along with Jordan Spieth (Rookie of the Year) with Woods contemplating a new entrant onto the battlefield, "It's going to be fun for a number of years battling it out," Woods was quoted as saying at the ceremony.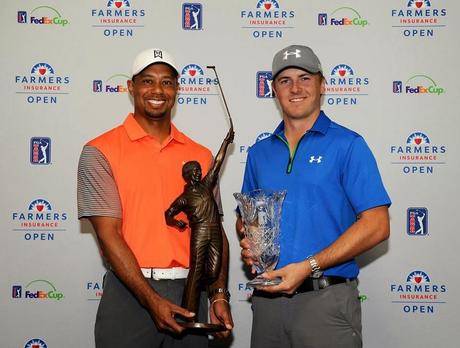 With Spieth and Woods teeing off with Jimmy Walker on Thursday, this pairing could most certainly turn into a future Sunday moment...although both Woods and Spieth have their work cut out for them with a pair of even rounds on day one.
Expert picks mainly have Tiger Woods as the golfer providing the most action and as the winner this weekend but Woods and Mickelson, "the two biggest stars of their generation" as Fox News states, may not be the only attractions worthy of prime TV time....could Stewart Cink be the man to watch?
Two long-hitting lefties, Bubba Watson and Phil Mickelson, will certainly give viewers the action they seek as they tee-off along side of Aussie Jason Day. You can always expect a few fireworks from both golfers - Mickelson nearly chipped in from the parking lot to make birdie at eighteen while Watson had some chip action of his own on hole number two at Torrey Pines' North Course.
You never know when a new battle will brew or the excitement will kick up a notch - Tiger Woods and Phil Mickelson are both great golfers but can new rivalries can happen in a heartbeat to create an infusion of excitement into the sport.
Without picking Woods and Mickelson, which golfer do you think will provide the most drama at Torrey Pines this year?
Voice your opinion on Twitter @Golf4Beginners and Like on Facebook.