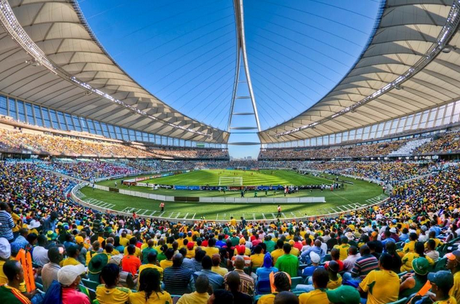 " class="size-full wp-image-4855 " />
Bafana Bafana fans at Moses Mabhida Stadium – AFCON2013
AFCON 2013,Africa's premier biennial soccer tournament that kicked off on the 19th of January, wrapped up the group stage last night,  and will now enter the knock-out stage this coming weekend.
Let me quickly get key facts out of the way first – South Africa is hosting this tourney, the first to be held in an odd year since 1968,  thanks to the aftermath of Libya's of the Arab Spring. 24 matches have been played in the AFCON 2013 group stage by the 16 qualifying nations, and 49 goals were scored.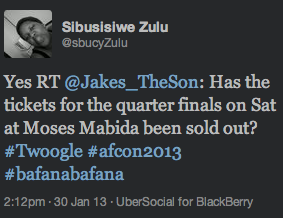 " width="190" class="wp-image-4857 alignleft" height="146" />Back to the business of this post. What is most important to the tourney's Local Organising Committee and CAF is that Bafana Bafana progressed to the knock-out stage. As experience shows, this will prolong (and hopefully heighten) interest 
in the event 
by the host nation's soccer fans. If this tweet about ticket sales for the coming Bafana Bafana quarter-final game is anything to go by, the euphoria in the country has reached fever pitch.
The question that lead me to put this post together was whether the growing excitement about Bafana Bafana's gutsy performances, especially in the last 2 group stage games of AFCON2013, was being replicated on social media.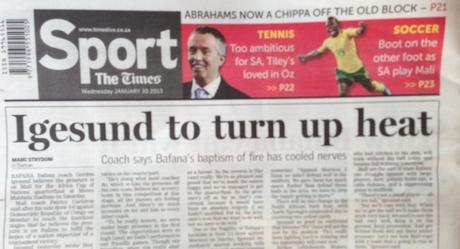 " width="608" class="wp-image-4860 aligncenter" height="332" />
I could use several metrics to analyze related activity on social networks, such as traffic, demographics and sentiment. In the end, I chose traffic peppered with demographics. I also chose to analyze only Twitter traffic, as this microblog is ideal for the required stats.
Analysis of "Bafana Bafana" mentions
Twitter traffic analysis of "Bafana Bafana" keyword (Graph 1) indicates that Mzansi netizens had lots to say during the national team's 3 group games, with a 2-0 win over Angola on January 23rd generating the most Twitter traffic. This is understandable to some extent, as the first game's goalless draw did not inspire much confidence in the boys' game plan.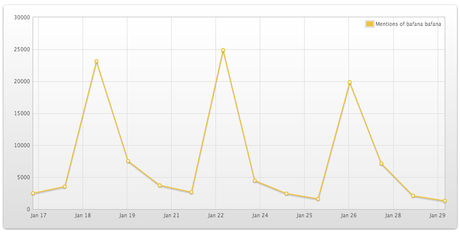 " width="655" class=" wp-image-4865 " height="332" />
Graph 1: Bafana Bafana Twitter Traffic (Source: topsy.com)
Despite the smallest of the 3 spikes in Graph 1, Bafana Bafana's last group game on January 27th got fans on the edge of their seats throughout the regulated 90 minutes as the boys came from behind twice – buoyed by Itumeleng Khune's numerous heroic saves and the second goal (by Siyabonga Sangweni) on the 85th minute –  to equalise against Morocco and secure a spot in the quarter-finals. I was expecting that this game would generate the most "Bafana Bafana" Twitter mentions of the trio, but it was not to be.
Comparing "Bafana Bafana" and "AFCON" mentions
A comparison of "Bafana Bafana" and "AFCON" keywords (Graph 2) reveals that the latter mirrored the former only at the beginning of the tournament. Hard to say why this was the case. But maybe Graph 3 below provides some clue.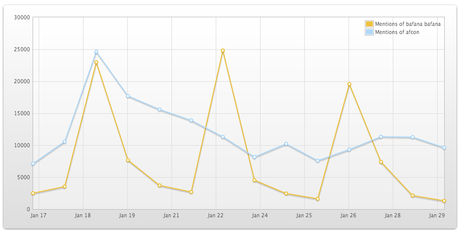 " width="655" class=" wp-image-4864 " height="332" />
Graph 2: Twitter Keyword Comparison (Source: topsy.com)
A more gentler graph for "AFCON" mentions indicates that there was some tweeting about the event generally and for other non-Bafana Bafana games.
Comparing "Bafana Bafana", "AFCON" and "AFCON2013″ mentions
Expanding the comparative exercise by including the "AFCON2013″ (Graph 3) indicates some semblance of mirroring between this keyword and "Bafa Bafana".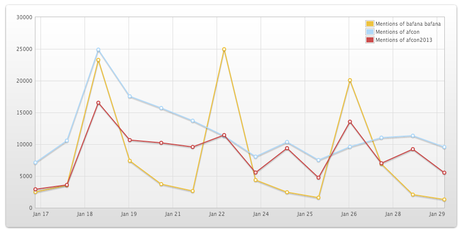 " width="655" class=" wp-image-4874 " height="328" />
Graph 3: Twitter Keyword Comparison (Source: topsy.com)
My reading of Graph 3 is that there is a possibility the Local Organising Committed did not do enough (if at all) to ensure Twitterers use a dedicated keyword for this event from scratch, like it was the case with London2012. As a result, soccer supporters used a combination of "AFCON" and "AFCON2013″.
The keyword comparative exercise for the most favored national teams including Ghana, Ivory Coast and Mali proved tricky due to some team nick names that are not unique, e.g. The Elephants (Ivory Coast). This increased the chance that some of the tweeting traffic for such commonly used keywords was not related   to AFCON 2013 at all. As a result, I could not perform this exercise.  
My findings
Clearly, Mzansi soccer supporters have been active on Twitter, spurred on by Bafana Bafana's uplifting performances on the field. However, there did not seem to be direct correlation between the amount of traffic and the improving quality of Bafana Bafana's related performances during the AFCON2013 group stage. 
ABOUT THIS BLOG | ABOUT THE BLOGGER | LATEST QUICK DIGI-TIP