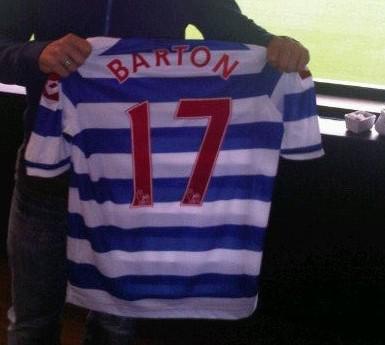 Joey Barton, QPR player, Twitter enthusiast. Photo credit: Joey Barton (Twitpic)
Fans of relegation-haunted Queens Park Rangers will be mostly mightily relieved to learn that Joey Barton, the club's often outspoken captain, is taking a sabbatical from micro-blogging website Twitter. Barton, who has tweeted 4,598 times and amassed a whopping 1.3 million followers, has (finally) taken a break from his social media hobby after it landed him in hot water again this weekend. After his team's lacklustre 24 March 3-1 loss to Sunderland, for which Barton was benched after some rank on-pitch performances, he took to Twitter to liken the city of Sunderland to the nightmare, hillbilly world of film Deliverance. Unsurprisingly, Sunderland fans were unimpressed by the ex-Newcastle midfielder's musings.
Barton joined QPR from Newcastle at the start of this season as a self-proclaimed new man but carrying plenty of baggage. In his younger days, Barton stabbed a lit cigar into a team-mate's face at Manchester City's Christmas party, served 74 days in Manchester's Strangeways prison for assault and left another team-mate unconscious after a training-ground attack. While Barton should certainly be applauded for leaving behind his history of violence, there's a growing sensation amongst the sports commentariat that he's plagued by a new demon – an insatiable desire to bully and make mischief on Twitter.
Barton's outbursts. As any long-suffering QPR fan knows, rarely a week goes by without Barton insulting someone or other. Here is a random selection of his inflammatory efforts:
On Madonna at The Superbowl: "Half Time show. This could be like watching ur grandmother lip syncing in her knickers and bra. I shudder at the thought."
On Beckham's H+M underwear deal: "Is there no limit to what 'Brand Beckham' will endorse for a pound note. Surely they both have enough cash now."
On pundit Alan Shearer: "Bad shirt, shoes and views from shearer again. Sort it out slaphead…….."
On politics: "Hate to say this but I struggle with Ed Milliband because of his lisp. Sorry leader of the country cannot have a speech impediment."
Barton is reportedly on a hefty £60,000 a week contract with QPR. He has scored just one goal this season and become the prime target of the increasingly disgruntled Loftus Road boo-boys.
Twitter monster is career bombing. Matt Dickinson of The Times (£) wondered if Barton is "the first known instance of a career bombing 'live' on Twitter. It has been a fascinating phenomenon in which the greater Barton's fame has grown in the twittersphere, the worse he has been on the football pitch. And there surely is a correlation. Would Barton deny that his head has been turned, his self-importance inflated, his grasp of professional realities dangerously loosened by all the attention that has come with becoming one of Britain's most noted tweeters? We may already have the answer. Faced with a career crisis, @Joey7Barton's response has been to take a self-imposed sabbatical. Time to concentrate on the day job, not wondering who to call a #helmet on social media." Dickinson suggested that Barton had been "sucked in by the hype" of Twitter: "By last week, that dangerous loop had turned Barton into an absurd self-parody, tweeting that 'form is temporary, class is permanent' and 'the tallest trees catch the most wind'. Who does he think he is? Twitter tells him he is bigger than Robin van Persie (followers 1.2 million)." "Twitter seemed a harmless medium but it has created a monster, with Barton as famed for his rants as his football. Now he does neither," sighed Dickinson.
Should Barton start QPR's crunch tie with Arsenal this weekend? Leave a comment and let us know your thoughts.
Vinnie Jones with wi-fi. At The Daily Mail, Laura Williamson sarcastically asked, "how will football cope without the spiteful rants of this humourless, angry little man?" "We shall miss him, of course," sniped Williamson. "We will pine for the incessant, sanctimonious musings of Twitter's self-appointed sage. As Lent draws to a close, it is we who will be cast out into the wilderness without football's unofficial spokesman and resident philosopher to show us the light. Will the game be able to cope without born-again Barton taking a sip from his cappuccino and  casting judgment on the burning issues of the day, trampling over those who disagree and basking in the unashamedly ego-stroking nonsense of it all?" Williamson said Barton's attempt to reinvent his public image on Twitter after his well-documented run-ins with the law has backfired spectacularly: "He may decry the 'bad-boy image' he considers a media fabrication, but he repeatedly enhances that negative persona. If you do not like what you read in the papers it will always be somebody else's fault, but you have no excuse if you actively celebrate the fact it is you, unfiltered, behind the Twitter avatar. The result is certainly not pleasant. Barton comes across as a mean, dislikeable individual; the classic playground bully who revels in snide ripostes and stamping on those with a lower profile — simply because he can. His tweets come like bullets, one after the other. He doesn't interact; he just spews vitriol on the screen whenever he feels like it."
To be fair, @Joey7Barton has had its positive moments. Matt Dickinson of The Times (£) did take time to acknowledge that Barton's Twittering isn't all bad. He pointed out that "he certainly didn't attract more than one million followers because QPR have a hidden fanbase, because he is a star for England or his form in midfield. Sometimes he has interesting, thought-provoking and funny things to say. Mostly it is because he shocks in a world of anodyne spin." "Credit to him for giving his name to charitable use — and for using Twitter to push the cause of the Hillsborough families," added Dickinson. Earlier in the season, Barton wrote a thought-provoking op-ed for The Times in which he the talked up the democracy-enhancing power of Twitter.