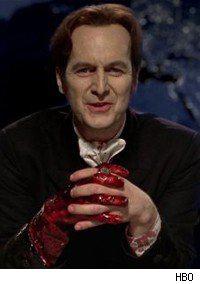 An HBO spokesperson tells The Hollywood Reporter that Denis O'Hare doesn't appear this season. We pretty much already knew this, but we all had hope. I would lay money that the King of Mississippi will return in Season 5 though giving us something to look forward to.
As recently as earlier this month, O'Hare told THR that fans should "never give up" on Russell's return. He also reiterated what series creator Alan Ball had told fans, "Russell's not dead."
When HBO released the episode descriptions for this season's finale episode, it stated "the denizens of Bon Temps brace for a new crisis with a familiar face" and THR thought for sure it was referring to Russell.
The last time fans saw him, Bill (Stephen Moyer) and Eric (Alexander Skarsgard) sealed Russell in a cement grave, but he vowed that he'd be back. This season has been kind of an ode to the character as his televised killing of a news anchor created violent discord between humans and vampires, setting in motion many of the events of Season 4 – dubbed the "Post-Russell Edgington world."
When THR spoke to exec producer and writer, Alexander Woo, before this season's premiere about the character's reprisal, he told us, "He's been locked away, so he's kind of a time bomb. He could come back in any moment." So, that moment won't happen this season.
Of course, O'Hare is busy shooting his new series, FX's American Horror Story, but we'll take his suggestion and never give up. Maybe, Russell will be back in Season 5?
source: hollywoodreporter.com