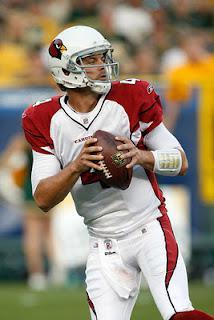 Photo: Zimbio.com
- Troy Ballard
The Arizona Cardinals traded away more than fair value to the Philadelphia Eagles to acquire quarterback Kevin Kolb, and one season later, there are serious questions surrounding his future with the organization.
Kolb's career in the NFL has been plagued with consistent injuries, from concussions to turf toe, and he has been sidelined for most of the games he should have been starting. That's how Kolb ended up getting dealt out of Philadelphia, after a concussion, he lost his starting role to Michael Vick.
The trend continued in Arizona. Following a bleak 1-6 start to the season, Kolb was knocked out of the starting lineup for seven weeks. During his absence, backup quarterback John Skelton played incredibly well and really clicked with the offense, leading the Cardinals to a 5-2 record.
Despite Skelton's surprising performance as a starter, Kolb by no means is at risk of losing his job as a starter. After what the Cardinals gave up to get him, combined with Larry Fitzgerald lobbying to get him in Arizona, Kolb's starting role won't be in danger.
What is in question, is his long-term future with the franchise.
Kolb's value in the NFL is high. That's why the Eagles received a talented young cornerback and second round pick in exchange for him. There have been games where Kolb has absolutely gone off and has looked like a Pro-Bowl quarterback. He has proved on numerous occasions he can win games and lead his team to wins in the NFL.
However, that's not how Kolb is generally remembered. The Houston product is generally linked directly to his inability to stay healthy as a starting quarterback. It seems to be on thing after another, and Kolb can't keep himself on the field.
The Cardinals have already confirmed that they will bring Kolb back next season without any doubts. But that five-year $63 million contract that the future face of the franchise signed immediately after being traded is starting to not look like a mistake.
There is no telling what Kolb could do with a full off-season to practice and develop chemistry with the Cardinals receivers, and it's possible he could explode in 2012. The first step to that is him staying healthy and starting all 16 games for Arizona to even make it possible.
Kolb's health moving forward is paramount to his future with the Cardinals. There is no guarantee that if Kolb gets injured next season that Arizona won't straight-up release him. His contract is only going to get more expensive as the years tick by, and if he isn't even playing, the Cardinals will move on without  Kolb.
The issue is compounded by the immense amount of quarterback talent entering the NFL draft not only this draft, but also next year. The Cardinals also won't forget about Skelton, who was practically already the starting quarterback last season. Kolb is on a medical hot-seat.
There is no question that Kolb has the talent and the weapons to succeed with the Cardinals. It's now a matter of him staying on the field and continuing to progress as the quarterback Arizona traded for. But if Kolb can't stay healthy, anything is possible, and he could find himself out of work quicker than he found it.
Be sure to follow Beard and Stache on Twitter @BeardAndStache, and also Troy @TroyBallards, Like our Facebook page HERE!