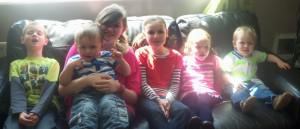 My Brood
I always refrain from doing it where I can but it's difficult at times, when your child has a birthday party for example and you grab out that camera and you click away, capturing as many memories of the day as you can.
At a family get together to celebrate the Jubilee I took many photos and some had other kids in them, kids that belonged to my family, even those pictures I didn't put on Facebook.
I do add many pictures of my own children on my profile but I try not to put those up of others kids. I have seen birthday parties on friend's profiles where all the happy little children are sat around playing pass the parcel and I wonder do these kids parents know they are in a Facebook album?
I remember being gobsmacked at one of the school performances I went too at my kids school, where we were asked not to take photos as one of the parents had refused their child to be photographed.
Should you upload pictures to Facebook where other people's kids can be seen? Or should you ask for permission first?