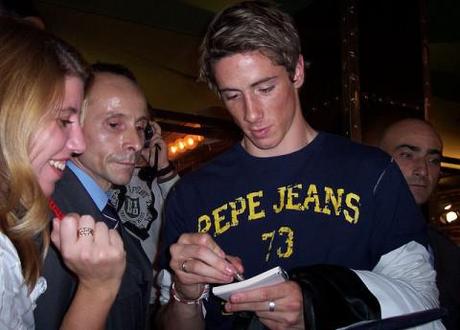 Fernando Torres signs autographs for fans. Photo credit: Comcinco

Was Fernando Torres' miss the worst of all time? That is the question being asked today as football fans digest the Chelsea striker's howler of a miss in his team's three-one loss to table-toppers Manchester United on Sunday.
The jaw-dropping miss piles the misery on Torres. Since his multi-million pound move from Liverpool to Chelsea, he has had a torrid time of it. Loss of form has seen the Spaniard, whose name once adorned more replica shirts than any other Premier League player, frequently benched by Chelsea. Diagnosing Torres' malaise has become a favourite past-time of the media.
"Always felt Torres entered a psychological slump. Needed to get back up on his toes, sprint, spin, shimmy, fight, restore the demonic edge," tweeted The Guardian's Paul Hayward.
Grotesque. "Hapless" Chelsea striker Fernando Torres produced "such an extraordinary miss against Manchester United that it immediately became a candidate for admission into the pantheon of all-time goal-mouth cock-ups. In the absence of all mitigating factors – clean through, six yards from an empty net with a slow-moving ball on a perfect pitch – Torres's grotesque slice takes some beating, and gains points for coming in a high-stakes encounter," adjudged FirstPost.co.uk.
Plumbing uncharted depths. Thom Gibbs at The Daily Telegraph wondered if Torres will ever recover and suggested he is running out of excuses for his underwhelming form: "The traditional excuse for his diminishing returns in the past few seasons has been tiredness after taking part in summer tournaments for Spain. This year he's had a break, a full pre-season, and if yesterday's miss is anything to go by he's more capable than ever of plumbing previously uncharted depths."
Viral spoof. The miss has become such a big deal that there's is even a Fifa video game mock-up now doing the rounds:
Torres is not alone. To be fair to Torres, many great players like Ryan Giggs sport quite amazing misses on the CV. Below, is a round-up of The Periscope Post's top misses of all-time. Sadly for Fernando, his howler sneaks into our top five, in fifth place.
Ronnie Rosenthal (Liverpool):

Diego Forlan (Manchester United):

Chris Iwelumo (Scotland):

Ryan Giggs (Manchester United):