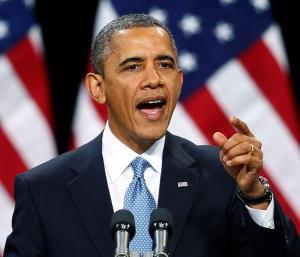 So we have some good news and bad news… and then some more good news. First, President Obama has signed into law , "No Budget, No Pay," an idea advocated by the group No Labels. This is an encouraging step in the right direction to get Congress to do one of the few things its actually required to do: create a budget.
Unfortunately, President Obama has failed to meet the deadline for proposing a budget. He has only met this deadline once in five years.
Now, this doesn't mean that the government stops taking in money, borrowing money, and spending money. On that front we have some good news: the CBO is predicting the budget deficit to be the lowest of Obama's presidency (so far).  Time reports:
The federal budget deficit will drop below $1 trillion for the first time in President Barack Obama's tenure in office, a new report said Tuesday.

The Congressional Budget Office analysis said the government will run a $845 billion deficit this year, a modest improvement compared to last year's $1.1 trillion shortfall but still enough red ink to require the government to borrow 24 cents of every dollar it spends…
Believe it or not, our deficit is shrinking faster than any time since WW2. The trend is expected to continue in the short term, but without entitlement reform our long term situation still looks bleak:
The report predicted the deficit would dip to $430 billion by 2015, the lowest since the government posted a $459 billion deficit is former President George W. Bush's last year in office. That would be a relatively low 2.4 percent when measured against the size of the economy. But deficits would move higher after that and again reach near $1 trillion in the latter portion of the 10-year window — despite the recently enacted tax increase on family income exceeding $450,000 and automatic spending cuts of about $100 billion a year.
Regular readers of my site will acknowledge I'm not a mindless Obama hater. In reality, I give the Republicans a much harder time. At the end of the day, I just want him and our Congress to do their jobs instead of constantly playing partisan games. You should too, no matter which team, if any, you root for.
David Gregory, in an interview with Paul Ryan two weeks ago, pointed out that almost everyone knows what needs to be done when it comes to our fiscal situation. The problem is that neither side can figure how to do it and win, politically. If you figure that one out, let me know.