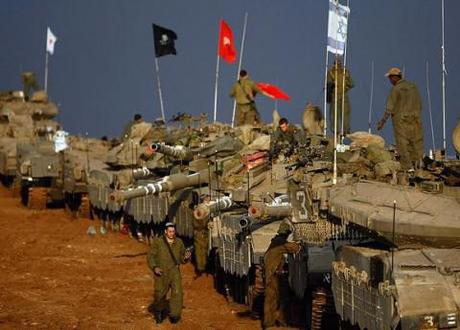 The Israeli army
Israel has accused Iran of orchestrating a state-sponsored terror campaign after a series of attacks in Georgia, India and Thailand. Israeli diplomats were targeted in blasts in Tbilisi and New Delhi, while two Iranian nationals were detained in Bangkok and another in Malaysia after apparently accidentally detonating explosives at a house in the Thai capital. Thailand's chief of police told the press that the Bangkok blasts were aimed at Israeli diplomatic officials, according to Bloomberg.
Israel was quick to point the finger at Iran and Lebanon's Hezbollah: "The attempted terror attack in Thailand proves once again that Iran and its proxies continue to operate in the ways of terror and the latest attacks are an example of that," said Israeli Defence Minister Ehud Barak, reported The Guardian. Tehran has accused Israel of involvement in the assassination of Iranian nuclear scientists over recent months.
The attacks come at a time of rising tensions with Iran. According to Iranian state television, Tehran plans to stop oil exports to six countries in response to European sanctions aimed at halting or reducing the Iranian nuclear programme, said The Telegraph.
Middle East 'conflagration'? "In the tinder box that is the Middle East sparks such as these can set off a huge conflagration," wrote Ian Black in The Guardian, describing the Iran-Israel relationship as "by far the most dangerous element" in the region. Black noted that intelligence company Exclusive Analysis has raised its estimate of the probability of an Israeli strike on Iranian nuclear facilities in 2012. "An Israeli attack could draw in the US and cause Iran to block the narrow strait of Hormuz, retaliate against Arab Gulf targets and disrupt global oil supplies," wrote Black. And what's more, Israel may also be drawn into conflict with Hezbollah.
Complex situation for US. According to Daniel Klaidman at The Daily Beast, US President Barack Obama has to juggle three aims when dealing with Iran: "Keep nuclear weapons out of the hands of the mullahs, prevent the oil-based global economy from tipping into the abyss, and manage the wild card that is Israel." Klaidman reported that the latest sanctions imposed on Iran will have a considerable effect on the country – and this will raise the stakes even higher: "If cornered, Iran may become more unpredictable."
Israeli attack? Alain Frachon reported at FirstPost that Israeli leaders are keen to strike at Iran's nuclear facilities before they go underground and become unreachable. Even though the US and Europe are calling for patience, an early attack would also make American support more likely, suggested Frachon: "Many [in Israel] assume the raid is supposed to take place before the American presidential election on 6 November — while Obama is still under pressure from Republican candidates who openly defend the principle of attacking Iran."
Lack of trust between US and Israel. There appears to be a "lack of strategic agreement or basic trust between the Obama administration and the Israeli government of Benjamin Netanyahu" over Iran, said a Washington Post editorial. What is particularly worrying is that "a senior U.S. intelligence official recently said that Israel has grown reticent about discussing a possible attack on Iran and had declined to offer an assurance that it would consult Washington before acting" – which leaves open the possibility that the US would have no influence over an Israeli strike.