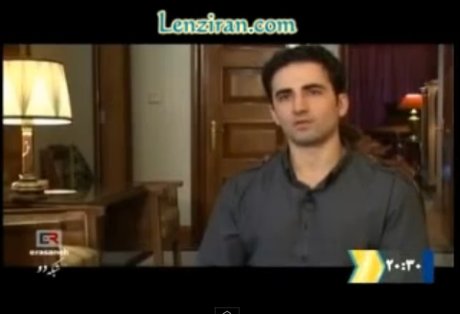 A man claiming to be Hekmati issuing a confession on Iranian TV.
An Iranian court has convicted a former US Marine of being a CIA spy – and sentenced him to death. The decision comes at a fraught moment for Iran and the rest of the world: The US is pressing for tougher sanctions against the Islamic Republic; media outlets claim that a "cyber war" between the US and Iran is heating up; and recent reports from Iranian news agencies that claim that the country is now enriching uranium in an underground bunker.
Amir Mirzayee Hekmati, a 28-year-old American-born Iranian American from Arizona, was accused of "cooperation with an enemy government, membership in the CIA and attempts to accuse Iran of supporting terrorism", according to Iran's state-run news agency, Fars. Hekmati, who was arrested in December, reportedly made a confession on Iranian broadcast television on December 18, in which he said that he had been "fooled" by the CIA into taking a mission to infiltrate Iran's intelligence networks, and that he "didn't want to hit a blow to Iran". The man identified as Hekmati in the video also claimed that he joined the US Army after graduating high school in 2001, had served in Iraq, and received training at the Bagram air base in Afghanistan before being sent by the CIA to Iran. Iran says it was aware of Hekmati's intentions and arrested him as soon as he crossed over the border. The CIA, The New York Times reported, declined to comment after the broadcast; the US State Department demanded Hekmati's release, to no avail.
Hekmati was sentenced to death under branch 15 of Tehran's Revolutionary Court and described by the court as "belligerent and corruptor of the world."
He now has 20 days to appeal the sentence.
The alleged confession on Iranian TV

What's the real story? Though Hekmati – or someone claiming to be him – confessed on broadcast television, the BBC reported that there's reason to be doubtful. Swiss diplomats in Iran, who handle Washington's interests there in the absence of US-Iranian congenial relations, were not allowed to see him before his trial and his family, living in the US, claims that he was there visiting his Iranian grandmothers. His father, a college professor in Flint, Mich., told reporters that his son had joined the military in 2001 as a translator and, at the time of his arrest, had been working in Qatar as a contractor for a company that "served the Marines". Moreover, the BBC's Iran correspondent, James Reynolds, noted that though televised confessions are a "central part of Iran's political and judicial systems", human rights organizations question their validity.
Frequent claims. But Iran, The New York Times noted, frequently claims that it has apprehended or executed spies for "enemy" nations – the West and Israel. This weekend, Iranian state media claimed that it arrested several spies this weekend who intended to carry out CIA plans to disrupt elections in March. The Daily Mail, in its report of January 8 on the alleged arrests, openly questioned whether Tehran's claims were true: "Iran periodically announces the capture or execution of alleged U.S. or Israeli spies, and often no further information is released."
War on the way? Hekmati's sentence is just one of the many factors heightening tensions between the US and the Islamic Republic – further sanctions, including a potential embargo on Iranian oil, and Tehran's claim that they captured a US drone on Iranian soil are just two examples. Commentators are wondering if another war is just around the corner. But all this talk about war, warned Trita Parsi at The Independent, makes it all the more likely: "Escalation by both sides coupled with a reckless discourse that has normalised the idea of war have created an environment where military confrontation is a rising probability."