This is a photo courtesy : www.iplt20.com ~ the toss between MI V RCB – Ravi Shastri, Virat Kohli tossing as Rohit Sharma about to call ~ can you identify the other person – the match referee !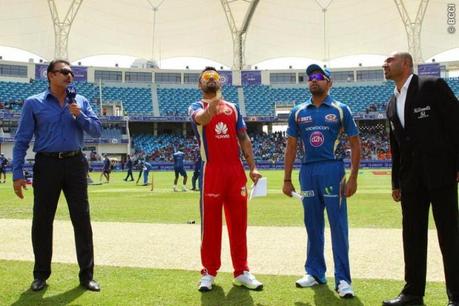 Yesterday, Kolkata Knight Riders successfully  defended the 150 in a thriller....... the match appeared to be heading RCB way … they had wickets in hand – yet the last over dished out different … the catch of Chris Lynn stood out…  At  the start of the final over with two renowned finishers, AB de Villiers and Albie Morkel, in the middle, Royal Challengers were favourites. Nine runs were needed, - Sunil Narine and Morne Morkel, had bowled out – the man considered 'the run giver' - Vinay Kumar bowled the climax filled with full deliveries that kept his old team down to six !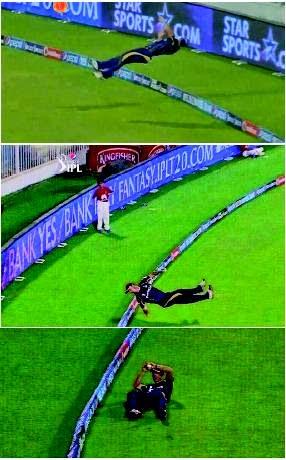 ~ the turning point was that catch an acrobatic display sending back
De Villiers who looked to clear easily the long boundary at midwicket.
Lynn jumped, took the catch and more importantly kept his balance consciously pulling himself back inside without touching the rope.  
After de Villiers' exit Royal Challengers needed six off two, not entirely out of reach, but Morkel could not succeed and so did RCB….. earlier our favorite Muttiah Muralitharan made a comeback but was hit around. 
In the present IPL thus far, Yuzvendra Chahal has bowled so well with an unbelievable economy rate ~ and has not conceded a single boundary thus far….. Jaques Kallis shared an unlikely record with Gautam Gambhir – that had had 8 ducks and against Daredevils, Gambhir was out for a duck, briefly leading – only to be equalled sooner by Kallis…….. now Gambhir has marched another step ahead with the third duck in the match against RCB.  Sad for someone who has 4021 test runs and 5238 ODI runs besides 932 T20 International runs…..has he jeopardized his continuance in IPL itself, leave alone pedalling back to the National team on IPL performance is the moot Q ?
IPL is all about entertainment – a big bash … and there is more hype pre-match – in that flagship analysis 'Extraaa Innings T20' – where once again, you will see glitz and glamour of dancers and more.  There is Navjot Sidhu, Ajay Jadeja -  Sony MAX and Sony SIX, the official broadcasters of the Pepsi IPL 2014 have roped in Archana Vijaya and Shibani Dandekar. Then there is Samir Kochhar and Gaurav Kapur.  While Jadeja dances, Archana and Shibani talk about cricket !  in the campaign 'Bulaava Aaya Hai'  ~ there is also former Pakistan captain; pace bowler  Waqar Younis ; Arun Lal and Isa Guha.  The sponsors would claim that the segments involving Archana Vijay and Shibani Dandekar have been 'entertaining' for the viewers !!!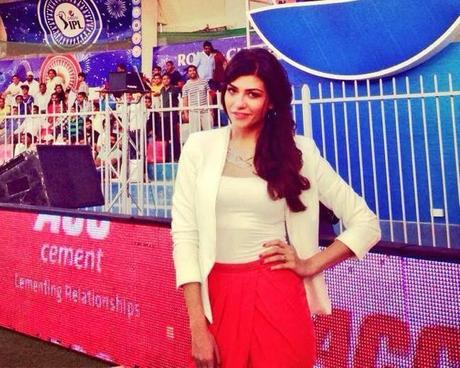 archana vijaya


Do you know or remember the best bowling performance in IPL…

it was 6 – 14 by Sohail Tanvir against the Chennai Super Kings at the Sawai Mansingh Stadium in the 1st IPL.   He took  22 wickets from 11 matches at an average of 12.09, an economy rate of 6.46 and a strike rate of 11.20 that time. 




Then after the 26/11 and continued hostile situation from Pakistan, Pak players were kept out of IPL.  For those of us with good memory, last year the political tension sin Tamil Nadu kept lankan players out of IPL matches in Chennai.  This year we have 20 matches off-shore before IPL returns to Ranchi…. ..the host is UAE which has been Pak home for more than five years. They have played 76 international matches there since 2006, and there has been no indication that will change.




The political relationship has not changed and perhaps it is still not time ripe for including Pakistan players in IPL franchisees.  The  Pak players did themselves nothing good by making some anti-rhetoric immediately after they were neglected…… but when it is so – what is the rhyme and reason in having Pak in commentary box and in the middle…. You have Aleem Dar – Asad Rauf standing in IPL – Ramiz Raja commenting; Waqar Younis earlier sitting in dug out as Coach and now speaking more…….. do you see any logic in that ?




IPL has done good to many ex-players too.. there was a time when Lankan pace attack comprised of Asantha De Mel; Rumesh Ratnayake, Ravi Ratnayake and for sometime Grame Labrooy.  Labrooy who had a different action modelling after Richard Hadlee took 27 test wickets in 9 tests and 45 in 44 One dayers. He made sort of forgettable debut against India in Test.  He once had a 5 wicket haul at Brisbane.  He was the match referee in the recent IPL match between MI and RCB




With regards – S. Sampathkumar.




Lynn

catch photo credit : timesofindia.com