"Life becomes a festival when gaiety and culture blend. Onam, a festival uniting the people of Kerala, delivers the message of both."
Onam festival celebrates the many elements of Kerala's traditions and culture. Signalling the end of the monsoons, this annual 'harvest festival' unites the people of Kerala with a ten-day celebration during 'Chingam' (the first month of the Malayalam calendar / August-September as per Gregorian calendar). Onam festivals starts on 24 August 2018.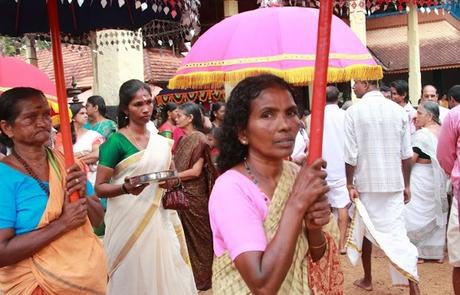 Devotees at Aranmula for Onam Celebrations – Editorial Credit: AJP / Shutterstock.com
Onam is also mythologically linked to Malayalee-Hindu folk tales, one which marks the homecoming of legendary 'asura' or 'demon' King Mahabali from the underworld, while another claims Onam was the day Parashurama  – an avatar of Lord Vishnu – founded Kerala state from a sea bed.
A vibrant and colorful festival, Onam is likewise considered the 'festival of flowers', and wonderful flower decorations are created inside and outside homes.
Enjoyed by all religions, this ancient festival displaces all barriers of caste and religion, propagating that all people should live harmoniously in unison.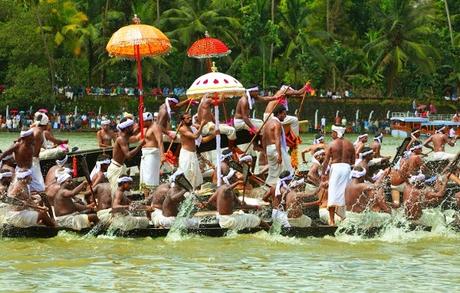 Participants in the famous Aranmula Boat Race – Editorial Credit: Rajesh Narayanan / Shutterstock.com
Kochi, Trivandrum, Thrissur, and Kottayam are where the most spectacular celebrations take place. Thrikkakara Temple, 15 kms northeast of Ernakulam, is especially associated with Onam Festival. Every Onam, Malayalees revive and relive the happy times under Mahabali's reign.
Locals wear new clothes; homes are colorfully decorated; elaborate 'pookalams' (floral carpets) are created in front of homes; and a grand celebratory 'Onamsadya' feast is prepared.
Apart from the joyous festivities of family and feasting, various energetic and fun-filled activities enthrall Malayalees during Onam.
Here's eight of the most riveting and inviting festival attractions…come, join the fun!
1) Thripunithura Athachamayam: Onam Celebrations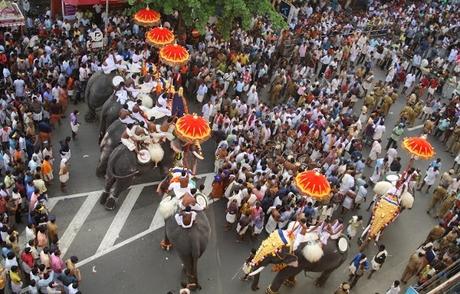 Street Procession including gold decorated elephants, Thrissur – Editorial Credit: AJP / Shutterstock.com
Marking the start of Onam, Athachamayam is a colorful inauguration featuring a street parade of different Kerala art forms, musicians, dancers, carnival floats, decorated elephants, etc.
Date and Venue: 15 August, 2018 – Thripunithura, in Ernakulam's greater Kochi.
2) Aranmula Snake Boat Race: Onam Celebrations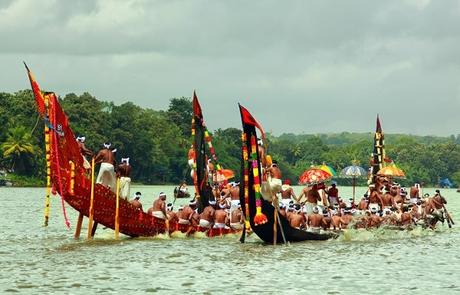 Oarsmen Rowing in Snake boats Aranmula Boat Race – the oldest river boat fiesta in Kerala – Editorial Credit: Rajesh Narayanan / Shutterstock.com
Unlike other competitive snake boat races, Aranmula Snake Boat Race is more a traditional ritual with religious elements. Kerala's oldest and most popular boat race attracts scores of spectators, both local and international. About 50-plus boats participate in the race commencing in the afternoon after all religious rituals are over.
On Thiruvonam (the festival's tenth day), Aranmula Temple rituals are overseen by the patriarch of a renowned Brahmin family.
Date and Venue: Banks of River Pampa, Aranmula. 29 August 2018
3) Onathallu: Onam Celebrations
Onathallu is an extremely competitive freestyle martial arts form. This bare-handed mock fight has combatants facing each other without any weapons or rigid rules, except that it is prohibited to hit the head or face, and punch or kick.
Men of all ages dressed in dhotis, plain white cloth wrapped like shorts, test their stamina, skill and physical abilities. Onathallu ideates the martial spirit of warriors.
Best Place: Thrissur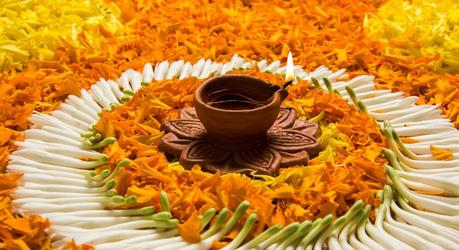 Flower decorations for Onam in Kerala.
4) Pulikali or Tiger Dance: Onam Celebrations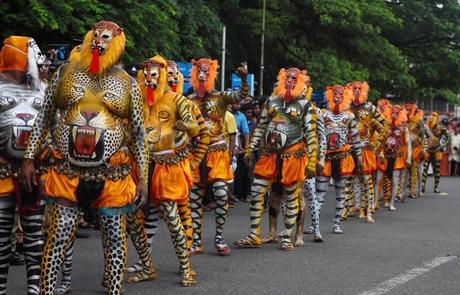 Body painted tiger dance artists – Tiger dance is a traditional folk art performed during Onam – Editorial Credit: AJP / Shutterstock.com
Meaning 'the play of the tiger', Pulikali dates back over 200 years. It was introduced by the former Maharaja of Kochi who wanted a dance that was wild and had oodles of manliness!
Hundreds of performers colorfully painted and dressed like tigers dance to sounds of traditional music.
Moving in street processions, they pounce and shake their bodies to the rhythm of drum beats. Following close behind are rifle armed hunters.
Best Place: Swaraj Round, Thrissur, 28 August 2018
5) Kaikottikali Dance: Onam Celebrations
Kaikottikali or Thiruvathirakali is a popular folk group-dance performed by Kerala maidens in traditional attire.
Eight to ten women perform in rhythmic and symmetrical movements. One performer sings the first line of the song while others repeat in chorus clapping hands.
Best Place: Throughout Kerala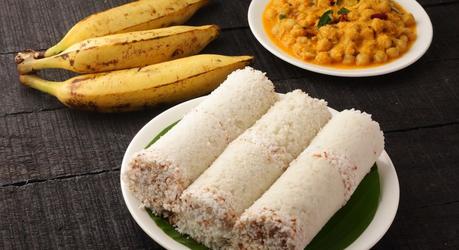 Puttu – A popular dish in Kerala.
6) Thumbi Thullal Dance: Onam Celebrations
This captivating all-women song and dance art form is derived from the word 'thullal' meaning 'caper' or 'to leap about playfully', and originated in the eighteenth century. Combining both recital and dance performances, thumbi thullal elucidates tales narrated in verse. The lead performer initiates the song, followed by another who repeats in chorus, accompanied by an orchestra of mridangam (percussion instrument), harmonium and cymbals.
A devotee play clarinet for devotional song at the mass feast ceremony – Editorial Credit: AJP / Shutterstock.com
Women in beautiful sarees, amazing jewelry and fragrant gajras (flower garlands), perform in a circular formation around the main singer.
Best Place: Throughout Kerala
7) Onakalikal: Onam
The collective name for the tradition of playing indoor/outdoor games during Onam, Onakalikal is usually enjoyed after Onasadya.
Men participate in Talappanthukali (playing with a ball), Ambeyyal (archery), Kutukutu or Kabaddi, and Kayyankali and Attakalam combat games. Women indulge in cultural activities.
Best Place: Throughout Kerala
8) Onasadya: Onam Celebrations
The highlight of the festival, Onasadya or 'Onam Feast', is a hearty nine-course meal comprising 11-13 all-important traditional dishes served on banana leaves and eaten seated on mats laid on the floor.
Some of the many delicious food items served during Onasadya on Banana Leaf thal
i
Held on the last two days of Onam at Thrikkakara Temple, about 10,000 people attend Onasadya festivities.
Considered a form of worship, Onasadya begins at 10 am and ends by 5 pm.
Best Place: Thrikkakara Temple. Throughout Kerala.