Reading the history of Madras – it is stated that a Zoological garden in connection with the Museum was started in 1855.  Ripon Buildings opened in 1913 by the then Viceroy, Lord Hardinge. It  is surmounted by a graceful tower with a big clock which chimes out, Westminsterlike, in a musical and sonorous tone, the hours and the quarters.  Behind the stately buildings, lies the People 's Park opened in 1860 by Sir Charles Trevelyan, Governor. It is the largest open space in the city, and contains several ornamental palms, a good nursery of plants, a fairly representative collection of animals in a wellkept Zoo and a small well laid out flower-garden known as "My Ladye's Garden " where annually the Corporation holds a flower show.  .. by the turn of mid 1970s, the Moore market complex was dirty and had a Zoo where animals where pale shadow of themselves !!!
Animals are interesting – ever heard of 'quokka', the only member of the genus Setonix,  a small macropod about the size of a domestic cat. Like other marsupials in the macropod family (such as kangaroos and wallabies), the quokka is herbivorous and mainly nocturnal. Quokkas are found on some smaller islands off the coast of Western Australia, in particular on Rottnest Island just off Perth and Bald Island near Albany.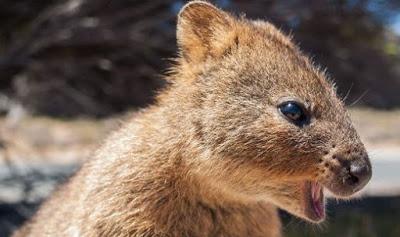 Last week,  a security dog named Grizz was shot after he escaped on to the tarmac at Auckland Airport. The incident triggered an international outcry, with some asking why the situation couldn't have been resolved differently. That reflects the affection, people have towards these working dogs, which (along with other animals) have become commonplace in airports, in a variety of roles ranging from drug detection to therapy.   Flying can be stressful for many, have seen a couple of good looking canines at Mumbai airport but one airport has found a novel way : a therapy pig named Lilou.
The small, spotted Juliana pig  joined San Francisco International Airport's (SFO) Wag Brigade - the only non-canine member among 22 therapy dogs who wear special "Pet Me!" vests, offering comfort to anyone in the terminals who needs it.  Lilou already has her own Instagram account and can perform a number of tricks to put travellers at ease. USA Today reported she is well versed in ""greeting people with her snout or a wave, twirling and standing up on her back hooves, and playing a toy piano". Like a true performer, she even finishes with a "proper, post-performance bow.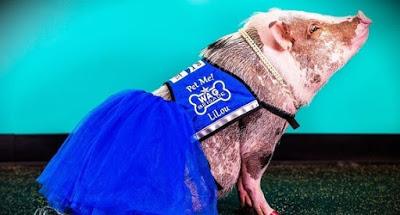 Down under, Australian police have charged a 37-year-old New Zealand man over an incident in which he's alleged to have thrown a quokka into the water from a jetty at Rottnest Island, off the coast of Western Australia, on Friday night. Police say the quokka was able to swim to shore after the alleged incident, which happened around 10pm near the Rottnest Hotel. The man, from Christchurch, has been charged with animal cruelty and had to appear  before the Perth Magistrates Court.
Bevan Denis Hames, 37, who has a degree in zoology, has defended his actions with the Perth Magistrate's Court accepting he placed, rather than threw, the marsupial in the water.  It is stated that the quokka was able to swim to shore from a jetty near the Rottnest Hotel.  Hames, who is from Christchurch in New Zealand, pleaded guilty to animal cruelty and was granted a spent conviction and fined $2,000. Hames' lawyer Nick Terry told the court his client had no idea he was doing anything wrong, and wanted to show his friends at the pub that quokkas were surprisingly good swimmers.
ABC reports 37-year-old Bevan Hames has been given a spent conviction - which can in future be legally ignored - after pleading guilty to animal cruelty in the Perth's Magistrate Court. Hames has a degree in zoology from Canterbury University, and claimed to be knowledgeable about marsupials.
Interesting !
With regards – S. Sampathkumar
21st Mar 2017