Today Into the Wild has searched out some of the most inventive and amusing taxonomic animal names out there – proving that scientists do have a sense of humor after all. With new species being discovered all the time who knows which celebrities will be next on the naming list.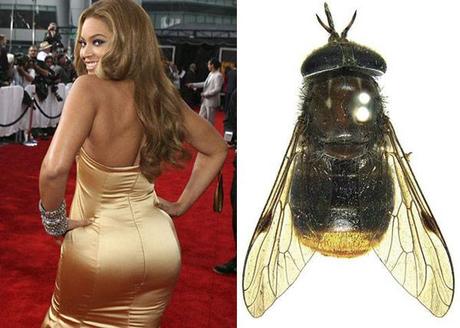 Species named after famous people:
 
Beyoncé Knowles has had a horse fly Scaptia beyonceae named after her on account of its striking golden behind. Other musicians including Neil Young (Myrmekiaphila neilyoungi), Paul McCartney (Struszia mccartneyi), Mick Jagger (Aegrotocatellus jaggeri) and Michael Jackson (Mesoparapylocheles michaeljacksoni) have also had species dedicated to them. Whilst one scientist was clearly a big fan of the Sex Pistols naming all species of a certain trilobite Arcticalymene viciousi, Arcticalymene rotteni, Arcticalymene jonesi, Arcticalymene cooki, and Arcticalymene matlocki.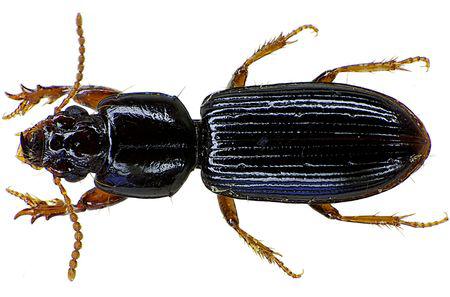 Agra schwarzeneggeri has clearly been working out.
Hollywood actors haven't escaped the naming bug either with species being named after Kate Winslet (Agra katewinsletae), Angelina Jolie (Aptostichus angelinajolieae), Charlie Chaplin (Campsicnemius charliechaplini) and Harrison Ford (Calponia harrisonfordi and Pheidole harrisonfordi). Marilyn Monroe has a species of trilobite Norasaphus monroeae named after her on account of its hour-glass shaped glabella. Whilst Arnold Schwarzenegger has a species of carabid beetle (Agra schwarzeneggeri) named after him because the males of this species have markedly developed middle femora (just like the big man's bulging biceps).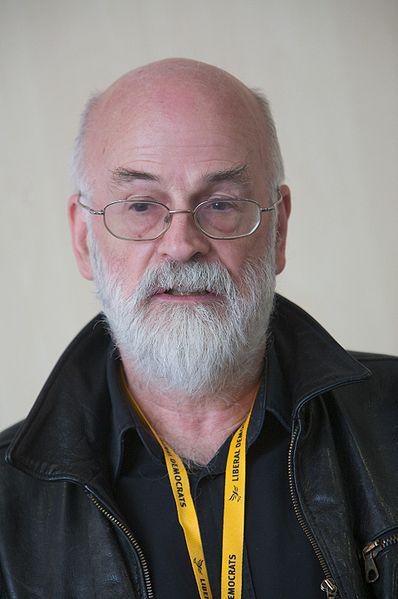 Author Terry Pratchett had an extinct turtle species named after him. What a compliment.
Famous authors have also had the honor of their names being bestowed upon animals including: Arthur Conan Doyle (Arthurdactylus conandoylei), poet John Keats (Keatsia), Orson Welles (Orsonwelles),Terry Pratchett (Psephophorus terrypratchetti) and Jungle Book author Rudyard Kipling (Bagheera kiplingi). Lord of the Rings author J.R.R.Tolkien has many species named after him including Martesia tolkieni, Leucothoe tolkieni,and Gabrius tolkieni. William Shakespeare has also proved popular with Shakespearia, Legionella shakespearei, Goethaeana shakespearei.
 
One genus has a US politicians theme with Agathidium bushi – George W. Bush, Agathidium cheneyi – Dick Cheney and Agathidium rumsfeldi – Donald Rumsfeld and now there's also Caloplaca obamae – Barack Obama.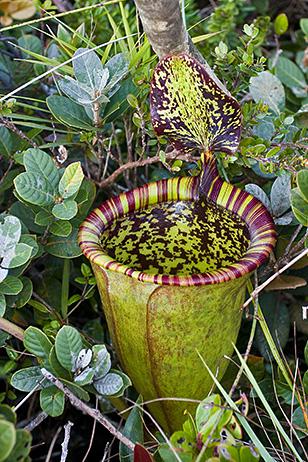 Can you see the resemblence between everyone's favorite nature presenter and Nepenthes attenboroughii? Courtesy of Dr. Alastair Robinson

It's no surprise that the king of wildlife himself, David Attenborough, has various namesakes in the animal kingdom, including Zaglossus attenboroughi, Nepenthes attenboroughii and Blakea attenboroughii.

Whilst Simpsons creator Matt Groening has a species of crab named after him (Albunea groeningi). Fittingly Hugh Hefner, head of the Playboy Empire who lives in a mansion full of Playboy Bunnies has had a species of rabbit named after him known as Sylvilagus palustris hefneri. Even Boris Becker (Bufonaria borisbeckeri), Steven Spielberg (Anhanguera spielbergi), Adolf Hitler (Anophthalmus hitleri) and even Spongebob SquarePants (Spongiforma squarepantsii) have been immortalised in the animal world.
 
Moving away from the glitzy world of celebrities, the following are animals named after well-known phrases and words…those hilarious scientists eh?

Phrases:
• Heerz lukenatcha – pronounced 'here's looking at you' – a species of braconid.
• Heerz tooya – pronounced 'here's to ya' - a species of braconid.
• Abra cadabra and Agra cadabra - a crab and a carabid both named after 'the magic word'.
• Apopyllus now – a spider that was named after the famous film.
• Ba humbugi – an endodontoid snail with no Christmas spirit.
• Eubetia bigaulae – pronounced 'you betcha by golly' – a species of tortricid moth.
• Hebejeebie – a plantaginaceae named after the phrase.
• Oedipus complex – a species of lungless salamander.

Words:
• Agra vation - a species of carabid named after the tricky process of catching them apparently.
• Kamera lens - a particularly photogenic species of protist.
• Silybum - a species of milk thistle. We're not sure about this one.
• Notoreas - this species of lep is pretty well-known.  
• Anticlimax – a species of fossil gastropod.
• Oops – an arachnid
• Stupidogobius - a fish
• Batman- another fish
• Bugeranus – a wattled crane
• Townesilitus – braconid wasp

By Hannah Jones