There's only one week left to get your entries in for our wildlife film competition run in conjunction with the pros at WildEye, wildlife-film.com and NHU Africa. With invaluable exposure to NHU Africa, an established and world-class production company, feedback and advice from industry professionals from Wildeye and NHU Africa, a selection of eBooks titles from Wildeye publishers and a year's membership to Wildlife-Film.com up for grabs it's your last chance to grab your camera and start capturing some wildlife antics. So we'd thought we'd give you a little last minute inspiration by having a quick look at some of the most amazing nature documentaries produced over recent years. From the classical style of the BBC to the more quirky filming ideas out there - nature documentaries will always be a favorite amongst viewers.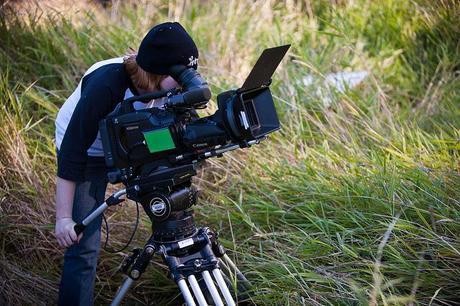 Photo courtesy of vancouverfilmschool
The Classics:
Planet Earth

With absolutely amazing footage, not only is this series cinematically stunning but it also offers an incredible insight into the behavior of some of the planet's most elusive and secretive creatures. One added bonus is that we get to go behind the scenes and watch the cameramen as they attempt to capture their film whether it's hiding out in a hut for days on end desperately hoping for a bird of paradise to appear or trying to navigate through a maze of baobab trees in a hot air balloon. With stunning aerial and landscape scenes combined with David Attenborough's high calibre and atmospheric commentary, the Planet Earth producers struck a golden combination.
Madagascar

Seeing David Attenborough return to the magnificent ecosystems of Madagascar 50 years after his first visit to film the early wildlife TV series Zoo Quest- is a truly mesmerising watch. Attenborough takes viewers on a journey through the beautiful Madagascan habitats comparing his past experiences to the landscapes that lies before him 50 years on. The series brings viewers the unique wildlife that has continued to capture both Attenborough and his audience's imaginations. During the episodes, camera crews explore the island's most bizarre and dramatic places, examining how the island's geology and isolation has created a distinctive ecosystem. Why not take a trip on Frontier's Madagascar projects (http://www.frontier.ac.uk/Country.aspx?search=yes&id=362) and experience the amazing and unique wildlife for yourself first hand.
Great Barrier Reef
In this nature doc Monty Halls explores one of the natural wonders of the world and the largest living structure on our planet - Australia's Great Barrier Reef. With the team spending weeks at sea they were able to reach the remotest locations which have never been filmed before to bring viewers some of the greatest spectacles and amazing animal behavior from the coral reefs. For the first time, filmmakers also turned their attention to the seldom explored lagoon that lies between the reef and mainland Australia. Here they filmed many behaviours seldom seen before and species never before recorded on the Great Barrier Reef. If you fancy seeing these amazing coral reefs up close why not check out our marine conservation and diving projects (http://www.frontier.ac.uk/ProjectSearch.aspx?search=yes&activity=37) in Fiji, Madagascar, Thailand, Tanzania, Cambodia, Maldives, Cape Verde, Senegal, Costa Rica, Mozambique, Sri Lanka, Papua New Guinea, Venezuela and Bali.
Inside Nature's Giants is a nature documentary with a twist, the series literally gets under the skin of the largest animals on the planet exploring the anatomy of these beasts to reveal how these creatures really work. This is a stark contrast to the classically filmed Planet Earth and Frozen Planet series of the BBC with its sweeping landscapes but none the less entertaining and fascinating. The series shows experts dissecting the carcasses of nature's giants from big cats, monster python, great white shark, giraffe, crocodile, the whale and the elephant.

Nature's Wild Feasts
Nature's Wild Feasts provides a new take on how to capture the food chain in action. The program was filmed live from Zambia's Luangwa Valley and shows the events of a fortnight as an entire ecological system including predators, scavengers, birds and insects consume the enormous carcass of an adult hippo. Presenter Mark Evans speaks to animal and entomology experts and local guides about animal behavior and biological decomposition. This documentary gives viewers an unequivocal insight into the ecologically functioning of a Zambia's Luangwa Valley community.

Weird Nature

Highly inventive the Weird Nature series strangely chooses not to film the animals in their natural habitat – but instead to showcase fascinating animal behavior in a surreal juxtaposition with very urban environments. This series highlights nature's oddities - quirky creatures and baffling beasts by setting real animal behavior against a human backdrop to give astonishing insights into the wonders of the natural world.
We hope we've tantalized your taste buds and got your creative juices flowing. You can find all the details about how to get involved in the competition at http://gapyearblog.org.uk/competitions/ whilst the WildEye website has useful tips on wildlife filming.