Today I'm really excited to welcome Michelle Lovric to the Hearthfire to tell us about her love of Italy (and Venice in particular) and her latest book, The Fate in the Box which I recently read and loved.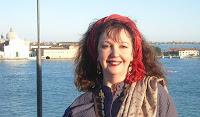 Firstly, how did you come to be interested in all things Italian? My introduction to Italy was somewhat coincidental: my A-Level French teacher was an Italian (Lorenzo Chiarotti), who offered Italian GCSE in a year as an optional extra to those of us in his French class. I probably wouldn't have become aware of the language and culture in the same way if it hadn't been for him. Funny how life can be a series of fortunate coincidences!
How lucky that an Italian teacher came into your life at such a formative age. But you must have had some inclination in that direction to have chosen to do his optional extra? Or was he just as incredibly dashing as 'Lorenzo Chiarotti' sounds?
I loved languages and was good at them. I'd have opted for any language that was offered, I think!
My background is Serbian Irish Australian. I was never given a chance to study Italian at school, though I loved Latin. I was like Byron in that Italy, and particularly Venice, was 'the greenest island in my imagination' even before seeing the place. (In no other way am I like Byron, however. In fact, I intensely dislike his poetry, though his letters are fun – if you like cruelty and exaggeration). When I was able to travel, Venicewas the first place I went, and I immediately signed an invisible contract for life.
I learned Italian 'per la strada', as they say. I did start to have private lessons with Ornella Tarantola from the Italian Bookshop in London, but after six weeks I had enough vocabulary to chat about life, Venice, men, clothes and food. The lessons promptly stopped and we became close friends instead. We still are. I began to read in Italian, and to speak it regularly. I learned a great deal more Italian dealing with plumbers, librarians and books in the Marciana library. Then I had to give a couple of lectures in Italian when I was trying to save the column of infamy of Bajamonte Tiepolo, the villain of my first two children's novels, from the dusty room in the Palazzo Ducale where it still lies … sadly. And when The Undrowned Child was published in Italian, I had to present it to a conference of booksellers. I'm still learning all the time, and speaking it every day.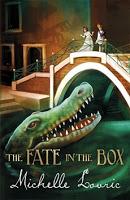 I really enjoyed reading The Fate in the Box (as did my eldest daughter - 14 - who fancied it after seeing me with it!). One of the things I found most intriguing was all the automata. I love the idea that automating everything made people lazy and unable to do things for themselves any more - a great form of social control! But I really wanted to ask where that initial spark of an idea came from. Were you consciously thinking of a way to mirror our computerised world without using computers as such? Was it a steampunky thing?
I am so glad you enjoyed The Fate and thank you for the lovely review.
I'm a little unsure about Steampunk, and had to get my god-daughter to explain it to me, at least in fashion terms. As far as I understand it, I am proto-Steampunking in the book.
So it was not a race to join a genre that inspired The Fate. I was thinking about how little we use our bodies these days, except in order to beautify and display them, and about how idleness has become prized as something in which the spoilt and rich can indulge. Some people pamper themselves in passive ways – massages, facials, spas. Most of all, the rich have the luxury of time, as well as financial wealth.
But all that idleness always costs someone ... whether it is a child working in a dangerous factory in Pakistanto create a designer spa dressing gown or a subsistence farmer in Moroccogrinding Argan nuts for oil. And somehow all the pleasure seems to accumulate at the top of the pyramid, with very little down below, where the work is done.
I wanted to remind young readers that luxury always costs more than money and frequently costs human misery. So I personified that issue in my child characters: Amneris, Tockle and Biri are respectively poor, very poor and starving. Meanwhile Latenia and her brother Maffeo are rich. Yet all their privileges and treats only partially hide the fact that their father does not care about them except as pawns in his ambitious games. Meanwhile Latenia and Maffeo are indulged with revolving cake stands and mechanical toys.
The automata of The Fate in the Box are meant to be both a little menacing and a little ridiculous. The need to wind them up creates a slave race of Winder Uppers. And my young characters soon realize that they must liberate the slaves in order to make Venice a decent place again.
I've read and enjoyed others of your books (must read your adult novels!) and always appreciate the historical notes you include in the children's books. I think they add a lot to our enjoyment of the book, and it's natural to be curious about the reality behind the story after reading. But which comes first for you: the history you want to include, or the plot? 
I am so glad you like the historical notes. I do them in all my novels and I've only ever had one person sneer about it in a review; mostly people are happy and interested. I know that schools make use of them too.
History is a starting point for me, but more of a springboard than anything as I write historical fantasy. I usually find an idea that intrigues me, and it always comes from real history. Just now, for example, I have discovered that there several eminent and talented parrots living on the Grand Canal in the late nineteenth century, and I do see the beginnings of a possible story in that. The children's book I am currently writing was partly inspired by the Treasures of Heaven exhibition of saintly relics at the British Museuma few years ago.
But an idea is not enough. Then I have to hear a voice in my head. A little personality starts reaching into the historical setting, burrowing around and finding a place for itself. Then it finds a problem – for without problems there would be no drama and without drama, nothing more than pageantry. And that personality that acquires accoutrements that mean it belongs to the only person who can possibly disentangle the knotted network of catastrophe I have carefully constructed to entrap all the characters.
Place is also hugely important in my writing. Venice is always a character in my books. Veniceis special for me. Well, she's special for everyone, but my whole writing life is invested in her. I always write about her, and my entire lifetime will be too short to explore all the stories she offers me. And of course I have spent many years restoring a gothic building there, so I am invested in all sorts of other ways too.  I've always had a thing about living in a house with a name rather than a number, and Venice offers lots of joy in that department too. My forthcoming adult novel is set in a palazzo that rejoices in the name Ca' Coccina Tiepolo Papadopoli. When I went there to write it, it was the week before the builders moved in. Two years later, it has now been restored as a luxury hotel, with my character's bedroom heavily featured on the website, which feels odd.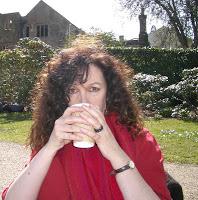 Rather horribly, I tend to judge people by their sensitivity to Venice. There are people who truly are Venice-blind, who don't see anything special in the place, who say that she isn't very different to Manchester. Or they complain that the Venetians are not very friendly, or that their city has a strange smell. If you were part of a population of 59000 and shrinking, and you were invaded by 22 million tourists annually, some of them bellowing at you in their language – might you not be a little withdrawn? And of course Venice smells. She is an urban seaside, an antique port. She smells of the past, of salt, of seaweed, of crabs, of wet stone. She smells delicious!
As my blog readers may know, I write educational textbooks and teaching resources as well as working on some fiction projects. So for me, it's quite obvious how my career as a teacher has led me into writing (or at least publishing - writing's always there). What about you? How do the various pieces of your career(s) slot together? I know you worked in publishing before (I loved your blog post on window displays for your books), but what led you to pool all your interests and specialisms into writing?
Yes, I know several teachers who have found their way into writing and publishing. The urge to share information is common to writers and teachers, and when one speaks of children, then there must also be the urge infuse joy and fun into that process.
It is only in the last three years that I have learned that I like teaching! At least I love teaching one-to-one. I have been teaching writing skills to art history students at the Courtauld, as one of the Royal Literary Fund Fellows. Until then, I had no idea that I would enjoy it so much.
From childhood, I was always in a hurry to write, edit, arrange and generally deal with the written word. I wrote and illustrated my first picture book at twelve.
I first trained as a journalist. Then I worked in publishing. I have done just about everything in publishing except sell an actual book: editorial, design, production, foreign rights. Finally, I became a packager, which means coming up with ideas for books, selling them to publishers and then researching, writing, designing and producing them. But all along I wanted to write fiction. I wrote poetry, and made endless notes for the novel I would one day find the time to write. My packaging business was a seven day a week commitment, with many late nights too, so the novel never seemed about to happen. But finally one of my packaged books became a New York Times bestseller. I was in New York, doing publicity for Love Letters an Anthology of Passion, when my publisher dropped the newspaper in my lap. As soon as I saw my listing, I knew my life could change, and I decided that it would change in the way in which I wanted … so I took two months off work and wrote my first novel, Carnevale. I'm now writing my tenth novel, another one for children …
Thank you so much for your time in answering my questions.
Thank you so much for asking me! 
Visit Michelle's website