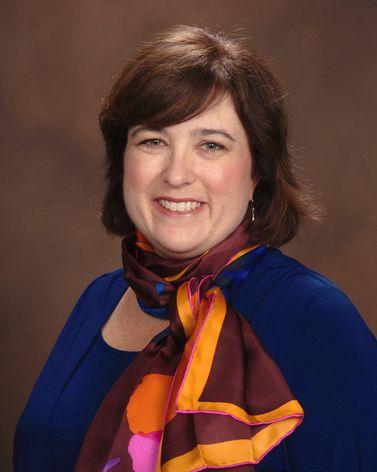 Kellie White of Valley Park received the GE Imagination at Work award during the Pillsbury Bake-Off this year.
At the 46th Annual Pillsbury Bake-Off competition in Las Vegas last month, a hometown baker here in the St. Louis area took home the GE Imagination at Work award. Kellie White of Valley Park, MO, wowed the judges with her Honey Sesame Bagel recipe.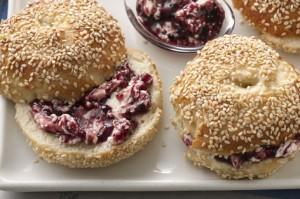 Kellie White's award-winning Honey Sesame Bagels.
You can try out Kellie's innovative recipe here. Note that she utilizes Pillsbury's refrigerated pizza dough to make the popular breakfast treats. In other interviews, she said she likes to find creative uses with the dough, and making the bagels at home was a big time saver over going out for them on busy mornings.
As a finalist in the competition, Kellie got to go to Las Vegas for the final bake-off event. This was not Kellie's first time going to the finals. In 2010, she was one of the top 4 bakers, showcasing her Zesty Lime-Fish Tacos.
Kellie took some time to answer some of our questions about herself and her experience at the big Bake-Off competition.
Goedeker's: Did your previous experience as a finalist in 2010 help you with this year's competition?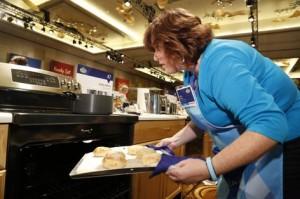 Kellie White at the 2013 Pillsbury Bake-Off. Photos courtesy of GE.
Kellie: I think it always helps to know what to expect, so yes, I did feel more at ease and comfortable in the craziness of the Bake Off contest floor. It helps to be calm when dealing with a hot oven! Also, because there were tons of media wandering around during the competition, it helped to have some experience juggling interviews, photos,  and cooking.
Goedeker's: What was your favorite part of going to Las Vegas for the finals?
Kellie: My favorite part of going to the finals was reconnecting with many of the cooking friends I've made over the past few years. A number of people I met at the 44th Pillsbury Bake Off were also with me at the 46th. And, many of the finalists this year connected on Facebook prior to the event. It was like a family reunion of sorts.
Goedeker's: Is baking and cooking just a passion of yours? Have you ever thought of 'going professional' and working in the food industry in any way?
Kellie: Baking and cooking are definitely a passion of mine. I enjoy cooking for my family and friends but haven't considered 'going professional.' I have a great job in publishing and have a lot of passion for what I do there as well. I've enjoyed cooking contests and most of them don't allow entry if you work in food. So, this is a really nice balance for me.
Goedeker's: What is your favorite part of cooking at home?
Kellie: I love making new things that wow my family. It's always more fun to cook when you have willing and appreciative tasters! I also like having the freedom to be adventurous. When it's just you in your own kitchen, you can try crazy things – sometimes they work, and if they don't it's not a big deal.
Goedeker's: What do you look for in a cooking appliance for your own kitchen?

Kellie: The main cooking appliance in my kitchen is a range. I want the oven to be accurate and cook evenly. I also want the oven and stovetop to be easy to clean – I love the self-cleaning feature on many oven models. My personal preference is gas, and I love the cooktops with at least 5 burners and some of the special high heat burners available. I also look for instruments that are easy to read and substantial so I don't feel like the knobs are going to come off in my hand. Finally, I want an appliance that looks great – sleek and modern but something that also looks like the workhorse of the kitchen. That's my perfect cooking appliance.
For her ingenuity, GE presented Kellie with $5,000 worth of GE appliances for her home.
The Pillsbury Bake-Off is one of the oldest and largest amateur cooking competitions in the world. The original event was held at the Waldorf Astoria hotel in New York City.
Today, the Pillsbury Bake-Off accepts submissions in the spring for each year's competition. A recipe must be original and use at least two predetermined products while containing less than seven ingredients – restrictions that really make the competition focus on creativity! An initial selection of the recipes are chosen by a panel of judges. The judges' top picks are then voted on by the public at BakeOff.com.