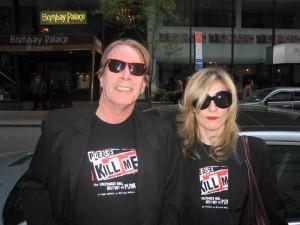 Gillian McCain has had a colorful career, to say the least. She currently serves as the president of the Board of Directors of The Poetry Project in New York City. She has curated an exhibition of found photography. But she is best known as the co-author, along with Punk Magazine founder Legs McNeil, of the seminal cult smash Please Kill Me: An Uncensored Oral History of Punk. The book traces punk music from its primordial form in Andy Warhol's late 1960s Factory scene through to its eventual commercialization in the 1980s.
The book is populated with a cast of characters from Iggy Pop, Dee Dee Ramone and Lou Reed to satellite characters on the scene observing the debauchery. It contains dozens of no-holds-barred, frequently disgusting and even moving stories about the men and women that went on to become legends of the genre. Since its original publication in 1996, the book has become one of the most widely-read music books of all time. Here, McCain talks about the legacy of Please Kill Me, the nightmare of trying to adapt it into a Hollywood movie and the next projects she and her writing partner Legs McNeil are tackling, including an oral history of the Manson Family murders.
How have you noticed the response to the book grow as the book has become a cult sensation?
It is weird that it never dies. It's been translated into 12 languages. I went to get a coffee this morning and the guy said 'What do you do?' And I said, 'I'm a writer.' And he said, 'What did you write?' And I said, 'Please Kill Me.' And he said, 'Oh, I know that book,' but he hadn't read it, and he didn't know what it was about. So that shows what a good title that is. I don't get recognized a lot and my name doesn't get recognized a lot. That's more a question for Legs. When people discover that I co-wrote it, they get very excited if they have read it.
What was your background with punk music ?
I grew up in rural Canada and had much older brothers and sisters. After high school they all moved to various countries in Europe, and I started listening to their record collections, like, in second grade. So whatever they were bringing home I was listening to. So all of sudden it was Patti Smith, Blondie, Ramones, Dead Boys, Talking Heads, and then 'Live at Max's Kansas City' by The Velvet Underground. I just listened to all of that stuff voraciously, and loved it.
How did you get to New York, pursuing poetry, from rural Canada?
I went to school in Halifax, Nova Scotia. I instantly got to know the local bands, and that was my social scene. It sounds stupid, but it was very glamorous. You're in a small city, you get to meet everyone, there's a great art college there, there's great theater and great music. That's where Sloan came out of. I moved to New York… I was going to spend another year in Halifax because there's a one year journalism course, but I didn't get in. The guy actually told a friend of mine it was because my writing was too creative. I did send Please Kill Me to him after we did it.
So I moved to New York and didn't get into the creative writing programs I wanted to. So I took a one year postgraduate writing course and got into my masters for English lit. But I didn't get into the creative writing courses, which now I think is kind of a blessing. Oh, and I started writing poetry the summer before I moved to New York. I was having a breakup with a boyfriend, and he wrote poetry. It was just like, 'Fuck you, I can do it, too.'
When did you end up in NYC and what was the scene like, with poetry and spoken word?
I moved here in 1987. [The scene] kind of hadn't had that big resurgence yet. It was more what was going on in the East Village, a lot performance art. There was Cafe Bustello, and La Mama, and it seemed more performance art-y. I did immediately take a writing course at The Poetry Project, but it didn't seem to get a lot of attention until a few years later.
What drove you to create the book at the moment you did, in 1996?
I was just wrapping up at The Poetry Project, doing my last year there. My mother was ill, so I was going back and forth. Then my mother passed away. Legs had started working with Dee Dee Ramone on a memoir, and he had started doing it in an oral history format. He was going to interview Danny Fields every week, and I was getting up early for work, because I just couldn't put down these interviews. I thought they were hysterical. I had my highlighter out, I was making notes, saying 'You've gotta use this, you've gotta use that.' And then it just didn't work out with Dee Dee. You know, he's pretty high maintenance. Nice guy though.
So I said to Legs, I always thought it was a bigger subject than Dee Dee anyway. Or even The Ramones. I said, 'You should do an oral history of punk. You were there.' We both loved the book Edie, and that was a big inspiration. And then he said, 'Okay, do you want to do it with me?' So I felt like if I said no, there wasn't any way that I wasn't going to be doing it witat 6h him anyway. I was already getting up at six o' clock to read the Danny Fields interviews. And Legs was my best friend.
What was your role in the writing of the book, working closely with Legs? What was your contribution?
Legs is good on structure and I'm good with details and the poetry. He would structure it, and we would say, 'We need something to link Lou Reed, to The Voidoids to Sylvia Reed [nee Klein] to Lou Reed. So I'm going through interviews, going through interviews, and then I found a thing where [Robert] Quine's talking to Lou Reed, and he's friends with Sylvia Klein. It just links. He'd be structuring and I'd be reading over the interviews reminding us what we had, and then cleaning up and editing.
How does the writing partnership with you and Legs work?
Since he hasn't lived in New York for a long time, thank God for the Internet. When we started, I had just gotten on email. We weren't emailing the manuscript back and forth. He's a brilliant writer. He's brilliant at structure. He just intuitively, we're just on the same page. But we bring different talents to things. He's more like the carpenter and I'm the person figuring out the window treatment. [Laughs.] I just thought of that.
What was the most memorable interview for you?
Iggy [Pop]. Yeah. It was only an hour and half or two hours, but he was totally, 100 percent on. We met at a little Italian bakery on first avenue, and it was pretty empty. It was a place he suggested. He walked in with a celery green shirt open almost to the navel, and you could see the scars from Max's Kansas City. People had said 'Oh, Iggy's very handsome,' but I'd never seen him. He was so charismatic, and so well-spoken, and so intelligent, and so engaging and thoughtful. You couldn't have asked for a better interviewee.
Can you walk through the process of Please Kill Me being optioned for a movie? I've heard that that can be a nightmare.
I think there was quite a bit of interest, and then Jersey Films, Danny DeVito's production company, made us the best offer. They also hired us to write it. Which is very unusual. Other people were saying, 'Beware of that, because they're just going to get you to write it and then they'll chuck it.' Which is what they did. But it was okay money to work on it for a couple years. So we'd hand in a draft, they'd fly us out there to have a meeting. Our producer would be getting laser eye surgery and we'd have a meeting with a girl who'd only worked there for two months who had just graduated from Rutgers and who'd bonded from Danny DeVito because they were both from the same hometown. And she'd give us her notes, and they'd be misspelled, and I'd fly back to New York. It was just so appalling. It was so unprofessional. There was so much money wasted. By the time we did the last draft, they said 'Let's have a little meeting.' They didn't even comment on the draft. The first thing they said was 'We think it's time we bring in a new writer/directory. And we were like, 'Okay.' And they said, 'We're thinking Mary Harron.' And Legs was like, 'Great.' She was an old friend of his. Perfect.
And then Mary started writing this book with this woman Fran who had been around CBGB's in the days, and they were completely secretive about it. They wouldn't let us see it. Legs and her aren't friends anymore. It was so weird. We'd get a copy of the script through a friend of a friend who was an agent. And we read it, and it was, oh man, it was appalling. It wasn't terribly written, but it was like an afterschool special. There were no drugs or sex in it. And no one died. [Laughs.]
So finally we went through this every year and a half, and by this time Jersey [Films] had disbanded and it was with Universal Pictures. They call us up, say 'We can't give you any more option money,' so we'd negotiate a bit, they'd give us a bit more. They'd just do things. It sounds so ludicrous, but it's the principle of the whole thing. You're reading the contract, and all of sudden it says if you're nominated for an Academy Award, they won't give you tickets to it. Like, that's written in it. [Laughs.] It's just so silly, but it's like, what the fuck. I mean, there was never any sense of 'Let's make a great movie and work together.'
It was just always animosity, like it was a duel or something. Like we were against each other. It was very weird and very upsetting. In the end, they called us a few years ago and said, 'So, the option's up. We don't have any more money to give you. So we'll give you the contracts with the same amount of money.' And of course on the back end. And by this time it had been 10 years. So we said, 'No, we're not selling you the option.' Oh, that felt so good. That felt so good.
Do you have any plans with it now? Or did the experience sour it for you?
Soured. Soured. They way they wrote the script, it wouldn't be a bad idea. They brought in a fictional girl who just moves to New York. But there's so many different movies in there. I find bio pics really hard to take. And with the star system in Hollywood, the only way the movie would be believable was if it was with unknown actors. You know what I mean? Because then it just becomes so-and-so playing Iggy Pop and there's no suspension of disbelief. So I just can't picture it as a great fictionalized movie. It might make a really great documentary, but it would be really expensive.
What was your approach to even trying to adapt a massive oral history into a screenplay?
I think I blanked it out. [Laughs.] We had to decide on a couple main characters, so ours were Dee Dee and Connie. We centered it around CBGB's. We tried to write it a bunch of different ways. It was pretty good, but it certainly wasn't great. I wouldn't have been that excited to see it made into a movie. But the script we wrote was still ten times better than Mary Harron's. But we still have people call us up that want to talk about possibly wanting to make it into a movie.
We met this guy about six months ago. It was just… It was kind of weird, because these people call you up, and you go meet them, but they don't have any ideas. He said, 'It was such a vibrant book, and it was such a great time in cultural history.' And Legs said, 'Yeah, well, what do you want to do with it?' And the guy was kind of like, 'Well, what do you guys want to do with it?' And then, at the end, I said, 'Can we talk money here?' And do you know what he said to me? He said, 'Is making money important to you?' I was just stunned. So this guy just thought that we were going to be so impressed by him that we would just go into business with him and do a labor of love. 'Is making money important to you?' I wanted to kill him. By that time Legs was just hating him. He had to get up and leave. The guy called our agent the next day and told him that the meeting had gone great.
In the aftermath of Please Kill Me, what did you work on?
I edted Legs' porn book, and the Joey book. I went through a lot. My brother died four months later in an accident. I went back to Canada but my immigration was shaky, so I couldn't come back to New York for eight months. But it was good, because I spent it with my dad. But then the day I came back we signed our Please Kill Me film deal with Jersey Films, and then it was back and forth to LA, trying to write the script. That was about three years. Then my father got really sick, and I took care of him and then he died. So I've only really gotten back to work the last few years.
Legs and I are working on another oral history and a memoir with someone. We finished a really exciting book. Legs' lives in rural Pennsylvania, and he heard about this local girl who had died and had written these amazing journals. So he asked the mother if we could look at them, and she said yes. And we read them and just flipped out. So we said to the mother, 'Can we edit these and make them a book?' and she said 'Sure.' We thought it would take about six months. It was so hard. It took two years. And then we talked to a lawyer, and because the girl had died without a will we had to go to find out about her estate, and basically it's been in court for a year and a half. And today we might get good news. It's been in court because the father didn't have custody, but he still owned half the estate, and the judge is saying 'What are these notebooks worth?' It's just been so complicated and very disheartening.
When did you start work on that project?
Three and a half years ago. It will be interesting to see if they try to sell it as a young adult book or an adult book. Because she's written them between ages 14 and 17. But they're really harsh. She had a tough childhood, and drug addiction, alcoholism. And she was raped. She was such a great writer. It was really hard, because they weren't really diaries. They were journals. We had to put together the narrative and interview her mom. We would ask, 'What was going on at this time?' It was just really hard. We would have it done, and then I'd read it and go, 'Legs, there's just something missing. It's not working.' And he'd agree, and we'd just hash over it.
In the end, the solution was in layout. She'd write expository, expository writing. And then she'd write diaries like 'Today I did this.' The book's called Dear Nobody.  She would write, 'Dear nobody,' in her diary thing, and then it's 'Dear nobody,' and she's writing formal essays. It just didn't work. So then I had the idea that when it was more expository we'd put it on lined paper so it looked like she was writing something in her notebook, like a school thing. And that just made it work. We had letters that she had written to friends, and it was hard to put them in the right place. I'm so proud of it. It's been so hard. I mean, lawyers don't come cheap.
What other projects are you working on?
I'm working on a book with a photographer named Kate Simon. It's 30, 40 years of her portraits. There's some of her pictures in Please Kill Me. But she worked from early 70s British rock, Rod Stewart, people like that, and then she was at the punk scene in England and New York. It's gonna be this epic book. I went through her entire archives, and it was a blast. And we're about to write the text now and then it will be done.
I'm also working on a collaboration with two other poets, and we're using the movie Valley of the Dolls as a jumping off point, but we're doing it like the Inferno. We're mirroring what goes on in the Inferno with scenes that we've picked out of the movie. So we're gonna go through the whole movie and the whole Inferno. We've been working on that for about three years. They did a book similar that was all about Eve, and that was about 700 pages. So we're thinking we've got about another 10 years. [Laughs.] So I've really been working on long-term projects. They'll probably all come together at the same time.
What's the other book you're working on with Legs?
An oral history of the Manson Family. It's a big topic. I started researching it about 1998, just thinking maybe a book in the future. I was just obsessed. I've been researching it all this time. But Legs and I together started researching it about three years ago and started interviewing people.
I would imagine you've been talking to some pretty sordid characters.
It's like when Legs was doing the porn book. I met a lot of those people with him. It sounds cliché, but you couldn't meet a nicer bunch of people. [Laughs.] It's kind of the same. We haven't interviewed any of the people who have actually done the crimes. Both Legs and I are always more interested, and what makes Please Kill Me so good, is the periphery people. It's not the people who are the center of the attention. It's the people who are watching off on the sidelines. They have the best stories, and they saw the most. So it's the same thing with this.
We're really interested with people who lived on the ranch and had nothing to do with the murders. It sounds kind of grandiose, but we're going to try to do kind of a history of Southern California 1965-1970. We're using the Manson Family as a thread, because there were so many connections with them in rock n' roll, with the movie industry, and you've got the history of the hippies and Haight Ashbury and the history of LSD. So it's much more broad than the Manson Family. They were going to the Haight Ashbury free clinic where they were studying kids on LSD. It's a really fascinating story, but it goes on and on and on. I don't know what you think, but I don't know if the murders were random at all, so I don't know if we'll ever get to the bottom of that. Hopefully, but then we'll probably be killed. [Laughs.]