In some ways this is a western concept – marking a day and attaching all importance to it. Our literature has good place for women and traditionally we are taught to respect elders and mother. Our moral stories are replete with instances of obeisance to mother and femininity holding them in high regard; yet 8th Mar would be a special day – Women's Day.
Four Indian women, including SBI Managing director Arundhati Bhattacharya and ICICI Bank Managing director Chanda Kochhar, wre in the 2016 list of Forbes.  Forbes "100 Most Powerful Women" in the world list 2016, topped by German Chancellor Angela Merkel, includes PepsiCo Chief Indra Nooyi, Biocon Founder Kiran Mazumdar-Shaw and HT Media head Shobhana Bhartia. Forbes said this year's most powerful women are the "smartest and toughest female business leaders, entrepreneurs, investors, scientists, philanthropists and CEOs making their mark in the world today. "They're women who are building billion-dollar brands, calling the shots in the financial markets, and crisscrossing the globe to broker international agreements and provide aid," the magazine said. Arundathi Bhattacharya, 60, ranked 25th on the list, is facing her "most challenging test" yet with State Bank of India facing mounting bad loans, which stood at $ 11 billion in December, Forbes said.
A list that has lesser no. of women is Nobel Prize winners –  in a list close to 900, there are  48 women, and 26 organizations.  Sixteen women have won the Nobel Peace Prize, fourteen have won the Nobel Prize in Literature, twelve have won the Nobel Prize in Physiology or Medicine, four have won the Nobel Prize in Chemistry, two have won the Nobel Prize in Physics and one, Elinor Ostrom, has won the Nobel Memorial Prize in Economic Sciences. The first woman to win a Nobel Prize was Marie Curie, who won the Nobel Prize in Physics in 1903 with her husband, Pierre Curie, and Henri Becquerel. Curie is also the only woman to have won multiple Nobel Prizes; in 1911, she won the Nobel Prize in Chemistry. Curie's daughter, Irène Joliot-Curie, won the Nobel Prize in Chemistry in 1935, making the two the only mother-daughter pair to have won Nobel Prizes.
To us Tamils, the first name that comes to mind is Avvaiyar, the saint-poetess of Sangam age, propagating the fragrance of Tamil literature and also speaking about morality and spirituality. She  was the classical fearless messenger between the warring Tamil kings and brought peace among them.  There are some views that perhaps Avvaiyar was not a single person, but there could have been three or even 4 of different ages.  The word "Avvai" denotes any elderly woman and the  Avvai of the Sangam period  gave us classic advice in the form of simple songs. Most famous is Athichoodi, Konrai venthan, Nalvazhi, Moothurai, Vinayagar Agaval, Nalu Kodi padalgal.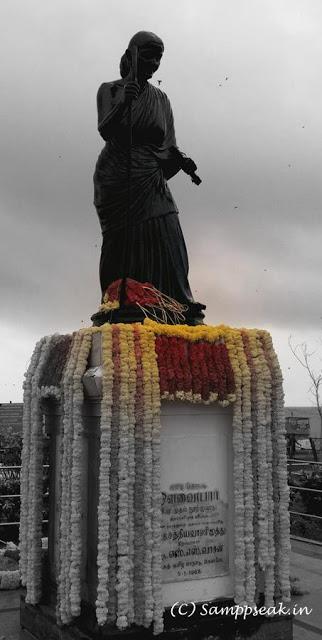 Thinking of Avvayar, the association with Muruga Peruman and naval pazham readily comes to mind.  Here is her Nalu kodi padalgal – named so for the 4 verses reveals what is worth a crore.
o   "மதியாதார் முற்றம் மதித்தொரு கால்சென்று, மிதியாமை கோடி பெறும்" o   "உண்ணீர் உண்ணீரென்று உபசரியார் தம்மனையில் உண்ணாமை கோடி பெரும்" o   "கோடி கொடுப்பினும் குடிப்பிறந்தார் தம்முடனே , கூடுதலே கோடி பெறும்" o   "கோடானு கோடி கொடுப்பினுந் தன்னுடைநாக்கோடாமை கோடி பெறும்"
                                          Roughly translated ~ o   Not entering in the house of those who do not respect is worth a crore o   Not partaking food with those who do not voluntarily invite and offer food to us is worth a crore o   Even if crores are given – it is worth crore to be amongst those born with us o   Even if crores are given – it is worth crore or more to stand by one's words !
The most powerful depiction of Avvaiyar was the portrayal by KB Sundarambal in SS Vasan film of 1953 – a classic with 16 songs directed by Kothamangalam Subbu. Sundarambal's voice and pronunciation is exceptional.
The woman who impressed me most was Mrs Bhavathi who taught me in my 5th standard in Samarao School ~ those days, she used to come from Katpadi, certainly should have been an ordeal, yet would always come in time, was so friendly in shaping our career. My post  is dedicated to my mother, sister, wife and 'all women known to me' – 'wishing you all happiness and all good things in life' and may all of you be treated fairly in all places and not discriminated anywhere in every walk of  life. Happy Woman's day wishes.
With regards – S. Sampathkumar
8th Mar 2017