Traveling around the world can be an incredibly expensive indulgence, and is often what puts people off. However, if you choose the right destinations, pick an achievable timeline and create a budget which can realistically be stuck to, then traveling really doesn't have to eat away at your wallet (or purse). Take inter-railing through Europe for instance, a 10 day travel pass cost £159, this means you can go anywhere around Europe by train within a 10 day period.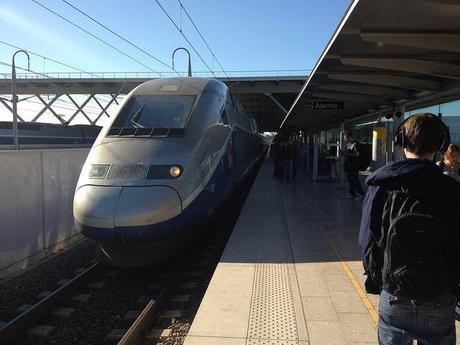 Image courtesy of Mark Hodson

Money saving
-   Overnight trains
Departing from one destination late in the evening means that you will not have to pay for accommodation. Reserving a seat on the train is an essential and can cost as little as 3 euros, saving you an impressive sum of money. Travelling during the day would essentially waste precious time you have to see your destination. Unless you have to, we would advise against traveling when the sun has woken. 
-   Boarding a train departing early in the morning – if you have many miles to travel
If you have many miles to get in the tank, for example; if you're going through multiple countries in a bid to get to one destination, then get on the earliest train you can find. Set aside 1 or 2 days travel to ensure you maximise your time spent exploring the wonders of your temporary home.
-   Staying in hostels
Do your research before you set off. Throughout Europe are surprisingly cheap places to stay and some of them for as little as 11 euros a night. Hostels seem to have bad reputations, places full of bed bugs, dirt, and discomfort. This may well have been the case in the years before the millennium, but times have since changed and hostels have become more like 3 star hotels, the only difference being is that you have to room share. Hostels have been known to have Jacuzzi's, free Wi-Fi, laundry service, cleaners, 24 hour reception, and incredibly free breakfast. Also, most hostels provide their own kitchen, which means maintaining a budget is made a lot easier.
Although 10 days may not seem like a long time, you can always stay in destinations A and B for as long as you wish. Inter-railing is a brilliant way to see many differing cultures in a short space of time, and can be done in the same length as your usual beach all inclusive.
Budget yourself 30 euros a day, not including accommodation, and it is a sure thing you will be living healthy whilst doing all of the touristy sight-seeing stuff. Inter-railing may not be the most relaxing holiday, but if you're after a small break that will bite that bug for a while then it's your best bet.
Inter-railing doesn't just have to be about sight-seeing or backpacking - you can intertwine the trip with volunteering expeditions such as, Frontiers Climbing from London to Paris, Greece Turtle Conservation, and Italy Dolphin Monitoring and Sailing. You could place one of these projects at either the end or the beginning of your railway adventure – an added bonus to an incredibly jam packed exploration?