I am a huge fan of facials, especially microdermabrasion or any deep exfoliating facials, but as with most indulgent beauty treatments, they are not always wallet-friendly. This is why I'm a sucker for at-home facial products. Anything that can give me the spa results for a fraction of the cost (not to mention the convenience and comfort of my home) has me as a fan, which is why I was excited to be introduced to the newest skincare treatment product from GrandCentralBeauty - the S.M.A.R.T. Skin Perfecting™ Polisher.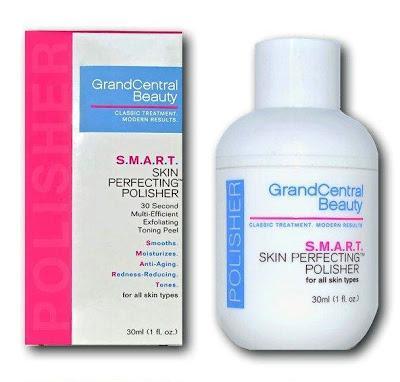 This brainy beauty product is quite the multitasker as it exfoliates, peels, and tones - all in one easy step. What makes it so great? The hydrating yet non-sticky GrandCentralBeauty's S.M.A.R.T. Skin Perfecting™ Polisher can easily be added to your skincare regimen. It gently unclogs pores and dead skin cells releasing trapped dirt with continued use, invigorates the complexion as it boosts tired skin, rolls away dead skin, boasts a built-in neutralizer, making it rinse optional and is perfect for sensitive skin.
A little goes a long way with this wonder product, the 30ml bottle, which retails for $38.00, will last you quite a while so you will continue to have great skin. Get your own bottle at www.grandcentralbeauty.com and Henri Bendel.