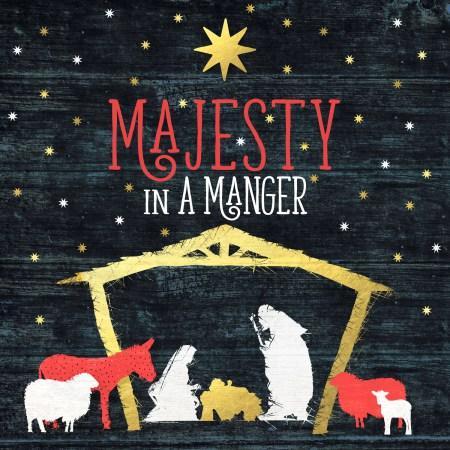 Integrity Music Releases New Worship Songs For the Christmas Season
Majesty In A Manger Now Available
Featuring Artists/Writers Paul Baloche, Darlene Zschech, All Sons & Daughters, Travis Ryan,
Michael Farren, Seth & Nirva, Christine D'Clario, Michael Neale, Greg Sykes and More

Committed to resourcing churches with songs of substance for every service need, Integrity Music announces the global release of Majesty In A Manger, a new worship album for the Christmas season. Produced by Dove Award winner Michael Farren (AllAboutWorship) and Daniel Kinner (Mandisa/Royal Tailor), the album features 11 tracks including new songs and an instrumental.
"The Advent season brings some challenges to most worship leaders," explains Adrian Thompson, Integrity's Vice President of Song & Artist Development. "Suddenly their normal list of songs for Sunday is thrown into disarray as the focus is on the Savior's birth while at the same time, many of the familiar Christmas songs aren't vertical in nature and the lyrics simply don't lead us into worship."
"The songs for Majesty In A Manger were written by worship leaders and pastors for other churches," he adds. "Our prayer is that the songs will give voice to congregations throughout the Advent season while opening hearts to worship the King."
Integrity songwriter and recording artist Travis Ryan, who is also the worship pastor for LifePoint Church in Smyrna, Tennessee, adds: "When I was asked to participate in writing and singing on Majesty In A Manger, I was thrilled because I know how hard it is to find the right, theologically strong songs for the season… Christmas is a time when you are not only serving your regular congregation, but you are also interacting with and leading guests who may not attend church regularly, guests who may be gleaning the Gospel for the first time through the songs you are leading."
"Listening through Majesty, I realized that these songs are exactly what I need for my own church!" continues Ryan. "And with the chord charts available, it's easy for me to start building set lists now."
Majesty In A Manger is available in Christian retail stores and through all major digital service providers including iTunes and Amazon, with a companion digital songbook and chord charts available at www.WeAreWorship.com. Split tracks for select songs, including the Darlene Zschech-performed "Gloria (Our Savior Found Us)," will also be available through resource partners including Multitracks.com and PraiseCharts.com.
The complete tracklist for Majesty In A Manger, including the featured artists, is:
"Joy" – featuring Dustin Smith
"Majesty In A Manger" – featuring Greg Sykes
"Son Of God, Son Of Man" – featuring Travis Ryan
"Gloria (Our Savior Found Us)" – featuring Darlene Zschech
"Will Ever Be" – featuring Christine D'Clario
"Fill The Silent Night" – featuring Seth & Nirva
"Let My Soul Sing (Gloria)" – featuring Michael Farren
"Forever Amen (Glory To God)" – featuring Michael Neale
"Come To Save Us" – featuring All Sons & Daughters
 "King Of All The Earth" – featuring Paul Baloche
"O Little Town Of Bethlehem (Instrumental)" – featuring Lincoln Brewster
About Integrity Music:  Integrity Music is part of the David C Cook family, a nonprofit global resource provider serving the Church with life-transforming materials. With offices in Colorado Springs, Colorado, Nashville, Tennessee and Eastbourne, UK, Integrity is committed to taking songs of substance to the local church and its leaders around the world. Integrity publishes many of the top songs in the Church, including the No. 1 radio hit "We Believe" (Newsboys) as well as church standards "Great Are You Lord," "Revelation Song," "Open The Eyes Of My Heart," "Your Great Name" and "I Am Free." Additional information can be found atwww.integritymusic.com.
~ ~ ~ ~ ~ ~ ~ ~ ~ ~ ~ ~ ~ ~ ~ ~ ~ ~

It would be great if you would stay connected with me!! You can follow me on Twitter @DebiL1611, like me on Facebook at 2014 and Beyond, circle me on Google+, follow me on Tumblr, Instagram and Bloglovin', subscribe on YouTube, or connect with me on LinkedIn and Pinterest.

Please make sure to visit my homepage and subscribe to my blog for more great posts on running, fitness and lifestyle topics as well as food, product, music and book reviews, and more!