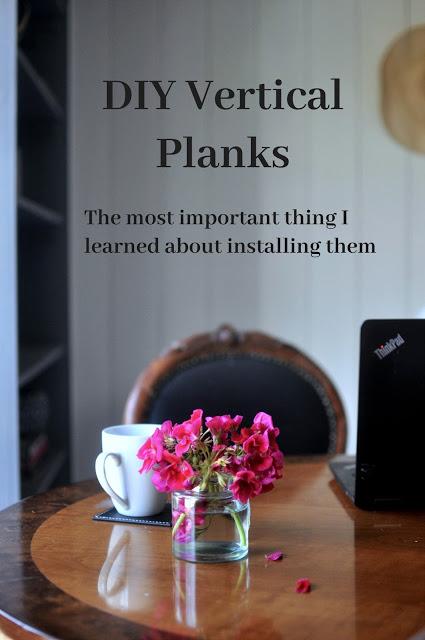 Well I'm finally putting together a post to tell you about our bedroom-turned-family room with the vertical planked walls that I installed. 
And yes, I'm sharing the one important thing I learned from my experience.
But I have a little confession to make. 
This post is
not
for experienced carpenters unless of course you're in the mood to grab a cold drink while you sit back, shake your head with pity, and repeat the phrase,
 "Lady! Why didn't ya just use sheets of beadboard?!"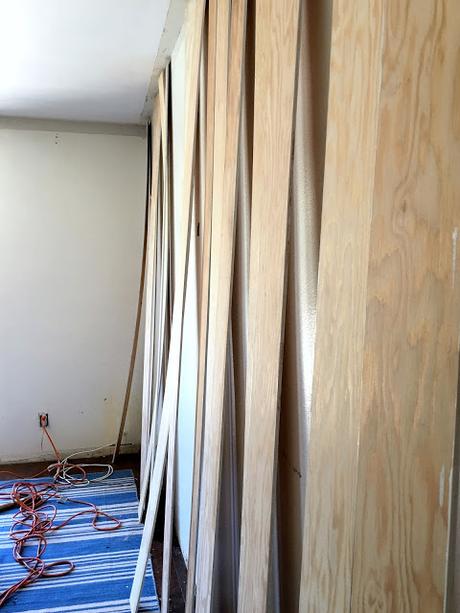 That my friends, is the question I asked myself more than once when I was working with the 6-inch-wide strips of plywood that the Home Depot guys had ripped for me on their saw.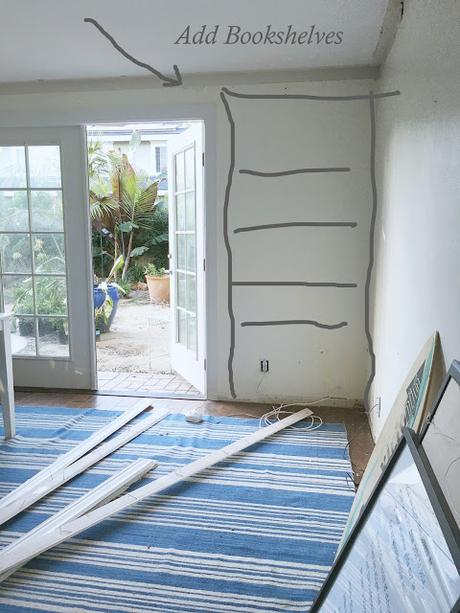 Although to be honest I always have one of those what-did-I-get myself-into-moments when I'm working without my Dad. 
And even though I eventually finished this room, believe me, there was a lot exasperation 
about getting my vertical lines straight. 

When my Dad visits next month, I know he'll be smiling and really supportive of my job, but he'll definitely see my little mistakes.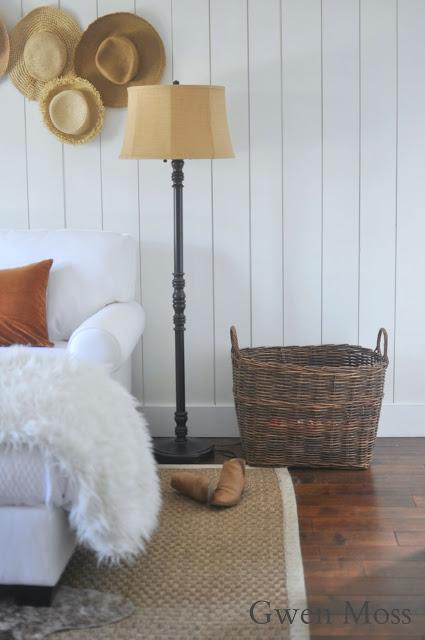 After
 Here's the one mistake that bugs me the most although chances are, you might not notice it. I had to point it out to Jim.1. Horiozontal vs Vertical Planks?OK, so back to the topic of vertical planks. I don't see as many vertical plank projects, do you?  At least compared to the shiplap ala-Joanna-Gaines-Fixer-Upper look that's so popular these days. If you're still on the fence about shiplap here's an interesting article on whether it fits with your home. Me? I've been collecting pictures like this one forever: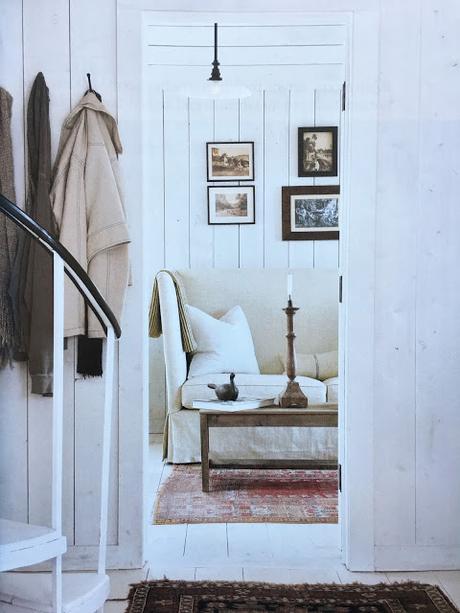 And I find the look quite charming, especially for our home which is near the ocean. Still, I'm not sure I would've deviated from the horizontal planks which I've already installed in certain parts of my home, --if it wasn't for our low ceilings in this one bedroom. 
2. The Room
Here's the original Before 
(from the real estate pictures)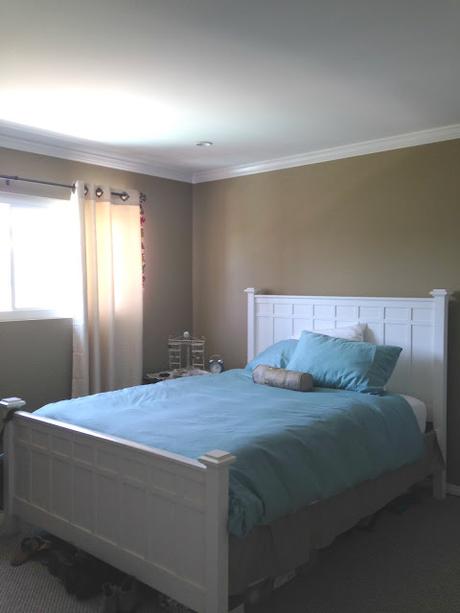 A dark r
oom ....with little natural light and low (less that 8 ft) ceilings that made it feel claustrophobic.
The previous owners lowered the ceilings in this room to accommodate the can lighting, and according to our electrician, it's not uncommon around here. 
But since changing the ceiling height is entirely dependent on winning the lottery which I never play--installing vertical planks were my answer to adding to the illusion of height in this bedroom.
In the months before the planks were added, we began with a few basic changes to this bedroom: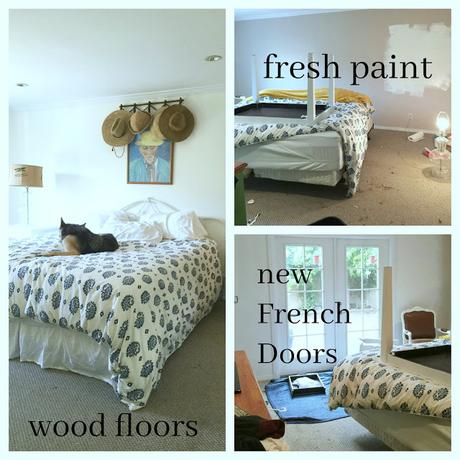 The next stage was transforming this bedroom into a casual living space for everyone.
3. Choosing the vertical plank look: 
beadboard sheets or individual planks? 
For me the answer was easy. Because I was working alone I ruled out sheets of beadboard because of the sheer hassle of lifting and moving them myself, and no I didn't want to wait for weekends when the hubby could help me. I know that might seem like a weak reason to rule out beadboard but that's how I roll. 
Also there were two other factors on why I went with faux planks: first I prefer a wider plank beadboard which our lumber yard didn't carry and second, I didn't want to pay for the pricier tongue and groove planks. Since I already knew our local Home Depot would rip my plywood sheets for me I went that way.
...And 
(little naive Me),
 thought the "faux' vertical planks would be similar to the horizontal planks. 4. To cut or not to cut my own sheets of plywood?

When using the 'faux' planks ripped from plywood sheets most of us choose to have our local Home Depot or Lowe's do it. Even though I've got a table saw, the thought of ripping all my own wood felt too time consuming. Although in hindsight, the time I saved cutting my planks, I probably wasted in added installation work.
After measuring the room I collected my planks over a week, by dropping into two different Home Depot stores and asking whoever happened to be at their saw. One of my helpers was the manager who was absolutely fastidious about his cuts. Those were the straight ones. The rest of the cuts were pretty irregular which wouldn't have been that noticable if I were laying them horizontally. But once I got started it was obvious that I would have to make a choice.
5. Deciding on the look
:
Either I had to keep my vertical lines straight and give up the equal distance between each plank,
or I could use the spacers to guarantee uniform space between the planks, however the vertical lines would not be straight. 
I chose to keep the vertical lines all straight.
6. Confessions from a non-perfectionist carpenter
To further add to my novice carpenter woes, one of the Home Depot guys had pulled out a plywood sheet that was thicker than my others and I didn't catch it. And yep, it got mixed in with the planks on the wall. 
OK. So this is how I know I'm not truly a perfectionist, because if my Dad had noticed the slight difference between the planks on the wall he would've walked over to the flawed plank and yanked it off. Just like that, because it was the wrong size plain and simple. 
That of course, would've led to a few more planks being pulled off because of the newly open space that would have to be re-measured for the new plank to look an equal distance from the others. 
Are you seeing how one thing leads to another when it comes to measuring?
So this is what I did. I sat and stared at the thick plank with my mouth open, took a deep sigh, had a sip from my water bottle, cringed a little more and kept going. 
At that point the mere thought of going back to a crowded and under-staffed Home Depot and bringing back more wood made me want to jump head-first into shark-infested waters. 
(which is basically how I view swimming in the ocean).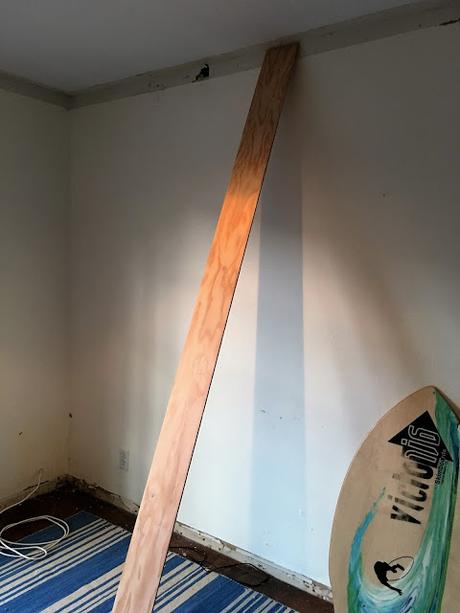 This photo shows how each plank needed to be cut down to the size of the wall. Then new trim and new baseboards followed.
7. The finished walls
And so I'm left with what I jokingly call my rustic walls, in the style of a quaint cottage from
the rural countryside.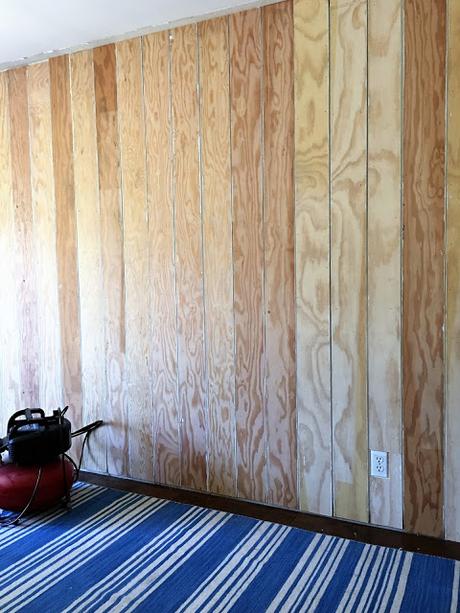 What's wrong with a few odd planks here and there right?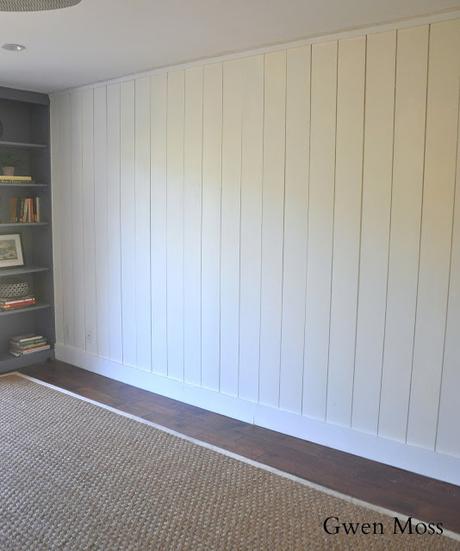 Just add some white paint and voila!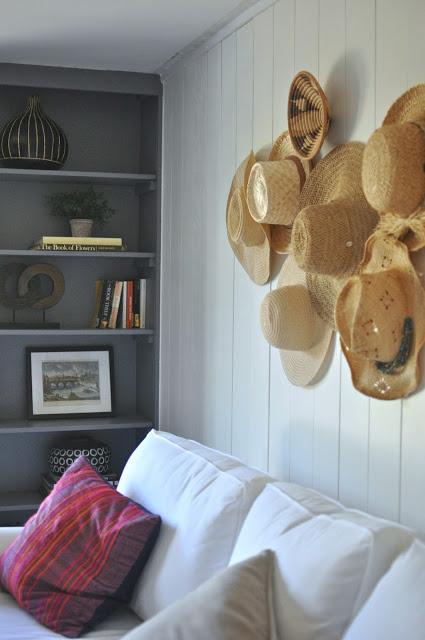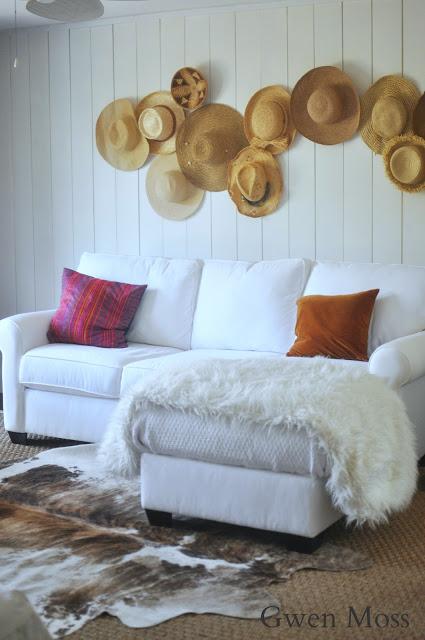 I brought the rug from the dining room in here to warm up all the white.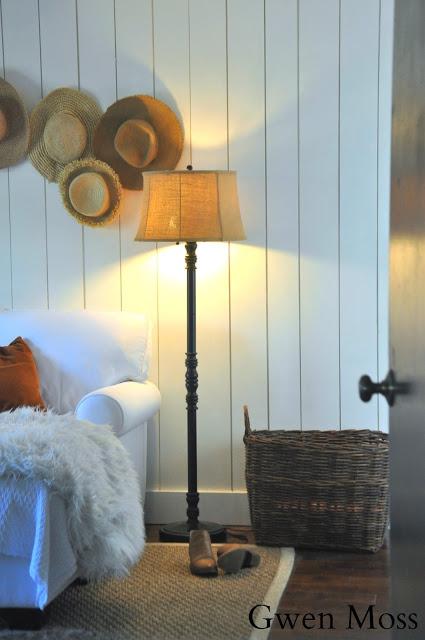 I plan on sharing some photos of the REVEAL for this room shortly. Since we splurged on a new sectional in here, everything else in this room is either re-purposed from our old home or bought at a consignment or thrift store. 
Which makes decorating a fun challenge. 
Thanks so much for stopping by friends,
xo
Leslie
sharing this post with friends:
French Country Cottage