After receiving "constructive" feedbacks from its followers, Instagram just two hours ago changes again its Terms of Service and reverts back to the original advertising section devoiding the changes that received the flak recently.
In an announcement on its blog posted this morning, Instagram claimed it failed to communicate their intentions clearly when they introduced a set of updates of their privacy policy and terms of service. Kevin Systrom, co-founder of Instagram apologizes and promised to "make it right".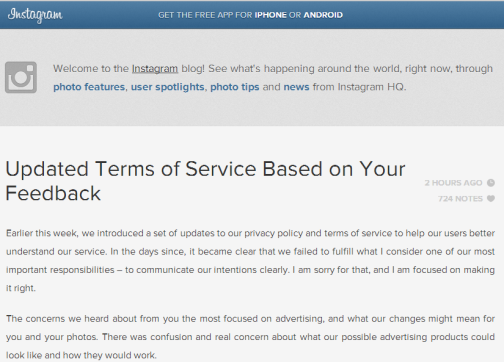 Instagram also clarified it will never sell the photos uploaded by its users saying the site doesn't own the photos but the users do. The change introduced by Instagram last week caught the ire of its users when portion of it reads: "To help us deliver interesting paid or sponsored content or promotions, you agree that a business or other entity may pay us to display your username, likeness, photos (along with any associated metadata), and/or actions you take, in connection with paid or sponsored content or promotions, without any compensation to you."

The change in the advertising section takes effect immediately back to the original terms of service when Instagram was launched in October 2010. Systrom says he feels proud that Instagram users are so vocal about the change by sending them constructive feedback.