From a long time ago fragrance and perfumes have been heavily linked to ones state of mind, their mood and aura. It is believed since ancient times that one's charisma and aura is related to the perfume they wear. Now back to modern day, Yosh Han both the Creator and Nose of perfume brand YOSH vows to continue this; to improve ones state of mind and "aura" through scent.
Not only is Yosh Han a Nose and Creator, she is also an Intuitive Clairvoyant and Aura Reader. Because of this identity, Yosh incorporates this energy and healing nature into her brand and creations in hopes of bringing a positive change in energy and ones aura through scent. Inspirational and aura healing perfumes from YOSH  Individual Aura Portraits by YOSH Han  Aura Portraits Yosh, is an internationally respected Intuitive Clairvoyant and Aura Reader. Her aura portraits reveal information about each person's energy and spiritual hot spots. Refinery 29 named Yosh "Best Aura Reader" in 2012. She has read thousands of people in Europe, Middle East, Japan, Canada and USA remotely and on-stage and with translators. She has done aura portrait events for Macy's, the Jewish Contemporary Museum, Smell Festival Bologna and Campari USA.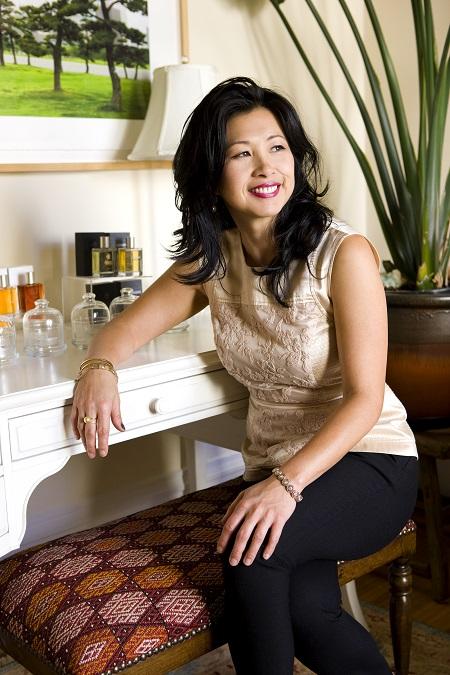 Inspirational and aura healing perfumes from YOSH at Parfumerie Trésor
As a scent artist, YOSH has created a collection of vibrational perfumes inspired by chakra energy and numerology. Yosh eponymous collection is sold in boutiques like Barney's New York, Anthropologie and Liberty London. As well as consulting work as a Nose includes clients in the food & beverage industry; her expertise is in whiskey, mezcal and chocolate. She has served five times as a judge for the San Francisco chocolate festival. As a master perfumer, YOSH teaches and speaks on olfactive trends and culture.
In her free time, YOSH likes to go vortex hunting; she travels the globe exploring energy fields in nature. When the mood strikes, she likes to play the kazoo.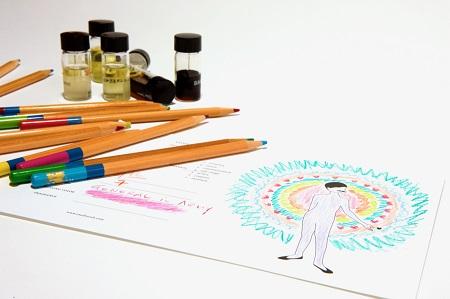 Inspirational and aura healing perfumes from YOSH at Parfumerie Trésor
Every person has a physical and spiritual body. Your energy moves through seven chakras and into the immediate space around you called the aura. During the reading, each layer is viewed through a wide-angle lens with an option to zoom in on specifics. We go through each layer of the aura, its themes and how your energy is running (or blocked) within the layers of the aura. At the end of the reading, there will be a few minutes for any questions and clarifications as well as your next steps. If you have a specific question that you'd like the reading to focus on, please ask that in the beginning.
A meeting with Yosh at Parfumerie Trésor, came with the gift of a 'colored-in' portrait of your session, with two recommendations of fragrances that would suit me. I can say that I just adore both of these. White Flower for the day, a very uplifting fragrance. Then Ginger Ciao for the evening, more sultry and relaxing for the end of the day.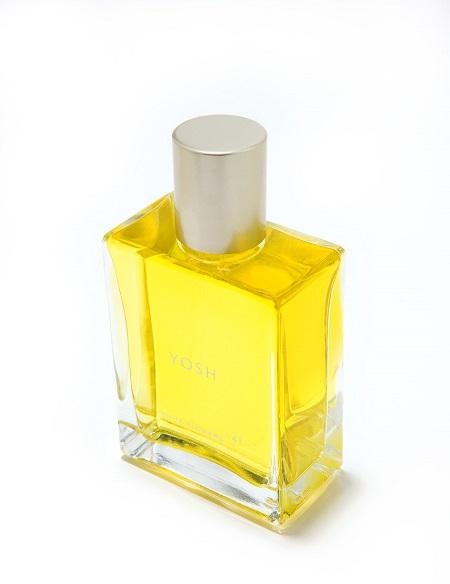 Inspirational and aura healing perfumes from YOSH at Parfumerie Trésor
White Flowers 1.41
Youthfulness, Reborn
Every girl wants to maintain their youthfulness and most beautiful side. Besides their makeup and the accessories they wear, the type of perfume they choose will reflect this in the most subtle of ways. White Flowers 1.41. is the essence of eternal love captured in a bouquet of all-white flowers: gardenia, tuberose, freesia, lilac, sweet pea and narcissus. Unlike other floral perfumes, this complex fragrance has a clean, green finish with hints of petitgrain and Siberian fir. A classic floral with modern finesse – delicate, sophisticated and elegant.
Ingredients: Jasmin Sambac, Night Blooming Jasmin, Violet, Sweet Pea, Freesia, Tea Rose, Rose Maroc, Gardenia Soft, Lily of the Valley, Soft Lilac, Egyptian Tuberose, Siberian Fir, Narcissus, Petitgrain.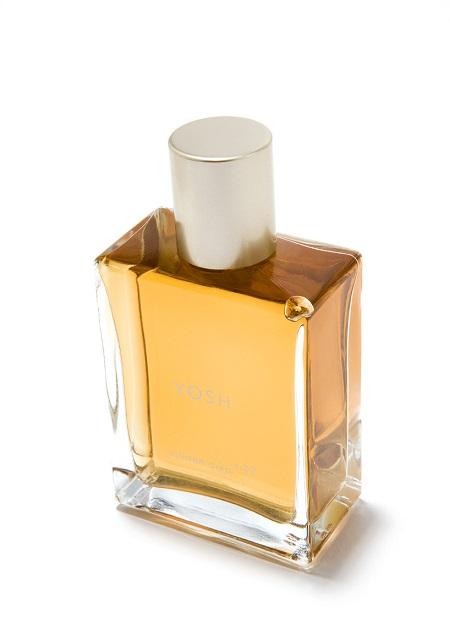 Inspirational and aura healing perfumes from YOSH at Parfumerie Trésor
Ginger Ciao 2.27
Scintillating, Energetic
Ginger Ciao 2.27 is the bewitching heroine of a major modern novella. Charismatic, daring and scintillating. Imagine waking up on a humid and hot summer morning, before getting ready for the day you would want something to not only wake you up but refreshing at the same time. Ginger Ciao 2.27 has both neroli and ginger that is perfect to increase your energy. Combined with the calming scents of basil, black coconut and ylang ylang. It will take you to the hot tropical islands with a relaxing charm. This perfume represents the courageous, daring and confident energy that one should possess. A fragrance that has more than enough seductions to go around, but you'll probably want to keep it all to yourself.
Ingredients: Black Coconut, Night Queen, Tiger Lily, Neroli, Ylang Ylang, Ginger, Basil
Inspirational and aura healing perfumes from YOSH at Parfumerie Trésor
Tel:  2701 5922 G/F, Parfumerie Trésor, 18 Upper Station Street, Sheung Wan, HK