Have you noticed some of the insect fashion print trends in this year summer and fall collections - I'm checking out Alexander McQueen's infestation with the dragonfly.
AWE. The dragonfly. The fastest flying insect in the world...Tillyard is claimed to have recorded the "Southern Giant Darner Dragonfly" flying at nearly 60 miles per hour. WOW.
Well with that said; I came across fashion label Alexander McQueen. They are infatuated with the dragonfly this season. I fell in love with their symmetrical floral and dragonfly print dress. I love the body-con fit in the dress too.
So; I wanted to illustrate how I would wear the "Alexander McQueen Dragonfly Dress" in this fashion collage below.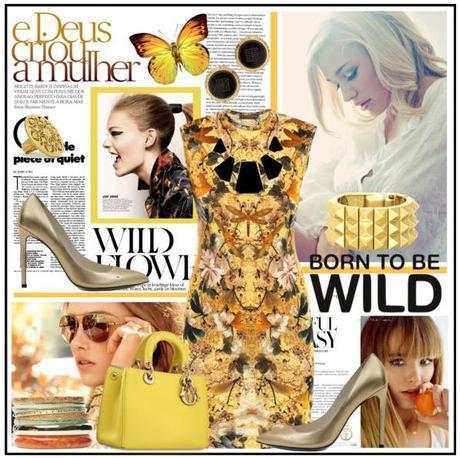 I love the mix of the flowers speratically placed throughout the fabric with dragonflies flirting across each flower.
I thought I would put together a simple little mix n match to pick up the color tones of the dress. I found the perfect little pair of Balmain pointed toe leather pumps, and a DIORISSMO "Small Jaune Vif Leather Handbag".
I also wanted to add some jewelry pieces to accent upon the gold and black tones in the dress. So chose
a gold and black tone bib necklace from the Windsorstore and a House of Harlow 1960 pyramid bracelet.
1. Alexander McQueen Dragonfly Print Dress.
2. Balmain Pointed Toe Leather Pumps.
3. Diorissmo Small Jaune Vif Leather Handbag
FASHION TAKE-OUT:: Get Your Daily Take-out of Fashion, Celebrity Trends, High Street Style and more...
 https://www.facebook.com/pages/FashionTake-Outcom/308151455867993
https://pinterest.com/fashiontakeout/
https://twitter.com/FashionT_O