*Please click on the pictures for a much, much clearer view. I have no idea why the thumbnails look blurry; they're actually really clear!*
Innoxa is a beauty brand founded in France with the firm philosophy to "First Do No Harm". Those with sensitive skin will be happy to know that Innoxa is 100% Allergy Tested to ensure that their products are low risk.
"Innoxa products are scientifically tested on individuals with skin conditions such as eczema, skin sensitivities and other allergies, to pledge that no matter what your skin type; Innoxa will be gentle on your skin."
Sounds mighty good to me! I also really like their tagline: Classic Simple Beauty.
I recently got to try 2 products from their latest Anti-Ageing range: the Innoxa Renew Anti Ageing Exfoliator and Innoxa Anti-Ageing & Firming Facial Serum. Their Anti-Ageing range basically revolves around "targeted solutions with active multi benefit formulations to restore firmer more youthful looking skin". Well, as I inch towards the 30, I do find myself getting more and more interested in such ranges.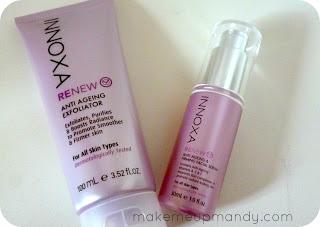 The Innoxa Renew Anti Ageing Exfoliator is formulated to effectively exfoliate, purify and boost radiance to promote smoother & firmer skin. With all my busy days and late nights, I have to say my skin has been suffering a little. Partly from my not-very-encourageable lifestyle habits and also, my relapsed laziness with regards to my skin care routine (old habits die hard, unfortunately!). I was definitely looking for all these little boosts to my skin.
The Innoxa exfoliator has exfoliating microspheres to gently refine skin. My, they were definitely tiny with no hint of any harshness during exfoliating. I really like how gentle it is. It does say though that the recommended usage is twice a week so I did follow instructions and refrained from temptation to use it daily.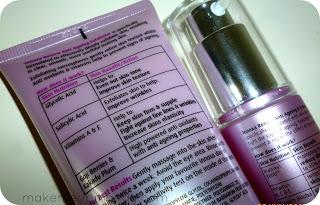 I was extremely delighted to try out the facial serum because I do believe that serums provide the main boost in the overall skin care regime. I am always on the look out for effective yet gentle serums because some can make my skin break out :(
This Innoxa serum uses vitamins & antioxidants to:
- promote firmer, smoother skin ( reduce appearance of wrinkles by up to 45% in 2 months)
- rejuvenate skin (increasing skin elasticity & repairing skin texture)
- stimulate formation of collagen
- repair effects of aging and environmental damage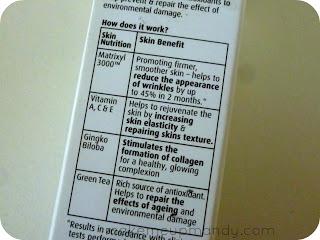 This serum has a slightly thicker formula than most of the serums I have tried and I honestly didn't like the smell too much. It's not a bad smell at all but I am just more attuned to citrusy, fruity, refreshing scents. It also leaves a thin film of greasiness over the skin after application which I didn't enjoy but having said that, it doesn't last very long. After that sense of greasiness is gone, my skin does look a lot smoother and brighter so no complaints!
I have to say after using it for 6.5 weeks (I do record it all!), I am pretty happy with how this worked for me. My skin does feel firmer, smoother and generally happier in the mornings if I may say so myself!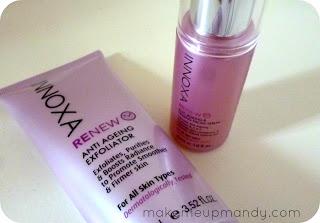 Innoxa Renew Anti Ageing Exfoliator retails for $17.95
Innoxa Renew Anti Ageing & Firming Facial Serum retails for $24.95
Available at Priceline & selected chemists. For more stockist details, have a look here!
Have you tried Innoxa? I'm curious about their other products. Any recommendations?
*Please note, I received these products for review purposes. However, my opinions are 100% genuine and uninfluenced!