WHAT IS IT:
Innisfree Bija Anti-trouble Skin with Torreya Seed Oil and Green Complex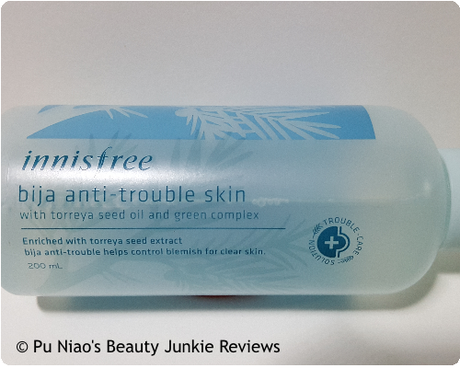 THE PRODUCT(S):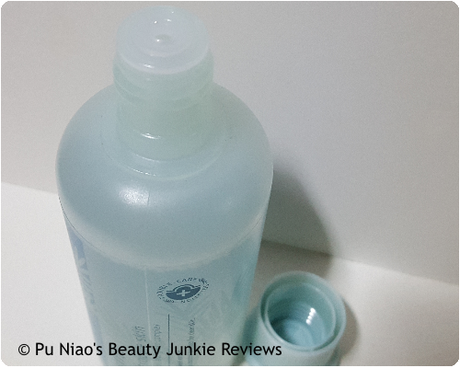 Innisfree Bija Anti-trouble Skin with Torreya Seed Oil and Green Complex:
Natural originated salicylic acid, natural originated alcohol presents you with a clear complexion as it exfoliates dead skin cells that cause skin trouble and removes impurities left inside pores. A toner made from natural Jeju torreya for treating blemished skin! The outstanding healing effects of the torreya seed oil help troubled skin. Contains natural salicylic acid for exfoliation and blemish care. The naturally fermented alcohol soothes skin. 100% Natural essential oil: The scent of pine, juniper berries, and the forest comforts your mind and body.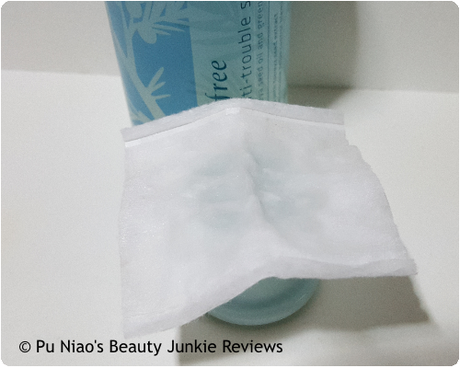 Despite the bottle looking all blue on the outside, this toner is actually a clear liquid instead of the blue we expect it to be.
VERDICT:
Scent-wise, there's a strong scent of alcohol with a hint of herbal tonic in it although the herbal tonic scent is more towards lemon grass scent. For those of us who are sensitive to the scent of alcohol or whose skin is sensitive and allergic to alcohol, this product might actually do more harm than good. Although funnily enough, part of the product describes this product having the scent of pine, Juniper berries and woods and most reviews for this product I have come across have a varying difference when it comes to the scent. And at the same time, it's a toner made from natural Jeju torreya, which means it should smell more like torreya instead. But personally, I don't find the scent too "dramatic" in terms of the difference in scent.
Upon using this toner, it gives a refreshing and clean feel to my skin after using it. And to be honest, a toner is essentially a liquid that delivers beneficial ingredients directly onto the skin after cleansing. And depending on the formulation of the toner, it can also "close" or minimize pores and smooth the texture of the skin, ready for the application of moisturizer and/or makeup. Although toners containing alcohol can be somewhat controversial towards certain toner users as alcohol can be drying. But at the same time, the drying part can actually clear the skin of any excess sebum on the spot to ensure sebum doesn't mess with the moisturizer that follows soon after.
For me, this toner helps to control oil and sebum on my skin without making my skin feel too dry after using and luckily for me, the toner doesn't irritate my skin too much especially when pimples are present. And upon using, I can feel and see my skin brighten up a little although I doubt it helps in the whitening department though. I mean, I haven't heard of any toner that whitens complexion. Complexion whitening tend to be products in the serum or moisturizer range, as far as I am aware. And personally on my skin, it actually feels a tad hydrating instead of the usual dryness I encountered when using other brand toners.
Sometimes, when my skin feels too oily and shine-reflective, I just use this to clear off the excess sebum on my skin. But I don't recommend continuously using the toner throughout the entire day repeatedly just for the sake of getting sebum off your face though. I tend to use it only when my face and skin actually feels "heavy" from the serum and I want a quick refresh on my face to feel better. It does help dry out the whiteheads, on a side note. As I've noticed less whiteheads showing up on my skin after using this product for the past 1.5 years.
PRODUCT RATING:
✓✓✓
WHAT I THINK:
Although this toner contains alcohol, I personally find that it doesn't over-dry my skin at all. In fact, my whiteheads are noticeably lesser after using this toner. It hydrates and also reduces the amount of sebum on my skin as my skin condition is of the combination type. Whitening wise, I don't really see much difference but it actually brightens up my skin a little after using.
WHERE TO REDEEM SAMPLE:
You can pop by any
Innisfree
outlet and enquire for sample sachets to bring home and try it out before committing to this product on a permanent basis. Or alternatively, there should be opened sample bottles in their outlets. But I still recommend asking for sample sachets that you can bring home and try instead.
Why not like my Facebook page at https://www.facebook.com/PuNiaosProductReviews to be informed of latest samples I found, which is duly updated? Also includes updates to health, beauty & lifestyle tips regularly. It will definitely save you the trouble of having to hunt them down :)
Why not like my Facebook page at https://www.facebook.com/PuNiaosProductReviews to be informed of latest samples I found, which is duly updated? It will definitely save you the trouble of having to hunt down samples :)