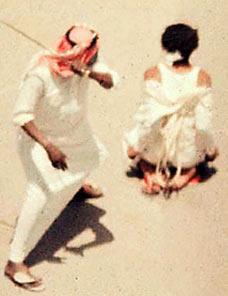 "Eight Bangladeshi migrants were beheaded (
শিরশ্ছেদ
) in public in Riyadh after they were convicted of killing an Egyptian security guard four years ago, a media report said.They were charged with robbing a warehouse and killing a security guard, Egyptian national Hussein Saeed Mohammed Abdulkhaleq, in April 2007, bdnews24.com reported on Saturday. 
Mamun Abdul Mannan, Faruq Jamal, Sumon Miah, Mohammed Sumon, Shafiq al-Islam, Masud Shamsul Haque, Abu al-Hussain Ahmed and Mutir al-Rahman

were executed Friday in Riyadh. 
Three other accused were given jail terms. 
The beheadings bring the number of executions in Saudi Arabia this year to 58, more than double than the 2010 figures. Twenty of those executed this year were foreign nationals.
"
Click >> 
Saudis behead

8 Bangladeshis | | bdnews24.com
for detailed report.
Everyone deserves a fair trial in this world. Today, Saudi Arabia stands odd against the worldwide trend against the Capital Punishment. 
Laws (Sharia or Constitutional) 
are made for the benefit of humanity, but what the Saudi's did; is undoubtedly Inhumane and Barbaric. Its very sad and shocking; Its high time that the Kingdom of Saudi Arabia get on track with the international judicial and Human right standards. What assistance did these migrant workers have from the Bangladesh Government ?
This is injustice and clear violation of Human Rights. Why there is no hue and cry against this brutal regime? Why are the western countries who 'care' a lot about human rights mum against this brutality- Everyone keeps quite- its a tough NO INTERFERENCE in Saudi Internal Affairs !
There is another side of this story, the case would have been different if they were US or UK citizens, as in this case they were poor Bangladeshi migrant workers, they were treated like worthless creatures - denied justice and were unheard!
Saudi Arabia is one of the worst place to live on earth at this moment, they completely RACIST- If you are a non-Saudi you cannot file a case against a Saudi person. 
I believe Saudi's are not powerful than "Allah", so "Allah" is enough for them to punish.