*****
Harper Collins, 2012
ISBN 0062065246 (ISBN13: 9780062065247)
Part of the Mysteries from Every State Reading Challenge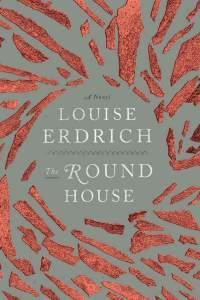 The Round House dealt with a lot of serious issues, from Native American rights to rape to revenge. Beautifully written and expertly told, Louise Erdrich's novel was perfect for the Mysteries from Every State Reading Challenge.
The entire book takes place on an Indian reservation in North Dakota, where Joe's dad is a local judge. His mother, who works at the tribal headquarters, comes home one day after being attacked. What happened to her and her long recovery changes her and her family forever.
The story is told through Joe's eyes, as he describes his family, life on the reservation, and the numerous injustices suffered by his family and community. Having grown up with his grandfather Mooshum's stories about initially being forced into reservations and into poverty and dependence, it appears that Joe and his friends accept unfairness as a way of life.
However, his mother's attack awakens Joe to the injustices suffered by Native Americans in the present and forces him to take action, despite the possible consequences.
I absolutely loved the way the author makes the reader empathize with Joe and his family, presenting them as human beings first and foremost, making their struggle against a wrong a universal one.
The characters were amazing. I loved all of the old people and all of Joe's family and friends, especially Sonja. They each had a great back-story and were unforgettable in their unique ways, perfect in their imperfections. Joe was an amazing, endearing main character, telling his story from adulthood, where he still strives to be a better man. His friendship with Cappy was so sweet…
Erdrich's use of language to breathe life into her characters is remarkable,
"When she and Mooshum got together to reminisce about the old days, my father said they talked so dirty the air around them turned blue."
She also describes the discrimination inherent in the idea of putting human beings in a reservation, as well as the day-to-day difficulties it presents, from poverty to personal insecurity to lack of access to laws and basic protections.
The novel centered on the topic of justice, rape and rape of Native American women in particular. While it was a topic I never thought of before, it is one that must be addressed now. Native women are especially vulnerable to rape and less likely to get justice.
The novel was lyrical and beautifully written,
"Now that I knew fear, I also knew it was not permanent. As powerful as it was, its grip on me would loosen. It would pass."
Go back to the Mysteries from Every State Reading Challenge
Go back to Book Reviews
47.551493
-101.002012