Car races, chuck wagons and witches, oh my.(Yeah, I had to make the reference.) These were just some of the experiences I had on my first fam tour of Edmonton, Alberta, a place I have grown to really appreciate after my fast-paced weekend trip.
It all began with the amazing hospitality and care I received from the Edmonton Tourism team. My guides, Christie and Michelle, were incredible hosts, very vibrant, friendly, helpful and accommodating. From the moment I stepped off the plane, I was welcomed openly. And for someone who has never participated in one of these press trips, it made it very comfortable and less intimidating. The tour was made even better by the people in my group. Not only were they extremely nice, but their outgoing nature made it easier for mine to come to the surface. From the beginning, we formed an admirable camaraderie with one another, which just made the experience all the more pleasant.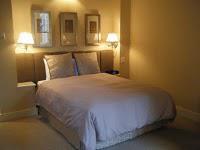 My first day was made even better when I finally reached the hotel, the Union Bank Inn, and checked out my room. It was beautiful, quaint and comfortable. It was equipped with a fireplace, a queen size bed, and many other standard amenities. The colors and decor were warming, relaxing, and I definitely felt like taking a quick nap before the evenings festivities began. With the short amount of time I had, I decided to unpack a little and warm up, since it was about 50 degrees and raining when I flew in. On the desk, Edmonton Tourism had left me a backpack full of small gifts, information and even a stuffed animal. I didn't have much time to do anything, even grab something to eat, even though I was starving and my stomach felt like it was going to cave in on itself. At that very moment, to my surprise, a knock came at the door, and a fabulous wine and cheese platter floated in front of me. Perfect! What a way to start the night--and somewhat satisfy my gnarling stomach before dinner.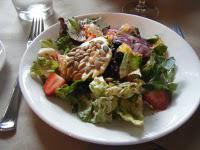 For dinner on our first night, Christie and Michelle took us over to Edmonton's Old Strathcona neighborhood, the city's historic district. We went to Packrat Louie Kitchen & Bar, where a table awaited us with a pre-set menu. I ordered the goat cheese salad, with roasted pumpkin seeds, fresh strawberries and spinach; followed by grilled chicken atop petite roasted potatoes and steamed vegetables; and finished the whole thing off with a hefty helping of tiramisu. Our host for the evening, Karen, the director of travel trade with Travel Alberta, ordered us an array of wine options as well--which, of course, I was happy to accept.
One thing I will point out about these press trips, you will never go hungry. I was consistently fed, and each meal was twice as big as the portions I eat at home. Also, libations are always available and usually on the house, but since it's technically a work trip, I knew to keep the drink count to a minimum.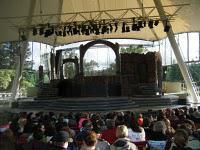 Upon leaving the restaurant, our shuttle carted us over to Hawrelak Park for the Rivercity Shakespeare Festival, where we enjoyed watching a performance of Othello, one of my favorite plays from the Bard. (My one vexation was that they did have a Caucasian playing Othello, which is not exactly authentic to the play, but I figured I could overlook it.)The play was outside, under a canopy, which was not the most ideal location since it was a relatively cold day for the season. I was wearing jeans, tennis shoes, a fleece and a rain coat, and I was still cold enough that I gave in and bought a hot chocolate during intermission. I confirmed with Christie that this was not typical Edmonton summer weather, so I can at least promise that people who visit at the end of July will not be greeted with fall temperatures on a regular basis.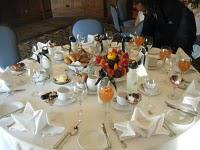 On Saturday, our group gathered in the lobby early to head over to the Fairmont Hotel McDonald, one of the city's choice accommodations. We were taken up to the Jasper room where, once again, I was greeted with gorgeously set tables with everything already prepared for us. As we entered, we were handed glasses of fresh juice. Each spot at the tables had a fruit, yogurt and granola parfait, as well as complimentary water bottles to keep--another free item to add to my backpack full of goodies. Our group, which was the leisure travel crew, was joined by the sport and events group and the convention and meetings group for breakfast. Once seated, we all chowed down on our parfaits, the fresh rolls and croissants on the table, and the bouquet of fruit. Then, the hotel brought out plates of spinach and feta frittatas, turkey sausage and seasoned potatoes. Again, way more than I usually eat in the morning, but so delicious. The hotel staff gave us a tour of the facility once breakfast was over, and I must say that this Fairmont is just as nice, if not nicer, than the many others I have seen. (Just a note, if you haven't visited a Fairmont, I strongly suggest going to one, even if you don't actually stay there.)
I finished off the morning with a lovely, relaxing canoe ride down the North Saskatchewan River. Thankfully, the water was not too high or fast, so we were able to handle the current pretty easily. Although, my canoe had trouble keeping a straight course, mostly because there were three of us and we could not manage to get a steady paddling rhythm--much to my chagrin as a Colorado girl.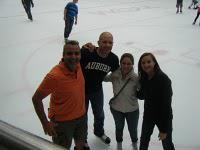 The afternoon was spent in a mall. For those of you who don't know, Edmonton has the largest mall in North America--yes, even bigger than Mall of America. West Edmonton Mall features an indoor amusement park, the largest indoor water park, a ropes course, two mini golf courses, an NHL-size hockey rink, and over 300 stores. We ate lunch at a place called Deluxe Burger, a place known for its clubby feel and unique burgers, as well as its mini shopping carts full of fries. We wandered through the many wings of the mall, completely overwhelmed by all the attractions and stores. A few of my group members and I decided to make a skate around the ice rink, which was full of some humorous spills and many embarrassing moments we will all cherish for a long time.
After a quick stop off at the hotel to freshen up, we walked over to the Art Gallery of Alberta to Zinc Restaurant. Since it is in the art district, Zinc changes its dishes seasonally based on featured exhibits, and we certainly got an artistic treat. All the dishes were relatively small, manageable portions. We started with a cheese and olive plate, simple and tasty. Then we had a deconstructed lobster salad, with the lobster meat placed on a small spoon next to the greens. The main course was a beef tenderloin with mashed potatoes and vegetables. Our dessert was olive oil cake, which was surprisingly delicious, especially paired with a little vanilla ice cream. The whole day was topped off by a wonderful performance of the Broadway hit musical Wicked, the untold story about the wicked witch of Oz. I had seen the play a couple years ago, but it was just as good as I remember.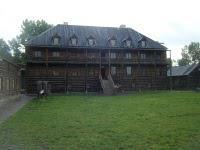 Our final day of the trip started off with a pancake breakfast at Fort Edmonton Park, one of the city's prized attractions. It is literally a living history museum and Canada's largest historical park. Our breakfast was served in the fur trading fort, which was rebuilt to look like the one used back in 1846 when traders sold their pelts to Native Americans in the area. After we ate, we toured through the park, starting in the earliest years, and then made our way into the frontier year of 1885, followed by what the city would look like as the new capital of Alberta in 1905, and finally into the modern city of 1920.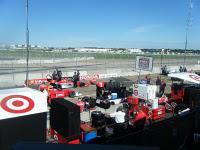 When our quick trip through time came to an end, we boarded the shuttle and headed over to the Edmonton Indy at City Center Airport. The Edmonton Indy is the 11th race in the IZOD IndyCar Series Circuit and one of two races that happens in Canada, so it was a pretty special event to witness, even though I'm not much of a race car fan. What made it more enjoyable was the fact that we had our own suite that overlooked where the pit crews were, so we had a front row view of the action. (We also had an open bar and a massive buffet of free food.) It was actually quite interesting to walk through the stalls and vendors at the race and watch all the fans, certainly a great people watching environment. Plus, wandering around the venue helped kill a little time, since the cars had to speed around the course 80 times. I will admit, it got a little boring, and the fact that it was so loud made it difficult to carry on a conversation with anyone. However, I survived and left feeling happy that I got to take part in something I never would have done.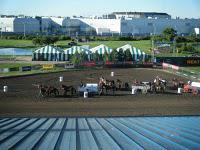 Edmonton has a wide variety of dining options, which I witnessed during the Taste of Edmonton, our next stop on the agenda. There were choices for every palate, and the menu even included options that were vegetarian-friendly and gluten free, which was great for one of the girls in my group. Our first stop was the beer garden, where I sampled some of Canada's craft beers. The Aprikat from Alley Kat Brewery was particularly good. Then we walked around to the various vendors and selected our fare for the evening before hopping back onto our shuttle and making our way to the final stop: Northlands for the Chuckwagon Derby. The Capital EX Chuckwagon Derby features 36 drivers and their teams, all competing in 12 heats for a generous cash prize. I'm not sure I'll do a great job describing this, but basically, three teams, consisting of a driver controlling four horses pulling a wagon and two men riding two separate horses, line up at the start line. When the whistle blows, one man throws a small stove into the wagon, then the wagon has to do a figure eight around two barrels before doing a full lap around the arena. The other two riders follow, and must finish within 25 feet of their wagon when it crosses the finish line. Whichever team completes it the fastest with the fewest mistakes, wins. Simple, right?
The trip ended with a few final drinks with my host Christie and new friends, Kristine, Mo and Doug, then getting a couple precious hours of sleep before catching a horribly early 6 am flight. But it was worth it.
And I must say, for my first press trip, it was a truly incredible experience, and one I hope to have again soon.