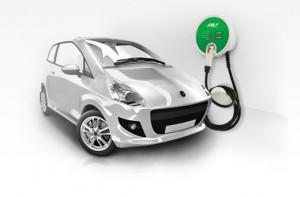 This week I will be looking at Aerovironment, Inc. (AVAV). The company is a fairly well-known defense contractor and a major player in the production of small handheld drones (such as the Puma, Raven, and the newly-released Switchblade) used in Afghanistan and Pakistan.  The drone business definitely drives the company's stock price and accounts for a large amount of the news generated by the company, as well as 85% of the company's revenues. Aerovironment also has another, lesser known Efficient Energy Systems (EES) segment that includes EV charging systems for passenger, fleet, and industrial vehicles; products and services supporting EVs; and an EV testing platform system.  This is the area of the company I will look at in this article. Not quite as sexy as UAVs but definitely interesting.
The EES segment offers a broad range of support to various customers, including EV owners, utilities, municipalities and automakers. For example, Aerovironment worked with the utility TXU to create EV charging stations in McKinney, Texas, and serves as the preferred charging provider for car makers BMW, Nissan and Mitsubishi not to mention states and municipalities such as Hawaii, Oregon, and the San Francisco region.  Aerovironment has a total of 7,000 charging stations nationwide. Aerovironment also provides support for industrial EVs used in spaces such as warehouses, and also manufactures test platforms for EV battery manufacturers and EV developers.
Aerovironment manufactures several different types of charging stations.  Charge-as-you-sleep stations primarily offer residential overnight charging with an average charge time of between 4 – 8 hours.  In-city and extended driving convenience stations serve those who either forgot to charge overnight or are taking a long trip.  There are stations designed with commercial fleet charging in mind as well.  Finally, some charging stations can be carried on tow trucks to give stranded EV motorists a quick boost needed for them to get to the nearest charging station. In addition, Aerovironment created a nationwide network of trained independent contractors to install and maintain the charging stations.
Deutsche Bank estimates that by the year 2020 there will be approximately four million EVs on the road.  It's pretty obvious that a broad adoption of EVs will require a comprehensive supporting infrastructure.  Aerovironment, as seen in the paragraph above, is a major manufacturer of a wide-range of products to cover the total infrastructure needs. If the predictions for the growth of EVs prove true, then Aerovironment is nicely positioned to benefit from this growth.
While the future of EVs and EV support services appears to be bright, Aerovironment's EES segment does face some significant challenges.  One challenge stems from the fact that their EV charging system business depends upon the development of relationships with automakers, utilities, and other participants in the EV industry.  Also, predicted rapid growth in the EV market will mean the company will face increasing competition from various charging system suppliers and large industrial electrical device suppliers such as Eaton Corporation, General Electric Company, Panasonic, and Siemens AG.
One thought that struck me as I was researching this article is whether Aerovironment's combination of two disparate product lines, UAVs and support for EVs, makes it difficult for the market to properly value the company.  For example, the company's annual report provides almost no financial information on the EES as a stand-alone segment and instead lumps it together with the far bigger UAV segment.  A quick glance at the news reports on the company reveals they are heavily weighted towards the UAV segment.  One way to create more visibility for the EES segment would be to spin it off into a separate company, unlocking its value and also allowing investment as a pure play of EV support.  In addition, with the UAV side of the business heavily dependent on military contracts, the stock's price reflects the ongoing struggle over the defense budget and discounts the value the EES segment provides the company.  Just a thought, but if EV growth meets expectations, it is one that will without doubt be examined more closely in the future.
Disclaimer: This article is intended to be informative and should not be construed as personalized investment personalized advice. You are responsible for your own investment decisions.
Disclosure: The author does not have a position in Aerovironment
Source: Aerovironment, Inc.