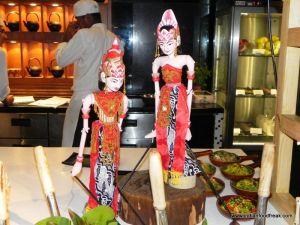 Internal 3
Wikipedia defines Indonesian food as one with intense vibrant flavours due to its 300 plus ethnic groups and various international influences. Hence I was looking forward to getting my tongue titillated and my sinuses activated!
We missed the scintillating dance performance by the Bali dancers but were told that it was one of the best ones. We started with Lauuar Kacang; long bean with turmeric chicken. The chicken was too dry and the dish lacked seasoning. The next sambal was Urap Sayur; steamed vegetables with spicy sambal. I loved the tang and spice of the sambal. Gado Gado; a very well-known peanut sambal was again lacking in flavours. We also tried the Grilled Fish With Sambal Matah which was full of flavor and spice.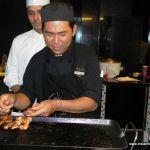 Satay
The live-counter for Satay had a choice of fish, chicken and lamb. The chicken was succulent but the lamb was a little dry as due to the overload on the counter, the meat was not basted well. The fish lacked seasoning but the consistency was good.
The mains consisted of Prawns With Spicy Chili Sambal and again it was a dish for the iron-bellied ones. I loved the hot chillies paired with the prawns. However, the prawns were overcooked and took away from the dish a little. Indonesian cuisine has three stars – Nasi Goreng, Rendang and Satay.  Mi Goreng; stir fried noodles was  the highlight dish of the evening.  The Chicken Rendang, though pleasant, was lacking in the big flavours one would expect from a Rendang. The Chicken Fried Rice was average.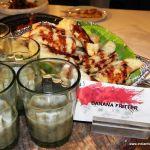 Banana Fritters
The traditional Desserts served were Banana Fritters and Dadar Gulung; crepes with coconut filling. I could not try the banana fritters as they were over by the time I reached desserts. The crepes were excellent.
I would have liked some more variety and bigger flavours to sample the immense Indonesian cuisine. But it was an enjoyable night over all.
Meal for Two without Alcohol: Rs. 4400 Approximately plus taxes| Alcohol: Yes | Credit Card: Yes|
| Wheelchair access: Yes
Address: Sofitel Hotel, C 57, Bandra Kurla Complex, Bandra East, Mumbai
Telephone: 022 61175000 / 022 61175001
Disclaimer: This review was done on an invitation from the restaurant. Due judgment and care has been applied by the author to remain objective and unbiased in the review; however readers may exercise their own discretion.