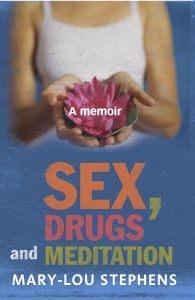 Sex, Drugs and Medication by Mary-Lou Stephens
This is the true story of a woman with a talent for self-sabotage who learns to sit still, shut up and start living – and loving.
Praise for Sex, Drugs and Meditation:
"Bracingly honest, funny and rewarding, this is a book you can't put down." Sydney Morning Herald.
"A bad girl antidote to Eat, Pray, Love." Courier Mail.
"Truth is more compelling than fiction." Daily Telegraph.Mary-Lou's dream job has become a nightmare. She knows Eliott Purvis, her young, ambitious, sociopathic boss, will not change. If Mary-Lou is to be free of the anguish and keep the job she loves, there is only one thing she can change. Herself.Ten days of silent meditation is the solution she chooses. During these ten days Mary-Lou is forced to confront the demons of her past; drugs, alcohol, food and religion. She also has to deal with the demons in her mind; paranoia, self-hate, fear and murderous rage. She relives her time spent in Twelve Step programs, her years at acting school, the joy and heartbreak of her former life as a musician and the journey that led her to work in radio.For ten days and nights she battles her memories, mistakes and fantasies. The rigours demanded by the long hours spent meditating result in excruciating physical pain. The overcoming of this pain enables her to understand, on every level, the basic tenet of the meditation technique – everything changes.She is shocked when an old wound she thought had healed demands her complete attention. A relationship so wracked with obsession and betrayal it destroyed her ability to trust. Through the eleven hours of meditation a day she finally releases the resentment and blame and comes to a place of forgiveness.When Mary-Lou returns to work the challenges remain but she went to the meditation center to change herself, not her job, and the results are surprising. At a dinner party a week later, despite all her best efforts and worst habits, Mary-Lou meets the man she will marry.*Sex, Drugs and Meditation  is available from one of the booksellers on the Pan Macmillan  directory here.*It's also available online here and has  been kindled,  ebooked and iBooked.For more about Mary-Lou and her writing, click here: http://maryloustephens.com.au