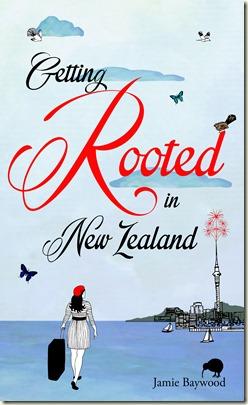 Getting Rooted in New Zealand
  by Jamie Baywood  
Summary:
Craving change and lacking logic, at 26, Jamie, a cute and quirky Californian, impulsively moves to New Zealand to avoid dating after reading that the country's population has 100,000 fewer men. In her journal, she captures a hysterically honest look at herself, her past and her new wonderfully weird world filled with curious characters and slapstick situations in unbelievably bizarre jobs. It takes a zany jaunt to the end of the Earth and a serendipitous meeting with a fellow traveler before Jamie learns what it really means to get rooted.
Genre:
humorous travel memoir
Where to Buy:
Amazon Paperback
  Amazon Kindle
Add to Goodreads
About the Author: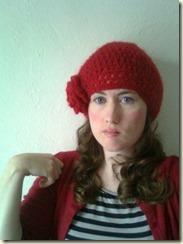 Jamie Baywood grew up in Petaluma, California. In 2010, she made the most impulsive decision of her life by moving to New Zealand. Getting Rooted in New Zealand is her first book about her experiences living there. Jamie is now married and living happily ever after in the United Kingdom. She is working on her second book.
Jamie Baywood can be followed on the following sites:  
Facebook
Twitter @JamieBaywood
Pinterest
Goodreads Author Page
Amazon Author Page
------------------  
My Interview with Jamie:
Me: What made you decide to write about your experiences?
Jamie:
I'm from California. In my mid-twenties, I had bad dating experiences in California and a dream to live abroad. I read in a tour book that New Zealand's population had 100,000 fewer men than women. I wanted to have some me time and an adventure. New Zealand seemed like a good place to do so.
I kept finding myself in unbelievable bizarre situations that I had difficulty processing. I wrote them down and shared them with others to verify I wasn't losing my mind that these things were really happening.  In New Zealand, I wrote and performed a monolog based on my real experiences contained in the book. After the show I talked to members of the audience that didn't believe my story was true.
M: You moved from California to New Zealand and now you live in the UK. Have you lived anywhere else?
J:
I've lived in five countries; America, American Samoa, New Zealand, Scotland and now England.
M: Do you miss living in the US?
J:
I miss my friends and family, but I don't miss the pace of life in California. Whenever I go back to California, I am always shocked by how busy, crowded and loud it is. Everyone is rushing around, there is so much traffic, and it just feels chaotic all the time. I was always on edge living in California. It was amazing to me that in New Zealand the police didn't have guns. Police don't carry guns in the UK either. It's nice to live in countries without the predominance of guns.
M: Are you currently working on any other books? Will you write about your adventures in the UK?
J:
I plan to divide my books by the countries I've lived in. My next book will be about attempting to settle in Scotland. I plan to move again internationally in 2014, I'm not sure where yet.
M: Favorite author?
J:
Traveling alone and being celibate for a year was how Elizabeth Gilbert found her husband in Eat, Pray, Love. I probably took it too literally like an instructions manual, but it worked for me.  I also enjoyed reading Area Code 212 by Tama Janowitz, The Buddha, Geoff, and Me by Edward Canfor-Dumas, and Even Cowgirls Get the Blues by Tom Robbins.
M: Best writing fuel: Coffee or Tea?
J:
Coffee
.  
M: In Getting Rooted in New Zealand: The Movie, who would play the characters?
J:
It would be great if someone like Zooey Deschanel or Alexis Bledel played me. I would hate it if Kristen Stewart played me. I love Aubrey Plaza. It would be great if she could be in it.
M: What was the hardest scene to write?
 J:
I had good, bad and weird experiences that are described in the book. Most of the book was written as the events happened; it just took me a few years to work up the nerve to publish. To write my book Getting Rooted In New Zealand. I relied upon my personal journals, e-mails, and memories. In February 2013, I organized my stories into a cohesive narrative. It went through several rounds of editing and then I published in April.
M: Who designed your book cover?
 J:
I designed my book cover myself. The girl with the suitcase is a drawing of me. The striped dress and red hat was my first outfit I bought when I moved to New Zealand. The birds are New Zealand native birds like the kiwi and fan tail. The city is Auckland and the tower is New Zealand's Skytower. The sky in the back ground and the water are pieces of a watercolor painting I did of the New Zealand coastline.
M: What's your favorite exotic dish from the places you've been?
J:
The world's best pina coladas are at Tisa's Barefoot Bar in American Samoa.  Auckland, New Zealand was a great place to dine out. I miss eating chicken katsu at Renkon a Japanese place, the amazing French restaurant Le Garde-Manger on upper Queen Street, and Ponsonby Food Court in Auckland. I also loved to go wine tasting on Waiheke Island, a little island that's just a thirty minute ferry ride from Auckland city center
.  
M: Any advice for aspiring writers?
J:
Be yourself.
M: Any advice for people who have always wanted to travel/move away from home to a foreign country?
J:
The world is small. Sometimes the grass actually is greener on the other side. If things aren't working out for you at home with relationships, instead of staying at home crying that you're single, consider yourself free. You are free to do whatever you want.
For a single female traveling alone, New Zealand is one of the safest countries in the world. I might not have understood people's accents initially, but I was able to get off the plane and land on my feet quickly.
As an American citizen there are actually very few places in the world you can get a work visa and just show up. If you are an American under thirty you can a work visa in Australia and if you are an American under thirty-five you can get a work visa in New Zealand. Go before it's too late.
Getting Rooted in New Zealand
is available for Kindle for $3.99  
Read some reviews:
This book is perfect for travel-reading! It's light, in small sections (as a diary), totally hilarious and also quite amazing. So many crazy experiences Jamie Baywood had in one year, some wonderful and some truly horrific, all taken together adds up to fruitful reading indeed. This book is like a rough diamond - I look forward to reading future novels as Jamie becomes more and more polished through life's experiences.
 5 out of 5 stars. Anna H (Amazon Customer Reviews)
Honest Humour... A great read! Honestly and effortlessly humorous. I giggled lots and really felt for Jamie at her times of struggle. Thank You for sharing so openly your experiences, obstacles and breakthroughs.
 5 out of 5 stars. Sparkles (Amazon Customer Reviews)
Fantastic, hilarious & Inspiring, I absolutely loved it. It is funny & absolutely honest. Very inspiring as it really draws reader's attention to read more and more. I can't wait now for her 2nd novel to come out. A movie should be made on "Getting Rooted in New Zealand". Definitely will be a super hit.
5 out of 5 stars. A-dreamer (Amazon Customer Reviews)
Must Read Book - Hilarious! A real page turner - like reading a very funny / interesting friend's secret diary.Also a fascinating insight into life in New Zealand as seen through the eyes of a traveler. Jamie Baywood is the thinking man's Bridget Jones—with an edge. Would make a hilarious movie - but until that comes out the book is a must.
5 out of 5 stars. J. Hamilton (Amazon Customer Reviews)