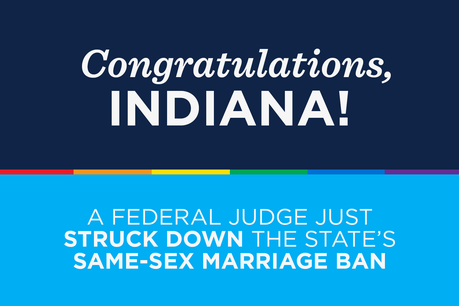 Indiana has joined a growing list of states that have had their same-sex marriage bans declared unconstitutional by a federal judge. U.S. District Judge Richard Young announced on Wednesday that he was striking down Indiana's ban. Judge Young did not stay his decision, so same-sex marriages can start in that state -- unless Indiana's Attorney General, who has said the decision will be appealed, is able to get a stay from the appeals court or the Supreme Court.
Now there is only one state (North Dakota) left with an unchallenged ban on same-sex marriages. All other states have either legalized same-sex marriages, had their bans struck down and are waiting on an appeal, or are having their ban challenged in a federal court. Hopefully, the appeals court decisions will start coming in soon, so we can move on to the next level. The Supreme Court is no longer going to be able to avoid making a decision on this issue (whether states banning same-sex marriage violates the U.S. Constitution) -- as it has been doing for quite a while now.
UPDATE -- The 10th Circuit Court of Appeals has just upheld the federal court decision that tossed out Utah's ban on same-sex marriage. The decision was temporarily stayed to give Utah time to appeal to the United States Supreme Court. This is what we've been waiting for. The Supreme Court must accept this case and finally decide this issue, or let the appeals court decision stand (which would legalize same-sex marriage in Utah, and probably across the nation). The 10th Circuit Court of Appeals held that:


". . . the Fourteenth Amendment protects the fundamental right to marry, establish a family, raise children, and enjoy the full protection of a state's marital laws."




"A state may not deny the issuance of a marriage license to two persons, or refuse to recognize their marriage, based solely upon the sex of the persons in the marriage union." 


----------------------------------------------------------
Meanwhile, the Southern Poverty Law Center (the foremost organization fighting hate in this country) has decided to strike a blow for gay/lesbian rights in a different way. They want to outlaw the repulsive and damaging "reparative therapy" (which holds that gays/lesbians can be cured through therapy). They have filed suit in New Jersey against one of the clinics offering the reparative therapy, accusing it of fraudulent practices. If they win the New Jersey case, it will provide a blueprint for attacking these horrible clinics across the nation. Here is how they describe their effort on their website.


Jews Offering New Alternatives for Healing (JONAH) fraudulently claimed to provide services that "convert" people from gay to straight. These services, known as conversion therapy, have been discredited or highly criticized by all major American medical, psychiatric, psychological and professional counseling organizations.

The Southern Poverty Law Center filed a first-of-its-kind lawsuit against the New Jersey conversion therapy organization for fraudulent practices. The lawsuit, filed in the Superior Court of New Jersey, charged that JONAH, its founder Arthur Goldberg, and counselor Alan Downing violated New Jersey's Consumer Fraud Act by claiming that their counseling services could cure clients of being gay.

The lawsuit describes how the plaintiffs – four young men and two of their parents – were lured into JONAH's services through deceptive practices.

Customers of JONAH's services typically paid a minimum of $100 for weekly individual counseling sessions and another $60 for group therapy sessions. The lawsuit describes sessions that involved clients undressing in front of a mirror and even a group session where young men were instructed to remove their clothing and stand naked in a circle with the counselor, Downing, who was also undressed. Another session involved a subject attempting to wrestle away two oranges – used to represent testicles – from another individual.

Downing and other JONAH counselors also used techniques that left clients alienated from their families. These techniques encouraged clients to blame their parents for being gay, going so far as to have clients participate in violent role play exercises where they beat effigies of their mothers.

JONAH, formerly known as Jews Offering New Alternatives for Homosexuality, was founded by Goldberg, a former Wall Street executive and attorney who was previously convicted of three counts of mail fraud and one count of conspiracy to defraud the federal government. He was ultimately disbarred from being an attorney.

Aside from being junk science, conversion therapy also promotes the idea that gay men and lesbians choose their sexual orientation, a position that encourages a climate of anti-gay bigotry.

The American Psychological Association has expressed concern that conversion therapy practices, such as those espoused by the National Association for Research Therapy of Homosexuality (NARTH), "create an environment in which prejudice and discrimination can flourish." JONAH's practices include discredited methods invented by NARTH co-founder Joseph Nicolosi with no sound medical basis.