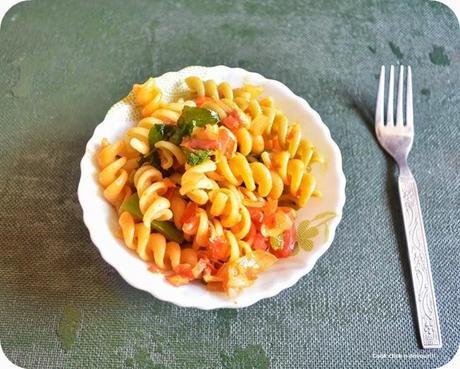 Pasta is undoubtedly a quick fix dinner/lunch.When all you want is to wrap and shut the kitchen as soon as possible you can do that for sure if you have pasta handy.For me pasta is like a plain canvas and often try to create new flavors and colors while most of them work some turn out to blah :P. Till now I have not caught hold of a decent recipe for pasta with white sauce,other than that all my pasta attempts have been successful. I usually make pasta with this classic sauce or this quick vegetable sauce,but this time I was craving Indian.I actually needed all our spicy fiery hot ingredients to brighten up my pasta and came up with this recipe,quiet similar to our very own upma with garam masala :P,a real brilliant one I would say.Along with spices I added loads of tomatoes,such a delightful dinner it was :). Here I have used tri colored rotini pasta but you can use anything like penne or elbow etc.Try out and you will love it :)
Indian style masala pasta recipe
Star ingredients: Pasta and tomato
Time:20 minutes
Serves:3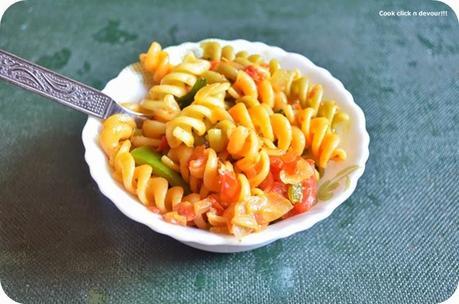 Ingredients:
1 1/2 cups rotini or any type of pasta
1 large onion, chopped fine
1/2 green bell pepper, chopped
2 tomatoes, chopped fine
2-3 green chillies
1/2" ginger, crushed
1 1/2 teaspoons garam masala powder
1/2 teaspoon turmeric powder
1 teaspoon mustard seeds
1 teaspoon cumin seeds
10-12 curry leaves
Salt
Oil to temper
Method:
1.Bring 4 cups water in a large deep pan.Add salt and 1 teaspoon oil to it.Add the pasta to it and cook till it gets soft and cooked up to 90%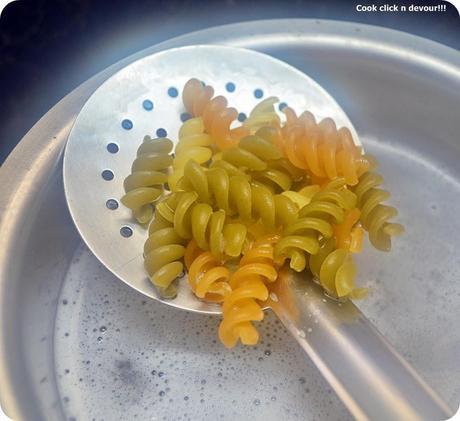 2.Drain the cooked pasta and rinse with cold water.Set aside.
3.Heat 2-3 teaspoons oil in a kadai.Once hot temper with mustard,cumin,green chillies,ginger and curry leaves.
4.Add chopped onions and saute till translucent.Add the tomatoes and saute till mushy.Add the bell peppers,salt,garam masala,turmeric powder and saute for 6-7 minutes.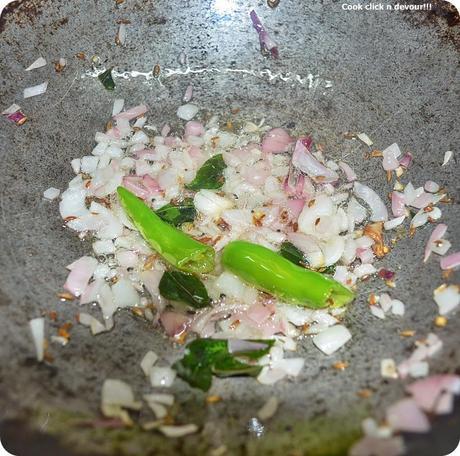 5.Add the cooked pasta and toss gently.Saute in low flame for 2-3 minutes and remove from flame.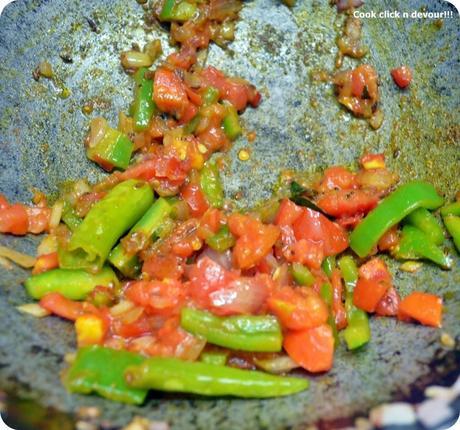 6.Serve hot/it tastes good in lunch box too.
Notes:
1.You can add as many veggies along with bell pepper,they add to taste and nutrition.I was in short of veggies actually.
2.You can add any masala like pav bhaji masala.garam masala etc to give a twist.
3. Adding oil while cooking pasta is to avoid sticking and breaking of pasta.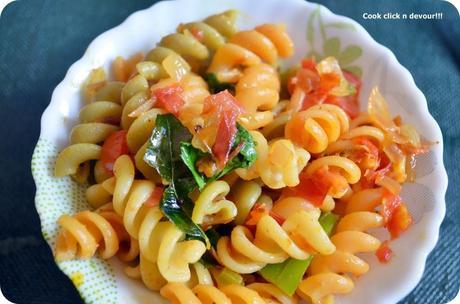 Here is a pasta salad recipe .


Thank you all for taking time and reading this post.I would really love to know how you liked the recipe when you try out or any other constructive feed backs or twists for this recipe.Please like/share/pin this post as good food is best shared :).