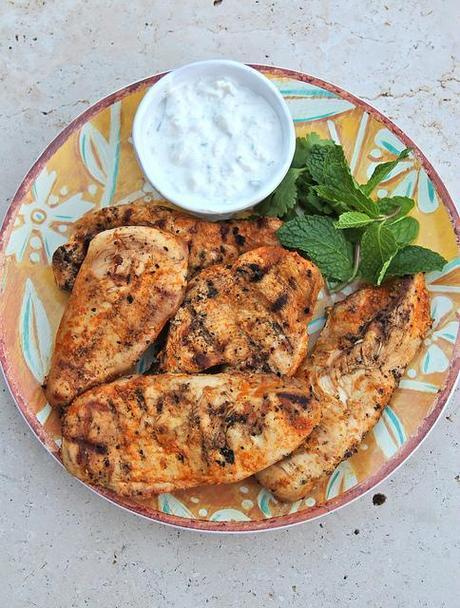 November is National Diabetes Month, and today is World Diabetes Day. The Virtual Potluck team has paired up with Anolon and Microplane to create and share some delicious diabetic friendly meals to raise awareness about diabetes and to offer our readers a giveaway. Six of us will be giving away a Microplane Adjustable Slicer with Julienne Blade ($29.99 value) plus various pieces of Anolon cookware, and 30AEATS will give away one Anolon Advanced 5 quart covered saute with helper handle, a $135.00 value.
Our very own Diabetic Foodie has been our guide and the organizer for this important event.
Diabetes is a chronic disease that occurs when the pancreas no longer produces insulin or when the body can no longer make good use of the insulin it produces. Over the long term diabetes can cause damage to the body in the form of organ and tissue failure.
According to the American Diabetes Association more than 371 million people have diabetes, half are not aware they have it, and 71,382 Americans die from diabetes each year. These are astounding numbers that need to change, especially since Type 2 diabetes can be delayed with a proper diet and a healthy lifestyle.
You do not have to sacrifice flavor when making diabetic friendly recipes, and I am sharing a delicious Indian spiced chicken dish with a cool cucumber-yogurt sauce called Raita.
Indian Spiced Chicken
Marinade
Ingredients:
1 cup Greek yogurt or plain yogurt
2 tablespoons chopped fresh ginger
1 tablespoon chili powder
1 tablespoon lime juice
1 teaspoon paprika
3/4 teaspoon salt
1/2 teaspoon ground turmeric
1/2 teaspoon ground cumin
1/8 teaspoon ground red pepper
3 garlic cloves chopped
2 pounds boneless, skinless chicken breast
Raita
3/4 cup chopped seeded cucumber
1 cup plain Greek yogurt
2 tablespoons chopped fresh mint
2 tablespoons chopped fesh cilantro
1 teaspoon minced garlic
1 teaspoon minced ginger
2 tablespoons lemon juice
1/2 teaspoon ground cumin
1/4 teaspoon salt
cooking spray for grilling
Preparation:
To prepare the marinade, combine first 10 ingredients in a blender; process until smooth. Pour into a large zip-top plastic bag. Add chicken; turn to coat. Marinate chicken in refrigerator for at least 4 hours or overnight.
 To prepare the raita, combine 1 cup yogurt and remaining ingredients except cooking spray in a small bowl; cover and refrigerate.
Remove chicken from refrigerator, and let stand at room temperature for 45 minutes.
 Prepare the grill for indirect grilling. If using a gas grill, heat one side to medium-high and leave one side with no heat. If using a charcoal grill, arrange hot coals on either side of charcoal grate, leaving an empty space in the middle.
 Remove the chicken from marinade, and discard the remaining marinade. Place the chicken on unheated part of grill rack coated with cooking spray. Close lid, and grill for 90 minutes OR until a thermometer inserted into meaty part of breast registers 165°, turning chicken every 20 minutes.
To enter the contest:
Share one tip you have for eating healthy in the comments below.
For Bonus Entries:
Leave a comment on Facebook 30AEATS, Anolon and Microplane.
Follow & Pin this post on 30A EATS Pinterest. (Button below)
Tweet @fromagechick (Button below)
Like on Facebook (Button below)
Visit Anolon and leave a comment here with the piece of cookware you would add to your kitchen.
Visit Microplane and leave a comment here with the product you would like to try.
Open to US residents, 18 years and older.  Entries will be received through November 21, 2013.
Be sure to visit all of the Virtual Potluck sites today for great recipes and amazing giveaways!
Diabetic Foodie: Quinoa, Sweet Potato & Avocado Timbale with Roasted Tomatillo Dressing
 Foodhunter's Guide to Cusine: Chicken with Bell Peppers and Tomatoes
Thyme in Our Kitchen: Sweet Potato and Zucchini Pancakes
Cookistry: Turkey and Vegetable Crepes
Miss In The Kitchen: White Chicken Chili
* Walgreens and the American Diabetes Association have teamed up to do a pin pad donation campaign. From now until Nov. 30, participate at your local Walgreens by donating $1, $2, $5 or $10 when you use a debit or credit card, and help raise critical funds for resources and educational programs in local communities.

Print