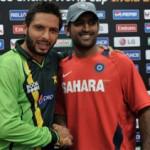 The BCCI has confirmed that the cricketing ties between India and Pakistan will resume and Pakistan will tour India for three one-dayers in December. The cricketing ties between the two countries had snapped after the 26/11 Mumbai terror attacks. The ODIs will be played towards the end of the month, likely during the gap between England ODIs and Tests.
The two countries have played against each other in the 2011 World Cup and Asia Cup recently, but bilateral series have been suspended for almost five years: the last being in India in 2007.
Board of Control for Cricket in India (BCCI) confirmed the same, thereby putting an end to the long gap of five years, wherein the two nations have not visited each other. The series will comprise of 3 ODIs. However, PCB chief Zaka Ashraf while speaking to Zeenews, said that the board is yet to receive any official confirmation from their Indian counterpart. "As of now we have not received any official confirmation," he said.
The Pakistan Cricket Board was pushing hard for the resumption of ties but with the BCCI playing hardball citing the busy international schedule.
Pakistan cricket Board (PCB) even offered to host the Indians on neutral turf given the perils of touring the strife-torn nation which is facing considerable revenue loss due to international teams` refusal to play there.
No international team has played in Pakistan after the 2009 Lahore terror attack on the Sri Lankan cricket team during some of the visiting players were injured in firing by terrorists.