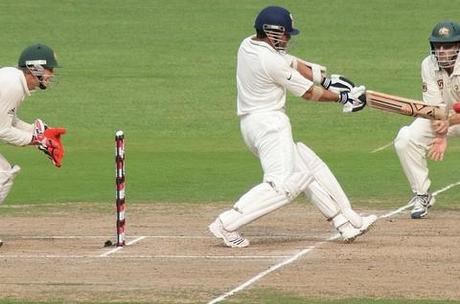 Sachin Tendulkar in action. Photo credit: Pulkitsinha http://www.flickr.com/photos/pulkitsinha/
Tendulkar, or 'Little Maestro' as his adoring fans call him, stands on the brink of becoming the first man to hit one hundred international centuries. Tendulkar will resume the third Test against West Indies in Mumbai today
just 33 runs short of recording the famous milestone
. Tendulkar resumes on 67 not out alongside VVS Laxman. India, who have already won the three-Test series as they lead 2-0, were 281 for three at the close of play, trailing by 309 runs after West Indies were dismissed for 590 in their first innings. The prospect of Tendulkar's reaching his 100
th
ton in his home city has the cricketing commentariat foaming at the mouth with excitement.
Delightful at the crease. Cricket World insisted that Tendulkar is "poised to score his landmark hundredth international century" because the pitch is "offering next to nothing to the bowlers." Yesterday "belonged to Tendulkar as he lifted an upper cut into the stands for six and played delightfully all round the wicket, hitting five boundaries", purred the cricket magazine, which did note he was dropped in his fifties.
If Tendulkar achieves the feat in Mumbai he will be showered with 100 gold coins by the Mumbai Cricket Association, revealed The Times of India.
A billion Indians hold their breath. The Times' Ed Hawkins said "a country will come to a standstill" when Tendulkar resumes and reported that the stands "are expected to be packed with supporters hoping Tendulkar can complete the script." "A billion Indians will tomorrow hold their breath hoping their hero does not fluff his lines", wrote Hawkins, who noted that the player's "quest to become the first man to record 100 international centuries has almost overshadowed India's cricket since the batsman notched his 99th in March in a one-day international against South Africa. The wait, and the hyperbole, may be at an end and there could be no more fitting stage than the Wankhede Stadium in the city where he was born and bred." Hawkins insisted that the flat pitch and fact that the game is dead rubber only help "his cause."
"It is destiny that he was born and brought up in Mumbai. He is bound to make history at Mumbai", insisted 70-year-old former Indian international cricketer Ajit Wadekar.
Super-human maestro. The Times of India has been running a special Good Luck Sachin section on their website in anticipation of the landmark innings. The newspaper reported that "the Little Maestro himself is a bit surprised to know how the magic figure of 100 has become an obsession for over a billion people." But they expressed no surprise: "But then his countless adoring fans have been spoilt by the man himself. The country has sought joy and relief and savoured his super-human accomplishments for over two decades. And the genius of Tendulkar has delivered. Unfailingly and almost always."
More on sport

David Beckham wins the MLS cup. What will he do next?
Mike Tindall's career over
Penn state riots
Iranian footballers banned over butt squeeze
More cricket »