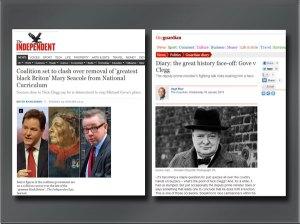 The campaign to keep Mary Seacole and Olaudah Equiano on the schools curriculum continued to gather steam with two articles in today's newspapers.
The Independent reportsthat education secretary Michael Gove and Lib Dem leader Nick Clegg could be on a collision course over the issue. The piece mentions me by name.
Meanwhile Hugh Muir's Guardian diary carried the same story and quotes Simon Woolley of Operation Black Vote saying of Clegg: "Given the political furore about Clegg's broken promise to students over tuition fees, it is inconceivable that he would make another pledge that he couldn't keep."
I was pleased to see that the public petition for Mary Seacole has now reached 35,500 signatures.
I was also delighted to note that the number of MPs who have so far signed a Commons motion (Early Day Motion) has now risen to 48.
The Mary Seacole campaign are continuing to ask people to lobby their local MP to sign the EDM, unless they are on the list of MPs that have signed. Please see details below of how to lobby your MP.
The MP's who have so far signed the EDM are:
Alan Meale Mansfield Labour

Diane Abbott Hackney North and Stoke Newington Labour

Peter Bottomley Worthing West Conservative

Jim Shannon Strangford DUP

Lady Hermon North Down Independent

Kelvin Hopkins Luton North Labour

Steve Rotheram Liverpool, Walton Labour

Virendra Sharma Ealing, Southall Labour

Stephen Williams Bristol West Liberal Democrat

Hugh Bayley York Central Labour

Ronnie Campbell Blyth Valley Labour

John Leech Manchester, Withington Liberal Democrat

George Galloway Bradford West Respect

Martin Caton Gower Labour

Jeremy Corbyn Islington North Labour

Jim McGovern Dundee West Labour

Valerie Vaz Walsall South Labour

Mike Hancock Portsmouth South Liberal Democrat

Mike Gapes Ilford South Labour

Tony Cunningham Workington Labour

Sandra Osborne Ayr, Carrick and Cumnock Labour

John McDonnell Hayes and Harlington Labour

Mark Lazarowicz Edinburgh North and Leith Labour

Dennis Skinner Bolsover Labour

Mary Glindon North Tyneside Labour

David Wright Telford Labour

Paul Flynn Newport West Labour

David Lammy Tottenham Labour

David Simpson Upper Bann DUP

Joan Ruddock Lewisham, Deptford Labour

Ian Lavery Wansbeck Labour

Alex Cunningham Stockton North Labour

Keith Vaz Leicester East Labour

Roger Godsiff Birmingham, Hall Green Labour

Ann Clwyd Cynon Valley Labour

George Mudie Leeds East Labour

Alasdair McDonnell Belfast South Social Democratic and Labour Party

Andrew Love Edmonton Labour

David Ward Bradford East Liberal Democrat

Frank Doran Aberdeen North Labour

Martin Horwood Cheltenham Liberal Democrat

David Anderson Blaydon Labour

Andrew Stunell Hazel Grove Liberal Democrat

Hywel Francis Aberavon Labour

Ian Davidson Glasgow South West Labour

Gerald Kaufman Manchester, Gorton Labour

Jimmy Hood Lanark and Hamilton East Labour

Andrew Percy Brigg and Goole Conservative
Please find below a model letter for you to email to your local MP asking them to sign toe EDM, which you can adapt and personalise as you see fit.
You can find contact details of your MP on www.theyworkforyou.com – there's a facility on the homepage.
MODEL LETTER
Dear (insert name) MP
I am writing to you as a constituent to ask that you support the campaign to keep Mary Seacole on the national curriculum. The Secretary of State for Education, Michael Gove has proposed that Mary Seacole be removed. A nurse, born in Jamaica, Mary Seacole traveled to the Crimea to tend wounded solidiers at her own expense and returned to Britain as a national heroine. She was recently voted the Greatest Black Britain.
The government's proposal has been met with outrage by the public with over 32000 people signing a petition on change.org calling on Michael Gove to keep Mary Seacole on the Curriculum and a recent  open letter in The Times signed by over 50 well known personalities including members of Parliament.
I am requesting that you support the campaign by signing the petition http://www.change.org/en-GB/petitions/michael-gove-secretary-of-state-for-education-keep-mary-seacole-on-the-national-curriculum and signing Early Day Motion 919 tabled by Alan Meale MP.
EDM number 919 in 2012-13, proposed by Alan Meale on 15/01/2013.
That this House is aware of history which records the many heroic and compassionate acts carried out unselfishly by renowned war nursing heroine Mary Seacole for innumerable wounded soldiers injured on the Crimean War's bloody battlefields; notes her efforts have rightly become part of the nation's schools educational curriculum with further recognition of her contribution shortly to be revealed by the unveiling of a large bronze statue in her memory to be erected in the grounds of St Thomas' Hospital facing the Houses of Parliament; is therefore greatly alarmed by reports that the Secretary of State for Education has announced plans to overhaul the core history content taught to our nation's schoolchildren which won't include the story of her exploits on behalf of others; reminds the Minister that at the age of 50 years she paid her own way to the front to help establish a center to administer the sick and tended to the wounded on the battlefield throughout the war much of the time under bombardment, brave and caring acts which led to her being little rewarded for all of her distinguished service in the field as she returned to Britain impoverished and had to declare bankruptcy; and believes the nation and its children are best served by being reminded of such unselfishness and hopes the Secretary of State will desist in his attempt to undermine her memory.
Yours sincerely