As reported by Redding.com:
Two days ago, on March 27, 2013, police of Redding, California, released this surveillance video of a bumbling and oddly dressed burglary suspect who tried to break into Kent's Market on Airport Road.
The video captures the suspect walking up to the front doors of the store, pulls on a pantyhose mask (after the surveillance video had already captured his naked face), and throws a rock at the front window.
But his rock-throwing activates an alarm. Frightened by the alarm, the suspect runs away, trips and falls down, with his pajama pants slipping off his butt.
The man is described as being about 5 feet, 11 inches and weighing about 350 pounds.
Investigators, who obtained the surveillance video of the crime from the market, are asking anyone who might have information about the case to contact them at (530) 225-4214. Anonymous information can be provided through www.scsecretwitness.com or (530) 243-2319.
Here are screenshots I took of the bumbling burglar (click pic to enlarge):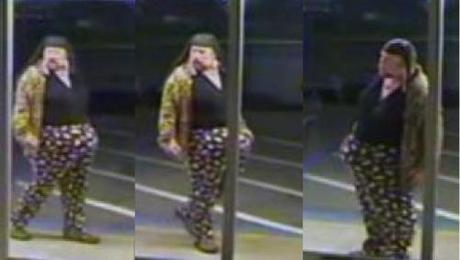 What are those flesh-colored thingies dangling from the sides of his face?
~Eowyn