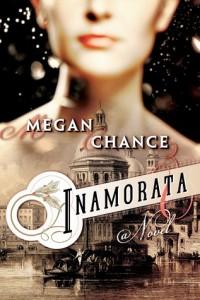 Have you ever admired a piece of art and then afterwards tried to describe it a friend and find yourself falling short on how to describe it? It's not that you don't know what the piece was depicting or what colors were used or even what technique was used. It's just that what actually struck you was the emotion that the piece provoked. It stirred you and there are no real words that can bring that stirring of emotion to the person you're speaking with.
I sort of feel like that is how I will fall short explaining this book to you. Inamorata by Megan Chance is first and foremost a love story. But maybe not the love story that you would think. Maybe not the love story that you would expect from a book such as this. And in calling this book a love story, I'm already doing it a disservice because it's that good.
This tale of ages revolves around 4 characters. Odiley is a woman who has spent her entire life enticing men and inspiring some of the greatest artistic works of the ages. Nicholas is an ex-lover who has learned a secret about Odiley that keeps him continuously pursuing her even after she casts him aside. Joseph is a handsome, dark-haired youth from New York who is a gifted sketch artist and painter. Sophie is his twin sister and muse who holds a special gift of her own in storytelling.
Their worlds collide in 19th Century Venice, Italy as artists from around Europe have been drawn to this city in late summer to rub elbows with wealthy patrons who hold exclusive salons in which only the artists and patrons of their choice are permitted to attend. Joseph and Sophie are escaping ridicule in the U.S. from a secret they've bore most of their lives. Nicholas has followed Odiley and runs into the siblings in a park where artists are often seen congregating.
When Nick sees the talent that Joseph already has, he knows that he will become Odiley's next victim and he seeks to keep the siblings occupied so they won't run into the siren. The siblings have their own ideas and use their connections with Nick to gain access to the wealthiest patrons in the city. Sophie woos Nick into introducing her brother to the right people. She may have done a little too good a job though because now she seems to be wooed by Nick too.
In the end it doesn't matter the agenda of these three ill-fated artists. Odiley finds her artist and begins her tactics to sever the ties Joseph has to his sister so that she can become his ultimate muse. This is where I leave you. You really need to see the ending for yourself to really appreciate the talent of this writer.
As for Chance herself, I loved this book. Her descriptive text is amazing. Here is an excerpt from the observations of Sophie:
"At the piano nobile, the servant turned abruptly to another door, opened it, and ushered us into the portego, which blazed with light. Three great chandeliers with tiers of candles sent a glare on the dark shine of terrazzo floors. The protego was lined with doors, each topped with bronze angels above gilded, sculptured shells, surrounded by equally gilded plaster festoons. The walls were pink and crumbing, that sort of lovely decay that marked all of Venice, set off by panels of marbled wallpaper in pale green. Candlelight seemed to dance on every surface. The place was beautiful and decadent, made to charm." (Chapter 26)
Doesn't that just make you want to read even more. I'm only share with you what one room in the entire book was described as. Image how Chance will capture the rest of Venice for you in her pages.
Overall I give this book 5 stars! I love the descriptive text and the artistic way she captures this snapshot of Venice. It's almost like the book itself is seducing us, the readers, as Odiley works to seduce Joseph.
What elements do you look for a in a good book?
// ]]>
// ]]>