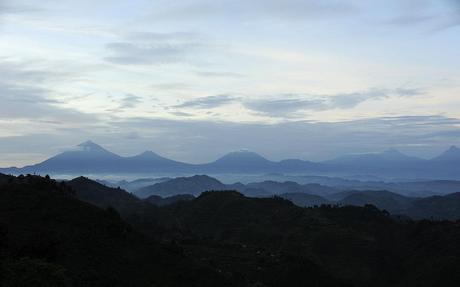 View of the Virunga Volcanoes from Nkuringo Gorilla Camp. Photo Robert Brierley
Nkuringo Gorilla Camp, in the far south western corner of Uganda, is the ideal starting point for: hiking volcanoes, hikes across Bwindi Impenetrable Forest to Buhoma on the northern side of the Forest, walks to Lake Mutanda and journeys across the Lake by dugout canoe towards Kisoro, mountain biking and bird watching. It is also a great place to stay if you plan to track any of Uganda's Nkuringo, Nshongi, Mishaya, Kahungye or Busingye gorilla families.
Time was at a premium for us, so we opted for the 'one-day circular Forest walk,' starting at Nteko village and following the Ivy River trails and Kashasha River into Bwindi Impenetrable Forest National Park.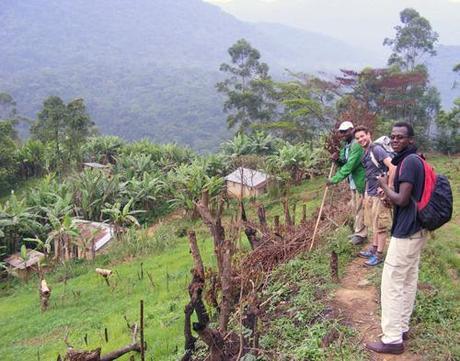 Setting off on our one-day circular Forest walk, from Nteko village 1km from the Congo border, Bwindi Uganda
Walking Safari into Bwindi Impenetrable Forest
As we walked downhill towards the River Ivy, our excellent guide Adolf listed some of the mammals we might see in the Forest: a Golden Cat, Civets, Serval Cats, Jackals, flying squirrels, Red tailed monkey, L'Hoest monkey, Black and White Colobus Monkey, Blue Monkey.
The Muzungu's wildlife wishlist for the day: I'll have a Blue Monkey, huge butterflies and some new ticks for my Forest bird list please. (A gorilla sighting would be pretty cool too…)
We stopped at a swampy area before crossing the river to enter the Park.
"One time we came here and the bridge had been washed away. We had to remove our clothes and walk across through the river," Adolf told us.
"Even with clients?" I asked.
"Yes!" He laughed.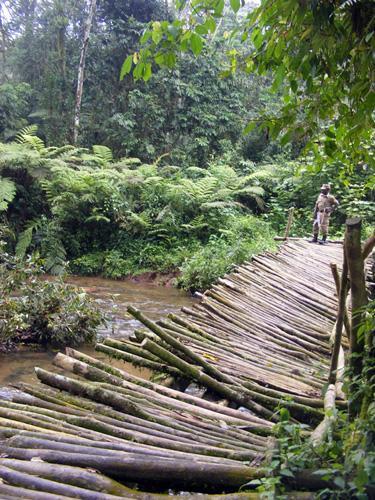 Well, we were in luck that day. There was a bridge! Crossing Bwindi Impenetrable Forest, armed policeman keeping a look-out for us
Safely across the water, Adolf welcomed us into the impenetrable forest. "If you take the wrong turning, you can get lost in the forest for seven days. It happened to someone I know from the village. They had to send out a search party for him."
You'd need a powerful camera lens to fit the top and roots of a Huge Buttress Tree in one photo… Rob posing in Bwindi Impenetrable Forest
Bwindi Impenetrable Forest derives its name from the Mubwindi swamp in the eastern part of the Forest; its full name being Mubwindi Nyamukari, named after a young woman who was 'damped' (drowned) by her father in the swamp. This was one of three local stories we heard of young women being drowned in swamps or waterfalls. Verdict: this was not the best place in the world for a girl to be born. In every story, it was the young woman who copped it every time while the man got away Scott free.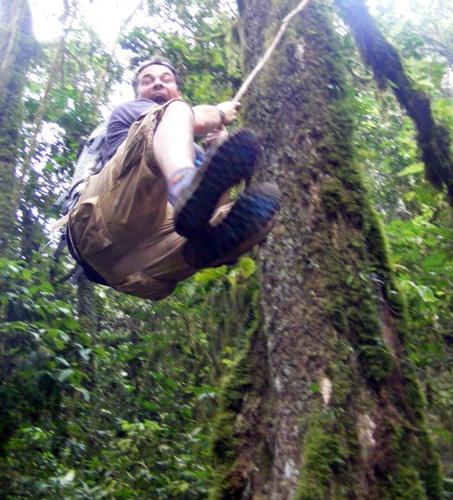 More BUTT than a Buttress Tree!
Back in the Forest, Adolf warned us to beware the vicious Safari ants and pointed out the trails where forest hogs had crossed. He also showed us Wild Pineapple, Wild Ginger and the beautiful red Erythinia abyssinia 'Lucky Bean Tree.'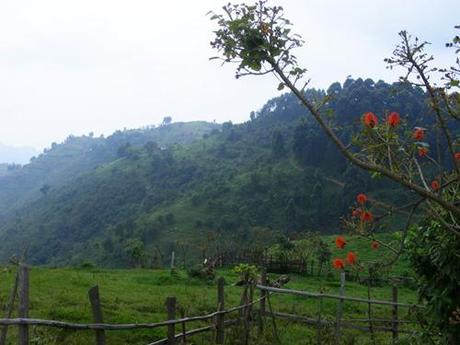 The beautiful red blooms of the Erythinia abyssinia 'Lucky Bean Tree'
The pods of the Lucky Bean Tree contain bright red seeds. Local people believe that if you find one of these seeds and put in your pocket, you will be lucky for the whole day. The thorny structure of the tree is believed to ward evil spirits away too. The Lucky Bean Tree also has medicinal qualities: the ash from its bark can be applied to burns.
"I know it sounds like a silly question, but what does a Blue Monkey look like?" asked my friend Robert.
I never did hear the answer, as we were distracted trying to identify a bird – that turned out to be an enormous cricket!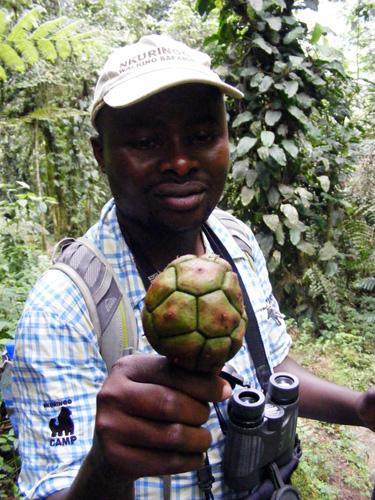 Our guide Adolf holds a Wild Pineapple seed up for the camera
Encounter with a Silverback
Adolf was a gem and really made our trip. He recounted the story of the day he was called from Nkuringo to Buhoma, which involved him crossing through the middle of Bwindi Forest.
"As I was moving, we came across a group of 19 gorillas sitting on the track. In the middle was the Silverback gorilla. I had a big stick and I stood back, watching him, and moving very gently.
The Silverback started snapping branches on either side of the trail."
Adolf imitated the low pitched growling of the Silverback. The other gorillas joined in, displaying sounds of annoyance at having been disturbed.
"I didn't want to turn back. Clients were expecting me in Buhoma."
"Couldn't you just wait until they moved?" I asked him.
"It would have been dark by then in the Forest. It was already 6 o'clock in the evening.
The Silverback came towards me with his mouth wide open, thumping his chest, screaming at me!
I had to walk backwards, slowly but still facing him. The Silverback mirrored my pace. I took two steps, he took two steps… then I took off running!"
"Was he chasing you?" I asked.
"Yes!" answered Adolf.
"I turned my stick at an angle and the Silverback thought I was going to hit him." (Adolf imitated the gorilla covering his head with his hands as if to protect himself).
"After some time, the Silverback slowly walked back to his family. I managed to get out of the Forest by 8 o'clock. It was completely dark by then. I slowly walked back towards where the gorillas were and walked around them. It was the Nkuringo family of gorillas."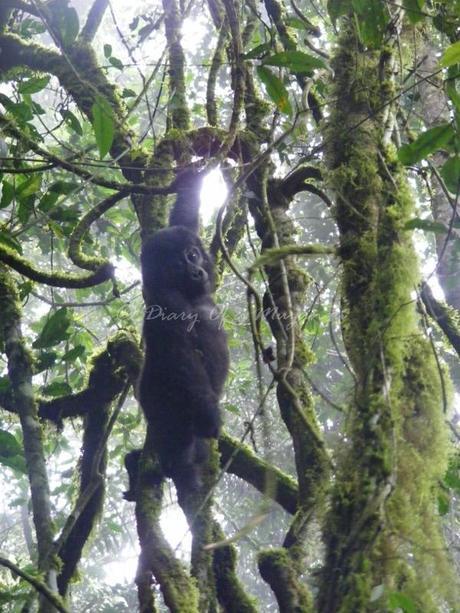 Just look at this cutie! The Muzungu's first encounter with Uganda's Mountain Gorillas was in 2010 when I trekked to see the Habinyanja group at Buhoma
At that point, the Muzungu decided to play it safe and rethink her wildlife wishlist for the day and was very happy to settle for some birding highlights that included:
Brown Throated Wattleeye
White Eyed Slaty Flycatcher
Paradise Flycatcher
Black Billed Touraco
Dusky Long Tailed Cuckoo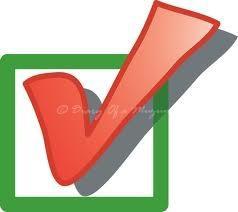 Each new bird sighting gets a TICK
The total tracking time was around six hours, in which we covered 17.5 km (most of which seemed to be uphill!) Our steadfast guide Adolf paced our walk just right and I thoroughly enjoyed all of it, even the steep bits!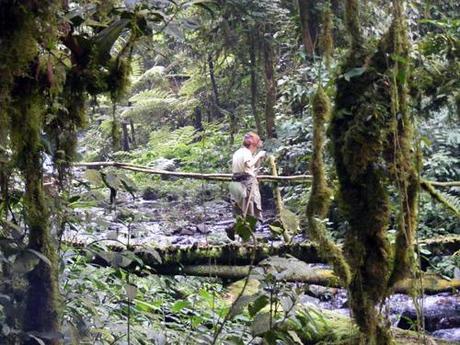 Don't worry Ma, they didn't really leave me wandering about on my own in the Impenetrable Forest … de Muzungu crossing one of the many wooden bridges criss-crossing through the Forest
(They don't call me Tail End Charlie for nothing…) Frankly, the boys would have got round a lot quicker without me!
It was as we did our final ascent: "we're almost home, just another 7km, mostly uphill" Adolf cheerfully advised us, that we came across a Lucky Bean Tree, right next to our path.
Guess which Lucky Bean got to keep it?
; )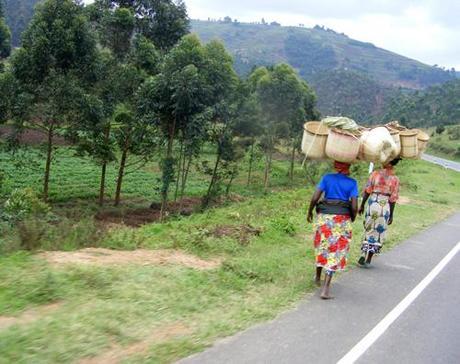 Local women carrying handwoven baskets along the vastly improved A roads between Kisoro and Mbarara, south western Uganda
An alternative itinerary that really appeals to me is from Kisoro: 90 minute walk to Lake Mutanda, followed by a 2 ½ hour dugout canoe trip across the Lake north to Rwajenje. (No need to worry about overdoing it, the tour includes: a comfy seat, lifejacket and a man to paddle you, while you take photos of the volcanic peaks reflected in the water of the lake). Back on land, it's a 9 km / three hour walk following community trails up to Rubuguri Junction, where you can be picked up for the final 10km uphill to Nkuringo Gorilla Camp.
About Nkuringo Gorilla Camp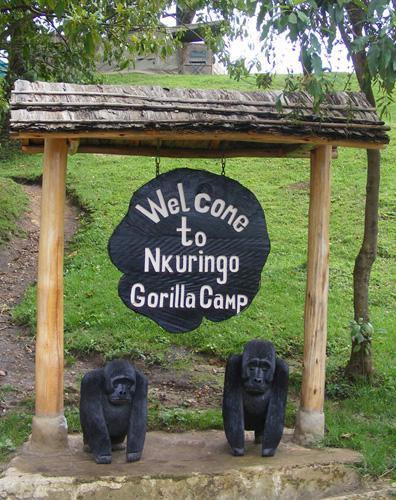 Welcome to Nkuringo Gorilla Camp, Bwindi, Uganda
Where to start? A word about the view from Nteko Ridge:
Firstly you're at the highest point, so there's nothing between you and Bwindi's lush rainforest for miles left and right, on one side of the hill and a staggering EIGHT volcanic peaks on the opposite side of the hill.
Volcanoes and rainforests have their own unique weather patterns so the visibility can't be guaranteed. For me though, that's half the fun, waking up in the morning looking out the window and wondering "what will I see today?" If you've never seen a rainforest before, you must visit Bwindi Impenetrable Forest: it's incredibly dense and incredibly green. BY HECK, THERE ARE A LOT OF TREES. The air is pure and the National Park has almost unimaginable biodiversity. I'm tingling, just remembering it all.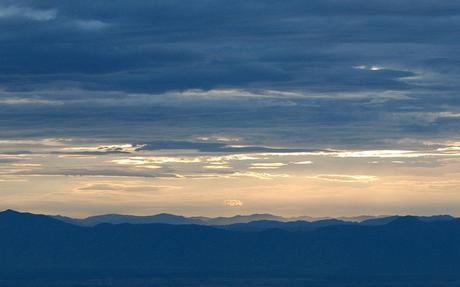 View from Nkuringo Gorilla Camp
We ate very well at Nkuringo: a four course dinner both nights. The onion soup and pumpkin soup deserve a special mention and the freshly baked bread and rolls were wonderful. Vegetarian options can be catered for but should ideally be booked in advance.
Wine is purchased by the bottle, not by the glass as is available some places. Good quality wine is available for approx 60-80,000 shillings /bottle. The camp does allow you to bring your own, if you prefer. Drinks are reasonably priced e.g. a tot / measure of Uganda Waragi is just 1500 shillings.
It can be cold up in the mountains, particularly at night (no mosquito nets needed – hooray!) Thick blankets are put on the back of dining chairs, in case you feel the chill. On our first night the Lodge also provided a charcoal brazier full of burning embers in the dining area. It made quite a difference. There's a fantastic campfire area too. The fire can quickly be lit or rekindled as needed. It was a treat to get into bed with a hot water bottle, provided by the camp.
Nkuringo Gorilla Camp is expanding
Currently there are two self-contained en suite cottages, each with a private verandah for incredible views across to the eight volcanic peaks (visible on our second morning). Two more of these self-contained cottages are being built.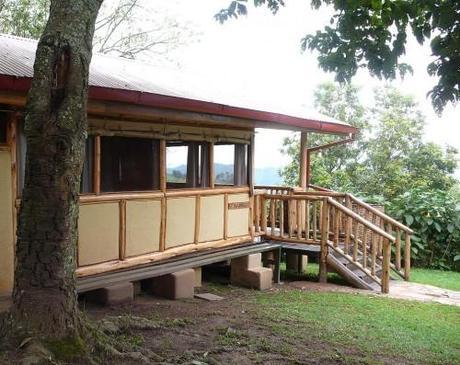 My cottage at Nkuringo Gorilla Camp. Photo Robert Brierley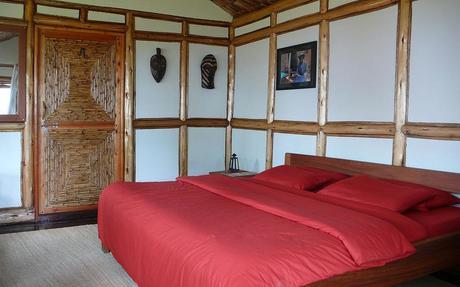 Bedroom in one of cottages at Nkuringo Gorilla Camp. Photo Robert Brierley
The six Virunga Terrace rooms each has a verandah too (although they can't compete with the spectacular views from the cottages). Bathroom facilities are shared on the Virunga Terrace. The new showers and flushing toilets are almost ready for use. The decor throughout the camp is beautifully done, with great attention to detail. Everywhere is very clean.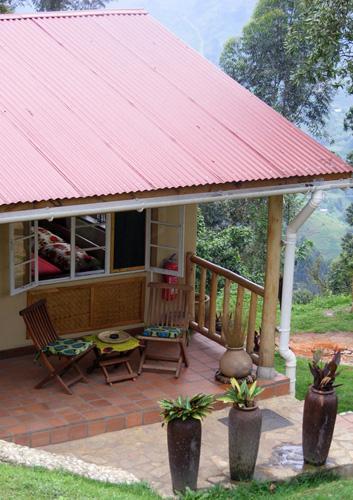 I liked the look of the Verandah Terrace rooms at Nkuringo Gorilla Camp
'Lazy camping' is at the highest point of the camp – and has the best views to wake up to! Each fixed tent has two single beds.
Water is at a premium – the camp sits on a ridge 700m above the Kashasha River – but don't worry, you can still have a hot shower! The Camp staff boil water for your shower so they may need some notice to get it ready for you.
A little electricity is provided through solar (not the sunniest part of Uganda) backed up by kerosene lamps and the generator, which is available for charging phones in the evening. The Camp advise visitors bring extra camera batteries or a charger to use in their Safari vehicle.
Rainwater is harvested from every available surface. Lodge owner Robert Brierley is hard at work installing a huge underground water tank, which should make life a lot easier for the camp staff in the not too distant future. (Currently water has to be brought in by truck during the dry season).
Gorilla trekking information
The Nkuringo gorilla family group is just a few minutes walk from the Camp. If you're interested in trekking the gorillas in Uganda, you might enjoy reading the Muzungu's gorilla trekking experience.
Rob advised us that tracking Nshongi, Mishaya, Kahungye or Busingye gorilla families involves a 23km, 55 minute drive to Rushaga.
How to arrange your walking Safari
Walks can be arranged through the Nkuringo Gorilla Camp or through Nkuringo Walking Safaris, for very reasonable rates. Everything can be customised to your physical fitness and interests.
Prices for the cottages with private en-suite bathrooms and Virunga Terrace rooms with shared bathroom toilet facilities can be found here. 'Lazy camping' includes shared bathroom and toilet facilities. Bed and breakfast, half-board and full board options are available for all types of accommodation.
DISCLOSURE: This blog is based on my personal experience. I was lucky enough to be given two night's free stay and a walking safari in return for this blog post. For more information, read the Muzungu's Terms and Conditions.
Tags:
Bwindi Impenetrable National Park, forest walk, gorilla trekking uganda, gorillas, hiking, nkuringo walking safaris, Safari, Uganda Travel, walking Safari
« Were Toto right about Africa? I love birds! »