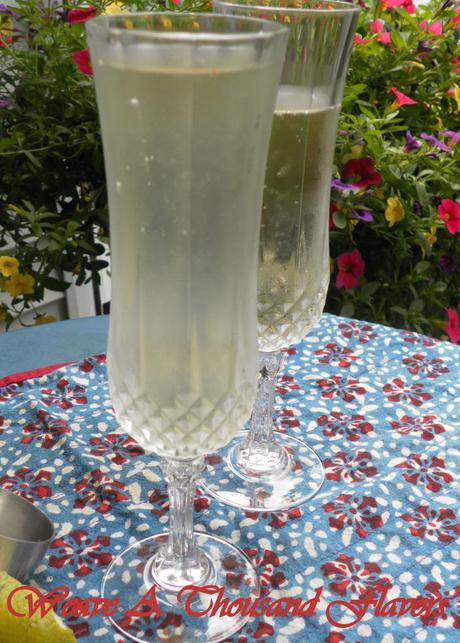 French 75 ~ It goes down like a dream and is one gem that deserves a new following.
The moment is perfect to bring back the French 75 which in my humble opinion is  the very best kind of drink ~ delicious and classic and unfortunately, forgotten.
As we kick off this Memorial day weekend with my BFF who has flown in from Sydney, we forego our traditional kick-off-the-evening- with- 'Cosmos' and sip down a very classy and refreshing French 75.
I explain that since she is here n the US on this very important holiday, Memorial Day, it seemed fitting to search for a drink that is steeped in history, class and flavor. With the fizz of champagne coupled with the refreshing tartness of lime and the kick of gin, do you wonder my search led me to the door steps of the French 75 and my feet pretty much stayed there!
As the story goes, the French 75 became popular and received it's name when it was created by Harry MacElhone for returning WWI fighter pilots. It is named after an artillery gun called the French 75 which, like the drink, was known for it's kick.
This drink can also be made with cognac in place of gin and there is some question as to which version is the real French 75, but gin is the more common now. To add another twist, if the same drink is made with vodka instead of the gin, it is a French 76.
It has even been featured in Casablanca with Humphrey Bogart downing one of these. A delicious drink, with lots of tradition behind it, and a good toast to Veteran's everywhere. How can you resist?
All you need is -
1 oz gin
1/2 oz freshly squeezed lime juice
1 tsp powdered sugar
Ice cubes
Champagne
Pour the lime juice, gin, powdered sugar along with the ice cubes in a  cocktail shaker.
Shake well. Strain into a chilled Champagne fluter.
Carefully top up with Champagne.
Enjoy!