The celebrated Seattle architectural practice takes over a Nebraska gallery space for its first-ever retrospective.
Slideshow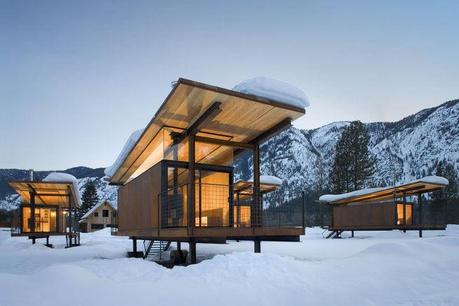 Olson Kundig designed the Rolling Huts in Mazama, Washington, for a client who needed space to house visiting friends and family. The huts sit lightly on the site, a former RV campground in an alpine river valley. The huts are sited to capture views of the mountains and not one another.
Image courtesy of Olson Kundig.
Olson Kundig Architects of Seattle is mounting its first-ever retrospective, putting five decades of its designs on display in a gallery in Omaha, Nebraska, this fall.
The show, which runs through January 3 at the KANEKO gallery, gives visitors a behind-the-scenes look at the firm's creative process while showcasing the artistic, historic, and cultural influences that have shaped its designs.
Founded in 1966 by Jim Olson, Olson Kundig has evolved from a small architecture office working mostly in the Pacific Northwest into an international design firm. Its portfolio has grown to include museum, commercial, and academic buildings, as well as mixed-use projects and places of worship. Private residences, however, remain its primary stock in trade.
The exhibition will highlight some of the firm's longstanding traditions, notably its weekly all-office critiques. Every Thursday, employees gather in a conference room to update and solicit feedback from their colleagues on projects they are working on. The exhibition includes an interactive feature titled "What Would You Do?" that invites visitors to contribute thoughts and suggestions about a series of the firm's projects.
"Some aspects of making architecture are universal to all design practices," says Alan Maskin, a partner at Olson Kundig and the designer of the exhibition, "but those that distinguish us are more interesting."
The exhibition also includes large-scale photographs and scale models that provide a survey of the firm's portfolio, supplemented by video interviews and footage as well as ephemera contributed by the firm's staff members.
KANEKO is open from 9 a.m. to 5 p.m. Monday through Friday and 1 p.m. to 5 p.m. on Saturday.